Persona-inspired JRPG Eternights will include gay romance
Eternights, an apocalyptic dating and action-orientated JRPG from indie developer Studio Sai, will include a gay romance option.
The JRPG was revealed during Sony's State of Play, giving us a fresh look at the blend of action and life simulation gameplay with an apocalyptic backdrop. Inspired by the Persona games, players will have a calendar and time system, meaning every decision is important, and each area you visit has its own deadline.
In a game where humanity has turned into monsters, you may find it hard to believe that you'll have the chance to romance anyone at all, but even while you deal with struggles, there will also be plenty of cuddles if you play your cards right and go on successful dates, all the while strengthening relationships with companions.
Dating in Persona games is one of its most popular features, but unlike the aforementioned game, Eternights will not restrict queer men by just giving them female options, and as such there will be a gay romance option. This confirmation comes from Eternight's developer, who answered a fan's question on whether the character Yohan would be a date option when the game releases next year.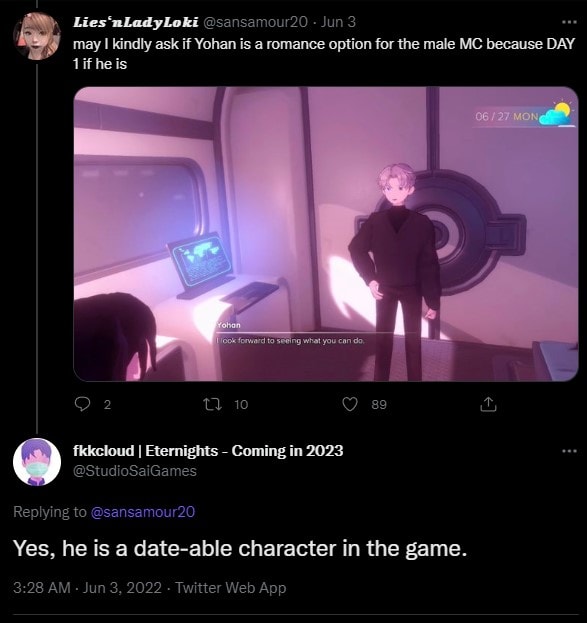 Twitter user sansamour20 reached out to developer fkkcloud: "may I kindly ask if Yohan is a romance option for the male MC? Because DAY 1 if he is."
"Yes, he is a date-able character in the game." Fkkcloud responded.
The potential for queer romance for gay men already makes it a much more progressive JRPG than Persona, whose latest 'foray' into anything to do with queerness was to make two drag queen NPCs behave like predators towards one of your companions. Considering the strides that are being made in the portrayal of LGBTQ+ identities in video games, Persona's refusal to include queer men and women in any way but negative has been a point of contention among gamers. Good news then for queer men that Eternights looks to be doing the things that Persona refuses to.
Eternights will be available for the PlayStation 5, PlayStation 4 and PC (via Epic Games Store and Steam) in early 2023.