Celebrity Gaymer: Asttina Mandella
Asttina Mandella is a British drag artist and dancer from East London who was recently seen competing on the second series of RuPaul's Drag Race UK.
During her short time on the season, Asttina showed off one of the most iconic looks of all time with her Mileena themed look that shook the runway. It's always awesome to see high fashion game-inspired looks cross into the drag world.
I wanted to learn more about Asttina's love of games, her career and her thoughts on representing gaming and geekdom through drag.
Asttina, thanks so much for joining me! When did you start drag? 
I guess I started drag in 2015. It was Brighton Pride, and my and I friend decided that we would go in drag, so we got all dolled and dressed up and were hyped about being 'the giddy little gays we were'. But, I probably would say that it was a year later in 2016 when I officially started drag, or I made the decision that I want to make a career doing drag.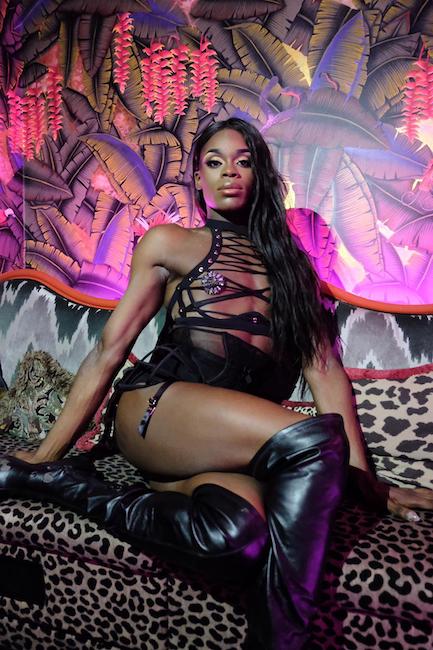 If you had to describe Asttina in one sentence, what would it be? 
A RUDE Swedish White Woman.
You were recently on Season 2 of RuPaul's Drag Race UK, what was your favorite challenge on the show? 
Well I was only in three challenges due to the shocking gag exit that happened! But I think 'Rats The Rusical' had to be my favourite challenge. I'm a theatre stage queen at the core, a 'West End Judy' as we say, through and through. The Rusical was just such a moment for me for a few reasons, mainly as it is based on Cats which is one of my favourite musicals, so it was like fulfilling my dance dream. I got to combine theatre, drag, singing, despite hating the sound of my voice, and just getting to do what I love, cherish and do well… it was EVERYTHING!
And funny enough, I actually auditioned for Cats way back when I was at college many moons ago, which is funny because who knew I would basically get to be in it, but as a rat!
Speaking of EVERYTHING, your Mileena-inspired runway was EVERYTHING! How did that look come together? 
THE MILEENA LOOK! Not to toot my own horn, or blow my own trumpet, but yeah, IT WAS EVERYTHING!
Well when I got all the challenges sent to me, me and my two best friends started discussing ideas and I already knew that I wanted to go down the runway as female video game fighting character. I wasn't sure what challenge to do it for, but I knew I wanted to, especially because I have never seen any queen do something like that, even after how many seasons?!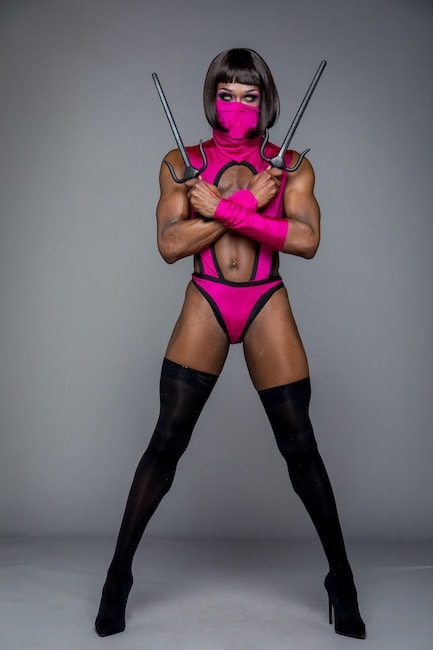 I wanted to let all the Gaymers, Geekatrons and the Nerd-tastic people out there feel represented and feel seen. There are many of us gaymers that also love Drag Race, and I wanted a look to reflect these two big parts of my life. So, when I saw there was a 'ruveal' challenge, Mileena instantly came to mind and then we started bringing the look, the energy and all of it to life.
Originally, the look was going to be all latex, but time-wise that couldn't happen, so we went with another material instead. I bought the fabric and with help from my friend, who also made my Naomi dress, we made a Mortal Kombat 9-inspired Mileena skin.
I wanted to use that runway to show that there is beauty and sexiness in the darkness, the gore. Mileena is gruesome and vile, but she is also sexy and mysterious… everything really and I'm just so happy that everyone loved it, because it was for all the gaymers!
How long have you been into gaming? 
OMG, since I could breathe! My first ever games console that I can recall was a Sega Mega Drive… we're going back hunny! I had one of the early Sonic the Hedgehog games, the type you had to blow into because it would never work! I would sit in front of the TV and my Mum would be in the kitchen, telling me to move back from the screen because I'd play it for hours! Gaming has, and still is, such a big part of my life.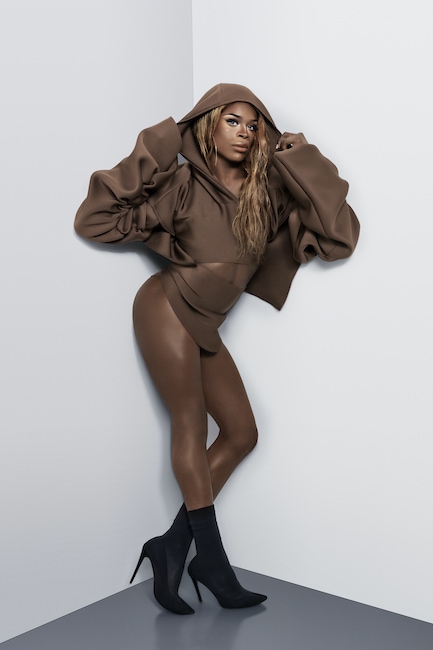 Why do you think so many drag queens play video games? 
I honestly have no idea! It's funny how many drag artists and performers are coming out as gaymers over this past year, especially on Twitch, and I live for it all! I think at the heart of it, we were all little queer children in our bedrooms or round our friends playing games. We escaped into the world of the games and it felt so real, you were the character. The whole experience, magic and imagination carries on with you and into your art.
What other looks have you or would you want to serve that are inspired by video games? 
Chun Li has been one of my favourites to portray in my performances and just in everyday life. It's the thighs with the white boots and then turtle neck top… literally what I wear! My footwear is always white and my tops are turtle necks, only difference is that it's not blue and her doesn't have a sports label on it! One of my favourite performances I did as Chun Li was my 'Level Up' number. I was Chun Li, and I had my dancers as other fighting game characters. Liam was Ryu, Kevin was Cammy from Street Fighter, Thom was Paul Phoenix from Tekken and Dak was Jade. Also, I did a number with my kiki vogue house, House of Decay, and we did a vogue number as different characters from fighting games.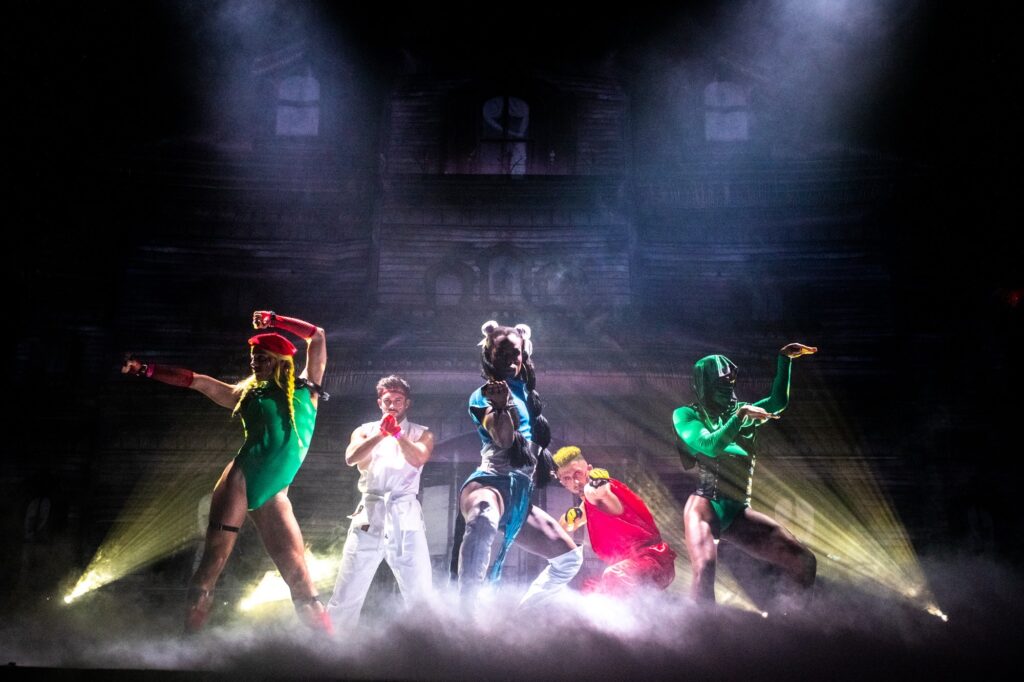 For other characters and performances, I'm excited to do my new number I've been working on as Mileena. I'd also say Lara Croft is another character I want to do. She's one of the most iconic female video game characters ever to exist. She's just that bitch, we all live for.
But, the next character I want to do is Ivy Valentine. OMG I just can't with her! It was always that move she did where she pulls her leg up to her head with the sword and just slam into a full split! She's ferocious, pure power and strength while exuding womanly energy and sexiness… she's definitely a character that I have been inspired by.
You're part of a trend of cosplaying drag queens, who are some of your favourite queens who do cosplay looks? 
It's weird, I wouldn't ever call myself a cosplayer or cosplay queen, but I guess I do fall into the cosplay world. The only drag artist that has really gagged me was Just Jaremi. It was the countless looks from Pokemon Gym leaders to Harry Potter characters for their 365 days of drag. OMG I was gagged, it was everything it was everything and more. Knowing that for certain outfits and characters, it took a lot of time to make or build, was an inspiration in itself.
You've been a professional dancer since you were 20, what's been some of your career highlights away from drag? 
I think probably being part of Matthew Bourne's New Adventures production of Lord of the Flies. I had just graduated and finished my training, so was fresh off the boat. I had loved, and still do love, the company and the pieces of work New Adventures creates, so it was a dream for me back then that I would perform in a MBNA production.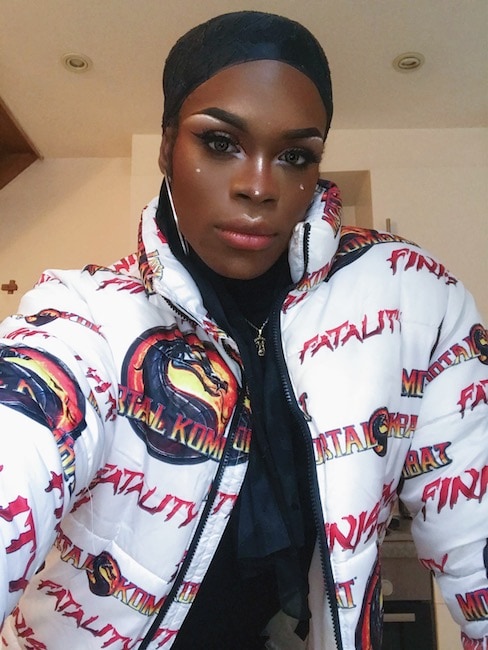 Where do you see your career going with dance and drag? 
I haven't got a biscuit in the biscuit tin to give you an answer to that one! My career is my life, it's transformed and changed over the years, and its direction has got flipped several times and I've ended up doing something different with it. At the start of the year when Drag Race came out, I kind of knew or had an idea where I could see myself going, but due to my current situation of losing my mother, I couldn't tell you where I see it going now to be honest. All I can say is that I see my career with dance and drag going on for years and years to come.
What game are you playing at the moment? 
Well, I just got the new PlayStation 5, finally, and I kind of went games crazy and had a big old splurge in the store and online, so I'm playing pretty much every game I bought! But right now, I'm playing Spider-Man Miles Morales and the new Ratchet and Clank.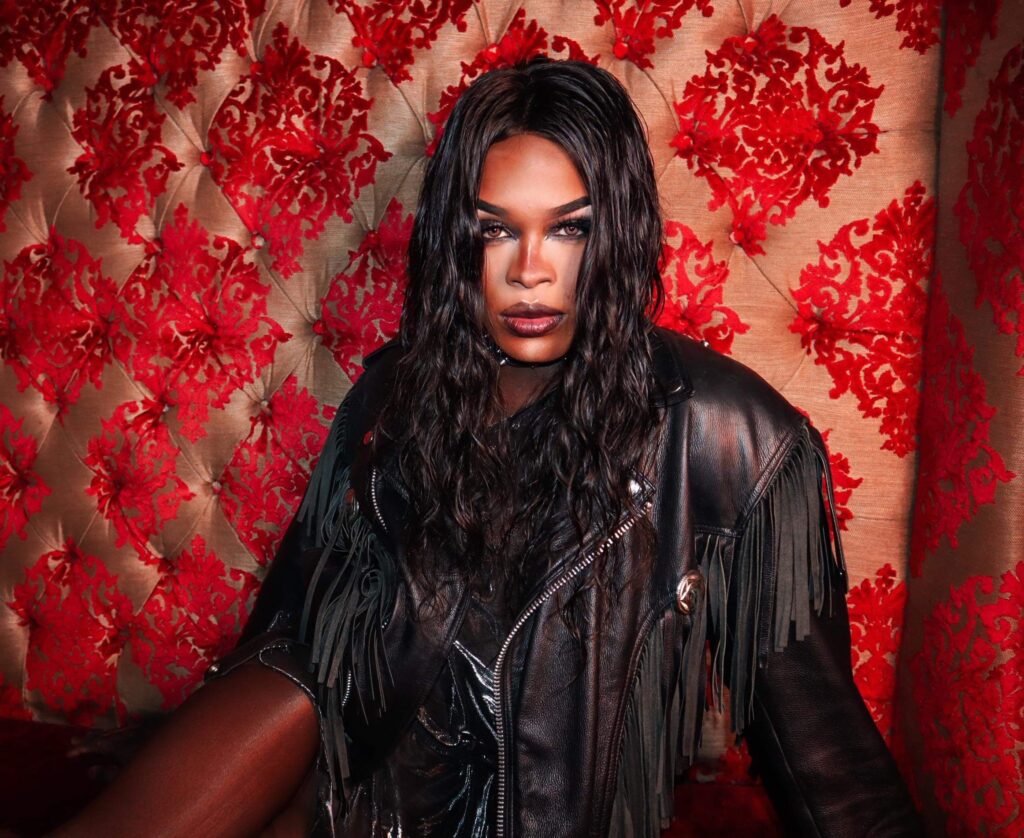 What's the one game you can rely on to help you relax and escape? 
The Sims 4. I have it on my laptop, and yes I have got all the expansions and game packs! It's been one of my all time favourite games to play and I can't get enough of it. I have this character Desiree Longfield and the last time i played, I was building a new house because she has just had her second child and it was with some other random Sim I made for her… I could go on and on about it, but yeh The Sims.
What does the future hold for Asttina?
Right now, I'm just taking each day as it comes, but who knows what the future holds. Maybe I'll have a cameo or appear as an NPC in a game or have my own fighting character. Fatality… Asttina Wins! Imagine it appear on the screen, choose Asttina, OMG I want it! But yeah, I'm not sure what my future plans are or what's in store, but I do know that I will continue to do what makes me happy and just enjoy life to the fullest.  
How can our readers keep up with you?
You can follow me @asttinamandella mainly on Instagram and Twitter. You will be able to see all that's going on in my world and what I'm doing.