DIGIPRIDE 2021: Let's get this party started!
Welcome to DIGIPRIDE 2021, three months of celebrating queer contributions in video games and wider geek culture!
DIGIPRIDE 2021 is presented by Xbox and sponsored by 2K, Mediatonic, SEGA, Sold Out Games and Wizards of the Coast. A huge thank you to these sponsors for supporting the LGBTQ+ gaming community and ensuring that we can offer you all of these events for free!
Pride is so important right now, possibly more important than ever. Around the world, it is still illegal to be LGBTQ in 70 countries, 12 of which carry the death penalty. But also, in countries where it is legal, acceptance and tolerance is still a cause that needs to be fought for. LGBTQ rights are being threatened and rolled back at an alarming rate in many countries, with young queer and trans youth still growing up scared, confused and at risk. Video games are one of the most important art forms in history. They have the power to transcend language, borders and politics, and, unlike other forms of entertainment, allow people to be interactive and live experiences for themselves. The power to help support LGBTQ people through tough times and to also help educate allies cannot and must not be underestimated. That is why Gayming Magazine exists and that is why we celebrate Pride, to keep fighting for and celebrating LGBTQ+ representation in games and in the industry.
As we listed in our preview article, there's so much to come over the next three months, some of which we haven't even announced yet! But, let's take a closer look at some of the big things coming up in June in a bit more detail!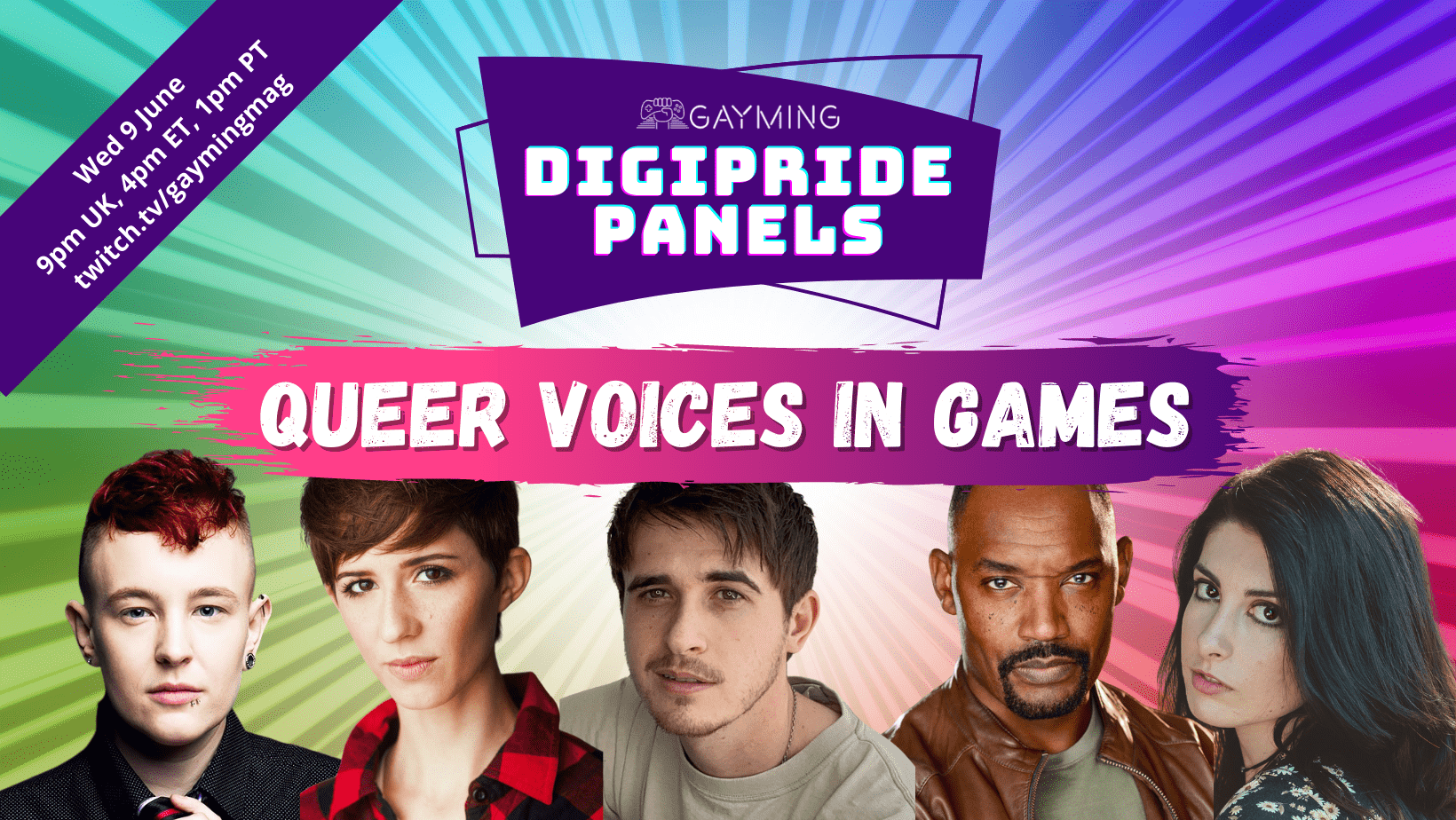 Queer Voices in Games Panel
Kicking off our DIGIPRIDE Panels series on Twitch, it's the Queer Voices in Games Panel on June 9th at 9pm UK/4pm ET/1pm PT. Hosted by Charleyy Hodson, this panel features a stellar line up of queer voice talent (left to right in image above):
Ciarán Strange: Ciarán is the voice of Lorelai in Borderlands 3 and has also voiced English dubs of many popular anime series. He is also a musician and author.
Sarah Elmaleh: Sarah is best known for roles in critically acclaimed indie games like Gone Home, Afterparty & Pyre, and also high-profile AAA titles like Gears 5, For Honor & Anthem.
August Aiden Black: August is best known for the role of "Tyler Ronan" in Tell Me Why and went down in history as playing the first playable transgender character in an AAA studio game.
Tommie Earl Jenkins: Tommie is best known in video games for his role as Die-Hardman – the third president of the United Cities of America in Death Stranding. He has also appeared on Go Jetters and Dead Pixels in the UK.
Valerie Lohman: Valerie rose to prominence voicing the lead character Edith on What Remains of Edith Finch, getting her a BAFTA Nomination for her work. Soon after, she starred as Jess Blazkowicz in Wolfenstein: Youngblood.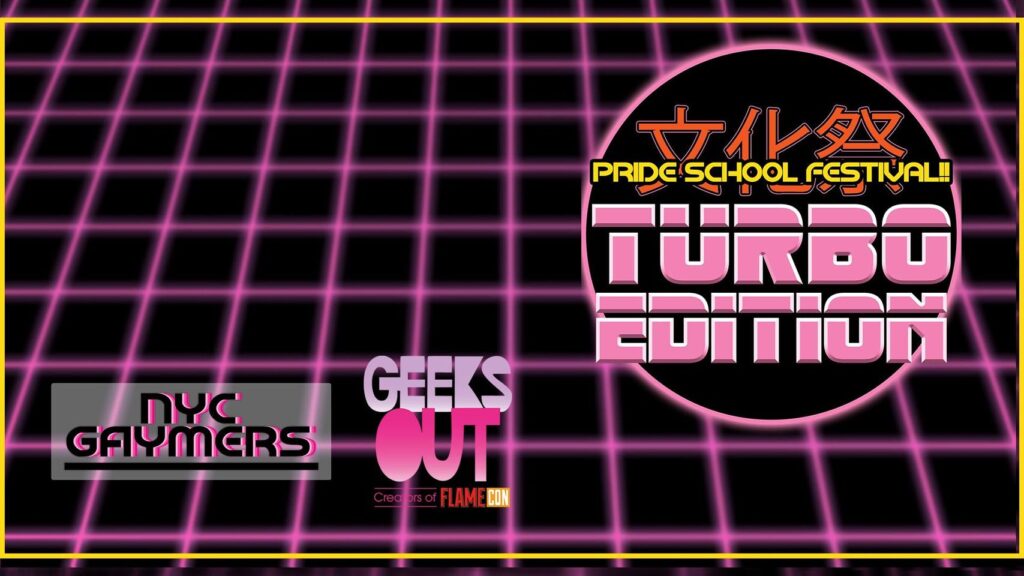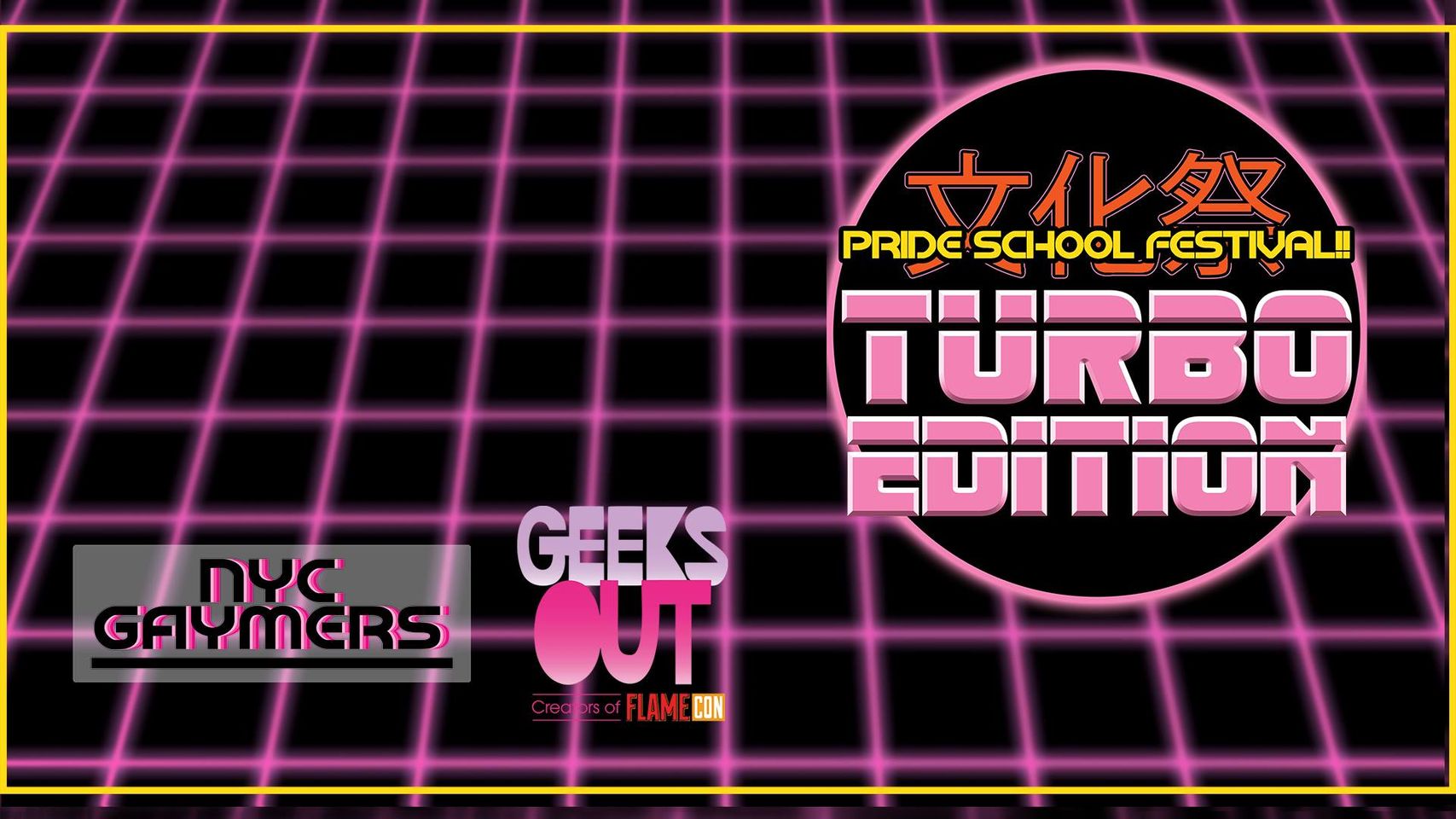 Pride School Festival
June 18th to 20th, it's NYC Gaymers' Pride-themed event – Pride School Festival!! Return to Hokori High – Turbo Edition! It is inspired by the spirit and joy of school festivals that people can see in their favourite anime.
With this Pride Festival being virtual, the students – aka you gaymers out there – will be hanging out on the campus of Discord. Guests will be greeted and given a short orientation to make sure you get your bearings, and know your way around the school. Volunteers will also be available if assistance is needed, and of course if you'd like to participate as part of the 'student council', then you can also sign up. The best part is? All of this is completely free, no strings attached!
To find out more about Pride School Festival!! Return to Hokori High – Turbo Edition! or to enrol, then head on over to gaymers.nyc/psf-2021.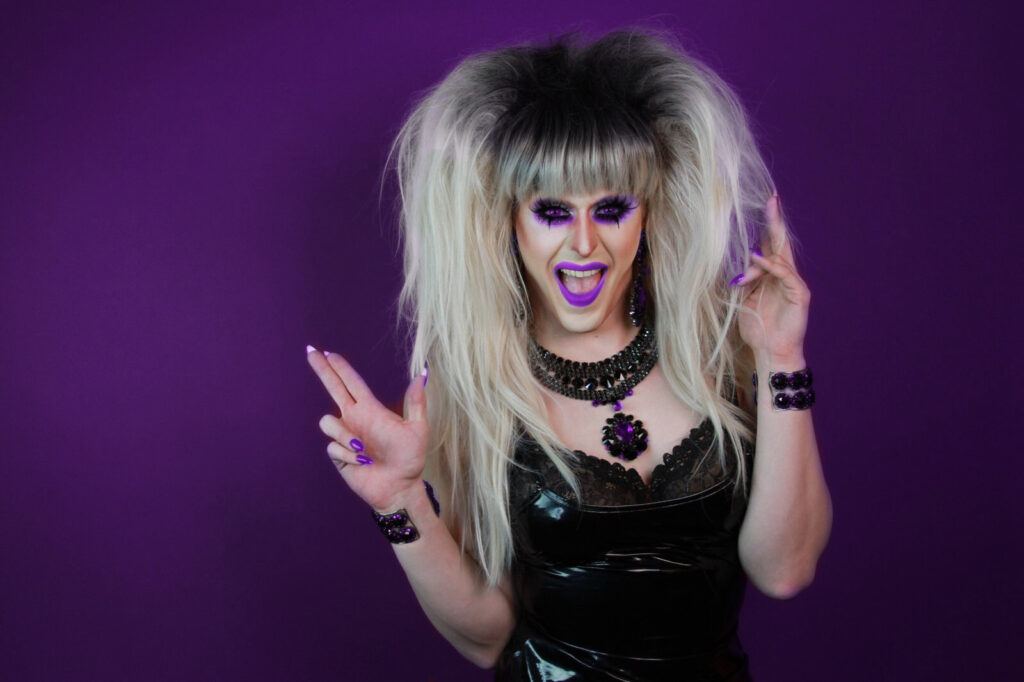 Biqtch Puddin's Digital Drag Show
June 25th is our headline show, the return of Biqtch Puddin's Digital Drag Show – DIGIPRIDE Edition!
Biqtch Puddin', is the winner of Season 2 of The Boulet Brothers hit show Dragula. Since then, she has gone on to become an icon of the drag scene both in real life and in the digital world. As gigs shut down when the pandemic hit, she created a format of Digital Drag that was able to ensure that queens who had lost all their income were able to perform and make money during tough times.
As the world returns to some form of normal, queens are now able to get back out into the real world, with some restrictions in place. However, the legend of digital drag lives on and we're honoured that we can work with Biqtch Puddin' to bring a special Gayming themed show to you for Pride!
Cast reveals and more info will follow but get ready by following Biqtch Puddin' on Twitch now!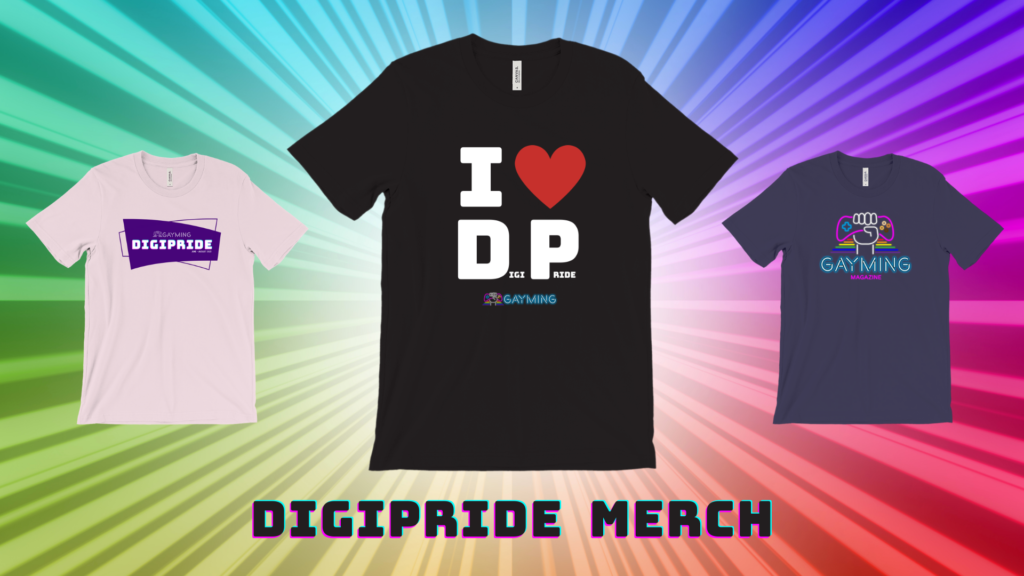 DIGIPRIDE Merch
It wouldn't be Pride without some special merch right?! Well we've got a new range of tees and hoodies with the Gayming Magazine logo, the DIGIPRIDE logo or the cheeky I Love DP branding to show your love for DIGIPRIDE this summer!
Get on over to our new shop to check it all out!
---
All this plus weekly streams from the Rainbow Arcade, fortnightly episodes of the Gayming Podcast and awesome Pride-themed content right here on Gayming. Keep your eye on the DIGIPRIDE Hub for all this.