Celebrity Gaymer: Charlie Martin

Charlie Martin is a trans racing driver who has recently made the jump into sim racing due to the onset of the Coronavirus. She also joined the coverage of ForzaRC's Invitational Series as a caster late last year.
Charlie has fought continuously to overcome adversity throughout her life, having lost both her parents at a young age. Entering motorsport without anyone supporting is hard enough, but she also realised she identified as transgender from as young as 7, transitioning to live as female midway through her career in 2012.
She recorded her entire transition on her YouTube channel, helping to inspire 1,000's of people all over the World to begin their own journey.
I spoke to Charlie on the most recent episode of The Gayming Podcast, but I was lucky enough to sit down with her to ask some more questions and dig a bit deeper.
Robin: Charlie, thanks so much for joining me today, when did you start out in motor racing?
Charlie: I think I was about 23 by the time I actually decided I was going to start out, it was the year I finished my degree in graphic design and like most graduates I had no money – hardly the time to start out in motorsport ! But I was very determined, so I saved up from a summer job and bought a Peugeot 205 for £1,500 and spent a year rebuilding it as it came in bits as a project. I had no idea really, but I just learnt as I went along.
What is it about the sport that is so thrilling for a driver?
When you're racing, nothing else in life matters, you leave everything else behind and for those moments when all your senses are heightened and your adrenaline levels sky rocket, you feel like you feel completely alive in the most incredible way.
Plus there's also the camaraderie, the sense of belonging to a community of people who all share the same passion, that deep connection and the intense moments you all share together. It's something very special.
You began your transition in 2012, were there any concerns about not being accepted by the motorsport world?
Absolutely, so much so that I gave up altogether. I'd never seen any LGBTQ people in motorsport, from club to professional level, and so I had no indication or physical proof that I'd be accepted. Being transgender, it's very hard to hide that fact during transition… you're very visible and vulnerable as a result. When I came out to two close friends I raced with, one never replied or spoke to me again, hardly something that fills you with confidence!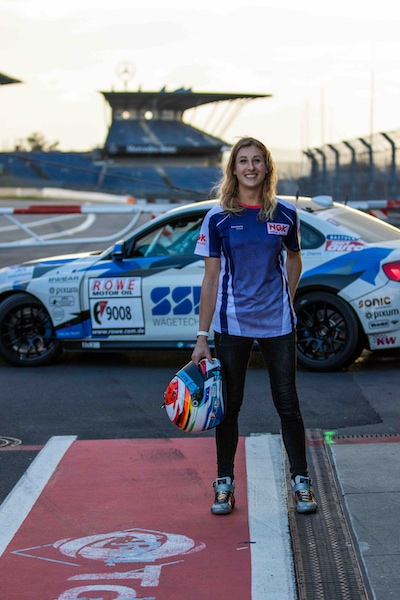 What is the motorsport world like for LGBTQ people?
I think motorsport can be pretty accepting, and it feels like a huge family so there are a lot of positives. However, I think when you consider the progress made by other sports and the campaigns that already exist like Stonewall's Rainbow Laces and the Premier League's very public stance on stamping out homophobia for example, motorsport is really lagging behind. There's a big opportunity to step up, but as yet I haven't seen a co-ordinated and tangible approach to make motorsport more welcoming to the LGBTQ community from the sport's governing body the FIA or Motorsport UK.
I think now is the time, just last week we saw Formula One launching the #WeRaceAsOne in response to the Black Lives Matter campaign and pressure from Lewis Hamilton, the momentum is there right now.
Why did you decide to document your transition on YouTube?
Pretty early on, YouTube had been instrumental for me as it was the first time I really saw people I could identify with, people who truly represented how I felt at that time. I wanted to give something back in a way that would help other people, and also give me some way of charting my own progress.
Transition is tough going, there are times when you feel like you're not moving forwards, and so it's encouraging to see a video you made two or three months ago and suddenly realised that in fact you've taken a big leap forwards.
How did it feel returning to the paddock post-transition?
Very scary, to this day one of the most nerve wracking things I've ever done. I was shaking and I had to physically push myself to get out of the car. A lot of people had no idea what was going on, who I was… it was awful and I just tried to put on a brave face. Luckily about 6-7 of my close friends came over and gave me a big hug and helped me get through the day. They really saved me, and my entire career that's happened since, because if they hadn't done that, I would probably have never gone back.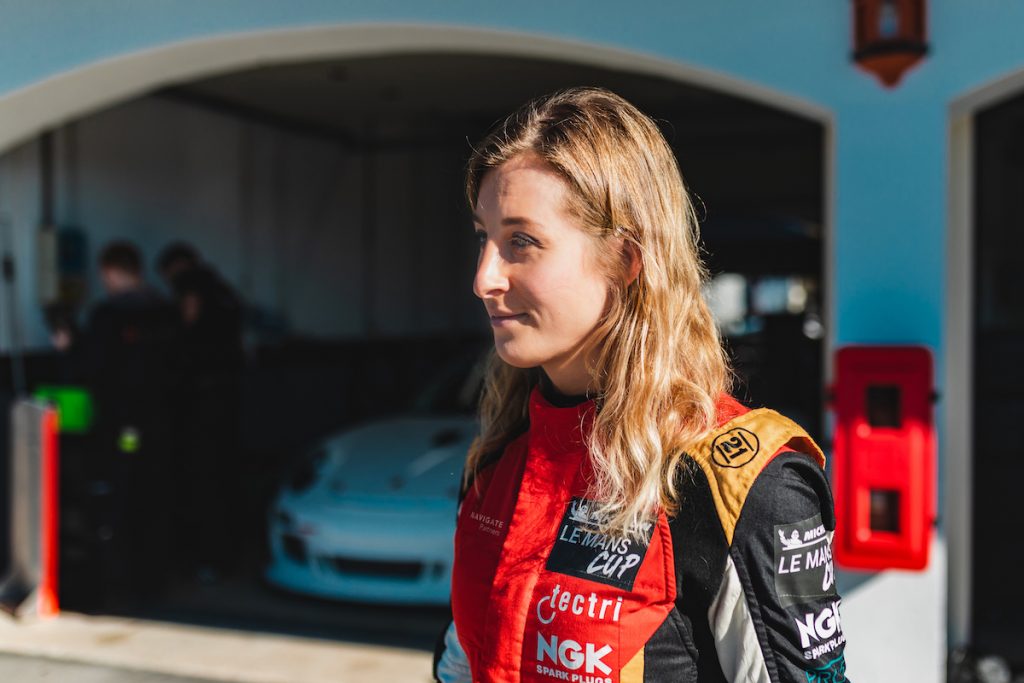 How has the fan reaction been?
In terms of my own fans I have a lot of followers from the LGBTQ (especially trans) community who have known me since I started on YouTube, but then there are a lot of more motorsport orientated fans who never realised I was trans until I came out in a big way back in 2018. I spent a long time worrying about bringing two quite different demographics together, but it just goes to show that people are often more accepting than we sometimes think. The reaction was really positive, of course there were negative comments on social media that I still continue to receive, but thankfully in the overall picture it's a very small minority.
What more could the motorsport world be doing to support its LGBTQ drivers, workers and fans?
As I mentioned, I think simple but co-ordinated and very visible displays of support for the LGBT community work incredibly well to send out a bold and simple message.
If we look at the Premier League for a second, at the start of the last season they teamed up with Stonewall and Coca Cola for the Rainbow Laces campaign to make huge Pride themed doormats for every single football ground across the country. Every single fan will have seen them on their way into the stadium, it's inescapable and says very clearly 'we as a sport support the LTGBTQ community'.
Now imagine if motorsport did that ? I've already proved that this can work when I asked all the drivers to run Pride stickers on their cars in June 2018 at Silverstone for the British GT Championship, it was a huge success and the story went on over 30 news websites… I even received a Motorsport Marketing Award!.
Both Formula One & NASCAR recently made public pledges to support diversity & equality, we just need support from the governing bodies to make it happen on a large scale.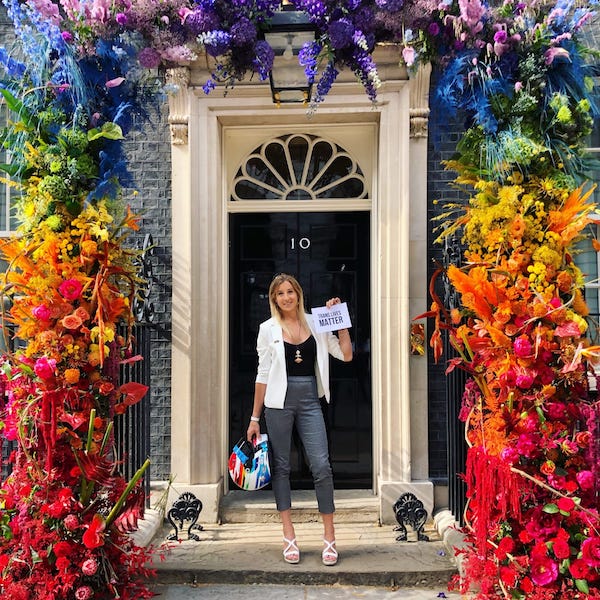 Your goal is to race at the world-famous LeMans 24 Hour, what is so special about that race?
It's the oldest and most famous endurance race in the World, arguably the biggest race too alongside the Indy 500 with over 250k people and billions of viewers all over the globe. It goes on for a whole month, the atmosphere is just incredible and so it has everything – romance, history, glamour, prestige… if you've never been, it's hard to imagine what it's like. Even finishing is an achievement, to stand on the podium is something every driver or team owner dreams of. For me, just getting to compete there would be the culmination of everything I'm working for. I can't understate what it would mean both on a personal level and what it would mean for the LGTBQ community to make sporting history there.
We're here today specifically because while the effects of COVID19 are still being felt around the world, you have turned your hand to esports, specifically virtual racing. Tell us about what you've been up to.
Fortunately I found myself well prepared as I started building a home sim late last year and kitted myself out with a Thrustmaster T-GT and Next Level Racing GT Track rig. Then when COVID hit the start of the season, Formula E reached out and invited me to compete in the Race at Home Challenge. It was an amazing opportunity to race in such a high profile series alongside some of the World's fastest pro sim racers, with the chance to win a drive in a Gen 2 FE car and also raise money for UNICEF and support children affected by the pandemic.
Since then I've been racing on a few platforms, I recently joined Overtake for the Clash of Racers on Assetto Corsa Competizione, which I actually did on a friend's sim while I was away racing in Germany.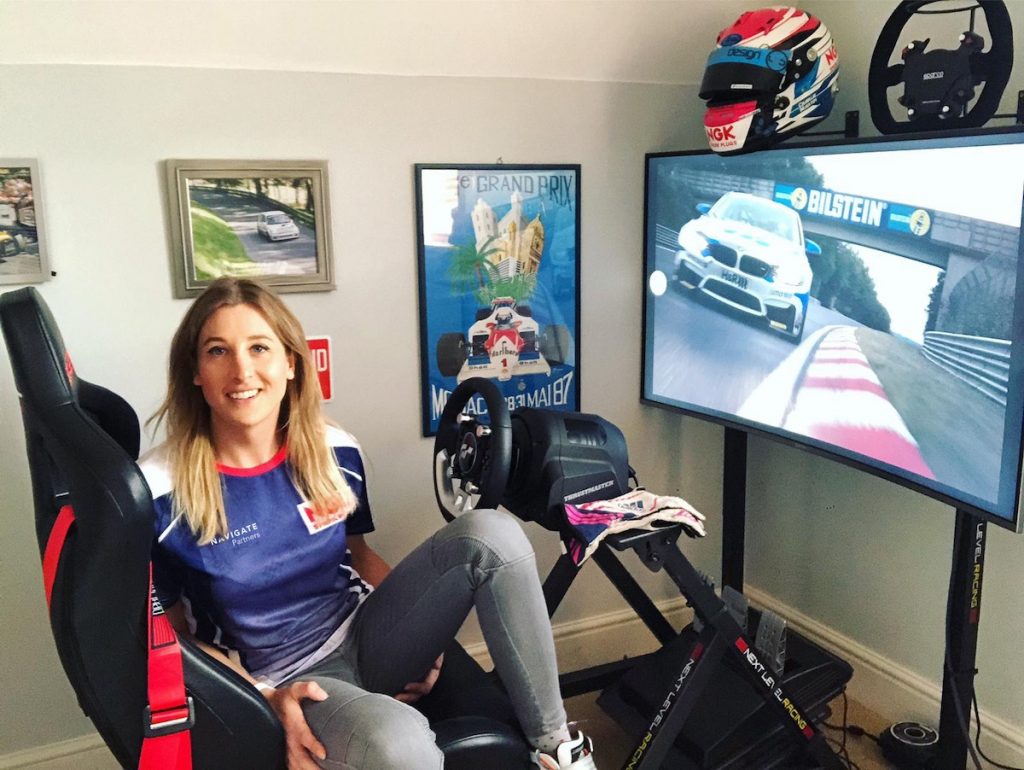 Had you been a fan of racing games before the Coronavirus hit?
Yes 100%! I grew up on racing games as a teenager, back then karting was never an option for me so I got all my racing experience in the virtual world. I sometimes smile to myself as back then my mum would be chasing me to get off the console and do some homework, whereas now I often have to tear myself away from my laptop to go practice on the sim, how times change!
We saw that in October last year you joined ForzaRC's Invitational Series as a caster in Week 4 and the Grand Final, how was that experience for you?
Working on the ForzaRC was an amazing experience on so many levels, I'm really grateful to the team at Microsoft for reaching out and inviting me to take part. It was a little nerve wracking to be honest as I'm new to casting, so I did a lot of prep which really paid off, and I had an awesome time working on the show. It opened my eyes to the dedication and skill level among the pros who compete at this level, and also to the support and engagement among the online communities that follow esports and sim racing. I had a go myself and quickly realised that my dexterity on a hand controller has all but deserted me since I was 16!
The Forza series is such a great platform though and I'm hoping to start running it once I have my new rig in a few weeks.
Is casting something you would want to do more of in the future?
Definitely, despite some initial nerves I enjoyed every minute. I learnt a lot too, just watching yourself back is helpful and every time I came away with things to work on. My biggest fear was running out of things to say, but there was so much happening and the racing was so competitive that I never had that problem! I love being involved in esports both as a racer and caster, it's fun to merge the virtual and physical world and so this is certainly something I want to focus on going forwards.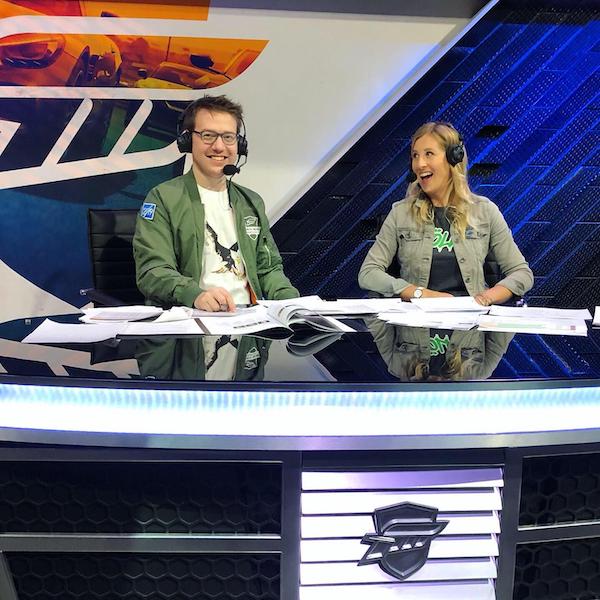 What's the main similarities between racing cars in reality and in game?
The level of focus and concentration required would be one thing, the reaction times required and the level of control and coordination required are also key areas. I've learnt – to my frustration at times – that in a number of ways sim racing can be harder when you're coming at it as a racing driver, because you lose so many of the physical inputs that you rely on in the physical world to make millisecond reactions to.
While you can go a long way to creating these in a top level sim like the ones at Cranfield Simulation with 11 degrees of freedom, you have to train your brain to work with what you've got – normally just feedback through the wheel.
When you're able to get back out on the track, will you be able to transfer you experience from esports over to real life? Have you learned anything specific that you're transferring to your real life driving?
This year I'm racing in the Nürburgring Endurance Series and N24, the track is 25km long and you have around 150 cars from all different classes sharing a very narrow strip of undulating tarmac, and so it's very intense racing. I started learning the track, which is the Nürburgring & Nordschleife combined, on my sim back in October, initially just where it goes, then corner names, the correct lines, comparing my laps with real life onboard and learning which curbs you can and can't cut, it's a huge task.
When I turned up for my permit course in March, you need one to drive the course, I knew the course in my head exactly. I don't mean I was already an expert by any stretch of the imagination, driving fast here in the reality is as big a challenge as they come. But without that level of preparation I'd have been fumbling in the dark, I think that's a great example of how I use a sim to speed up my learning process.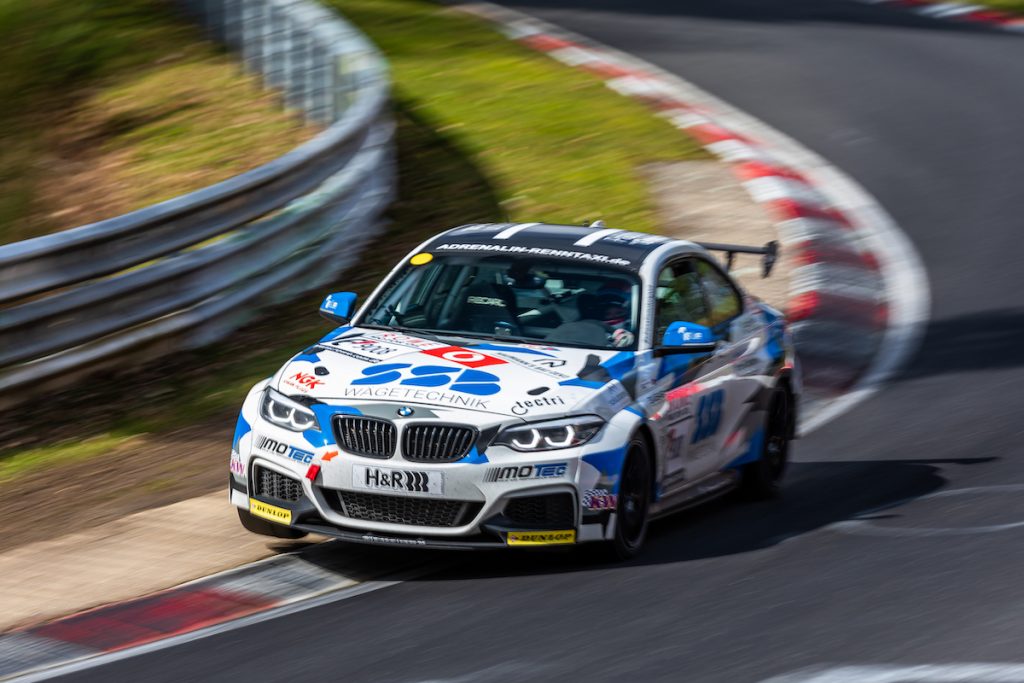 Are you going to keep on e-racing once you're back out in the real world?
Absolutely! I'm currently doing a big upgrade on my sim as I want to make as true to the feeling of driving a car in the physical world as possible, and I've got some big plans to keep developing my skills as a sim racer. I've had a few invites recently to drive in championships and I'm happy to see my career developing in this way.
It's been amazing to see esports gain so much mainstream exposure over the last few months, it's such a great way for younger generations to get into competitive racing at a fraction of the cost of karting. There are no barriers to anyone competing and I love how open minded and welcoming the online racing community is, it's a great feeling to be part of it.
Aside from racing games, do you enjoy any other type of video game?
I used to love Splinter Cell on Xbox, I really mastered that series of games and the graphics and lighting effects were just breathtaking, even back then they set a new benchmark for me.
I grew up playing all the Wipeout games too, the speed was something else and I honestly used to feel like I'd entered the matrix after playing for a few hours!
If I had more free time I could definitely get sucked into gaming a lot more, I just have too many things to focus on so it's always a balancing act dividing my time efficiently.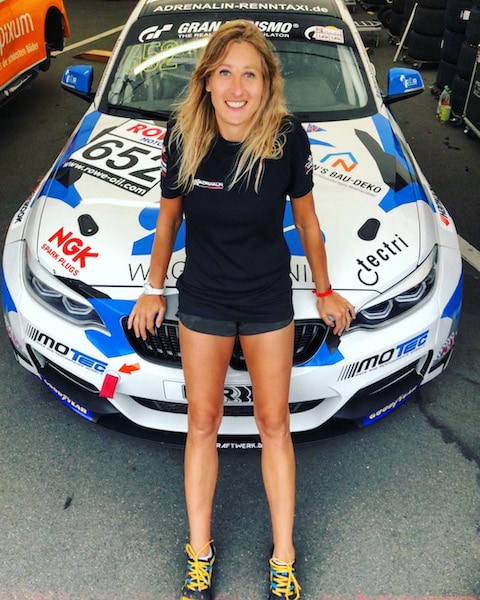 What does the future hold for you personally and professionally?
Aside from racing and making it to Le Mans, I want to start presenting on television, it's something I really enjoy having made two series on my racing for MotorsTV and I think it would be a really fun direction to grow my career in. I've recently been writing for some magazines and rediscovering how much I love writing, and they generally say everyone has one good book in them. Knowing how my life has been to date, I think that's something I want to pursue once I've reached a certain point.
I've missed public speaking recently, as this forms a lot of the work I do to improve awareness and acceptance for the transgender, and wider LGBTQ, community. This work is very important to me, I'm passionate about making the world an easier and more empathetic place for people to live in, and I don't think I'll ever stop working in this field as there is always work to be done.
---
Follow Charlie on Twitter and Instagram, and to find out more, visit her website www.gocharlie.co.uk