SAG-AFTRA agrees to Hollywood deal, ends historic strike
After standing on the picket lines in demand that they, US actors, be treated with respect and dignity by Hollywood studios, the SAG-AFTRA strike is finally over.
Taking to Twitter (now known as X), the official SAG-AFTRA account posted the following, addressed to its members:
"We are thrilled & proud to tell you that today your TV/Theatrical Negotiating Committee voted unanimously to approve a tentative agreement with the AMPTP.  As of 12:01 a.m. PT on Nov. 9, our strike is officially suspended & all picket locations are closed."
It continued. "In a contract valued at over one billion dollars, we have achieved a deal of extraordinary scope that includes "above-pattern" minimum compensation increases, unprecedented provisions for consent and compensation that will protect members from the threat of AI and for the first time establishes a streaming participation bonus. Our Pension & Health caps have been substantially raised, which will bring much needed value to our plans. In addition, the deal includes numerous improvements for multiple categories, including outsize compensation increases for background performers, and critical contract provisions protecting diverse communities."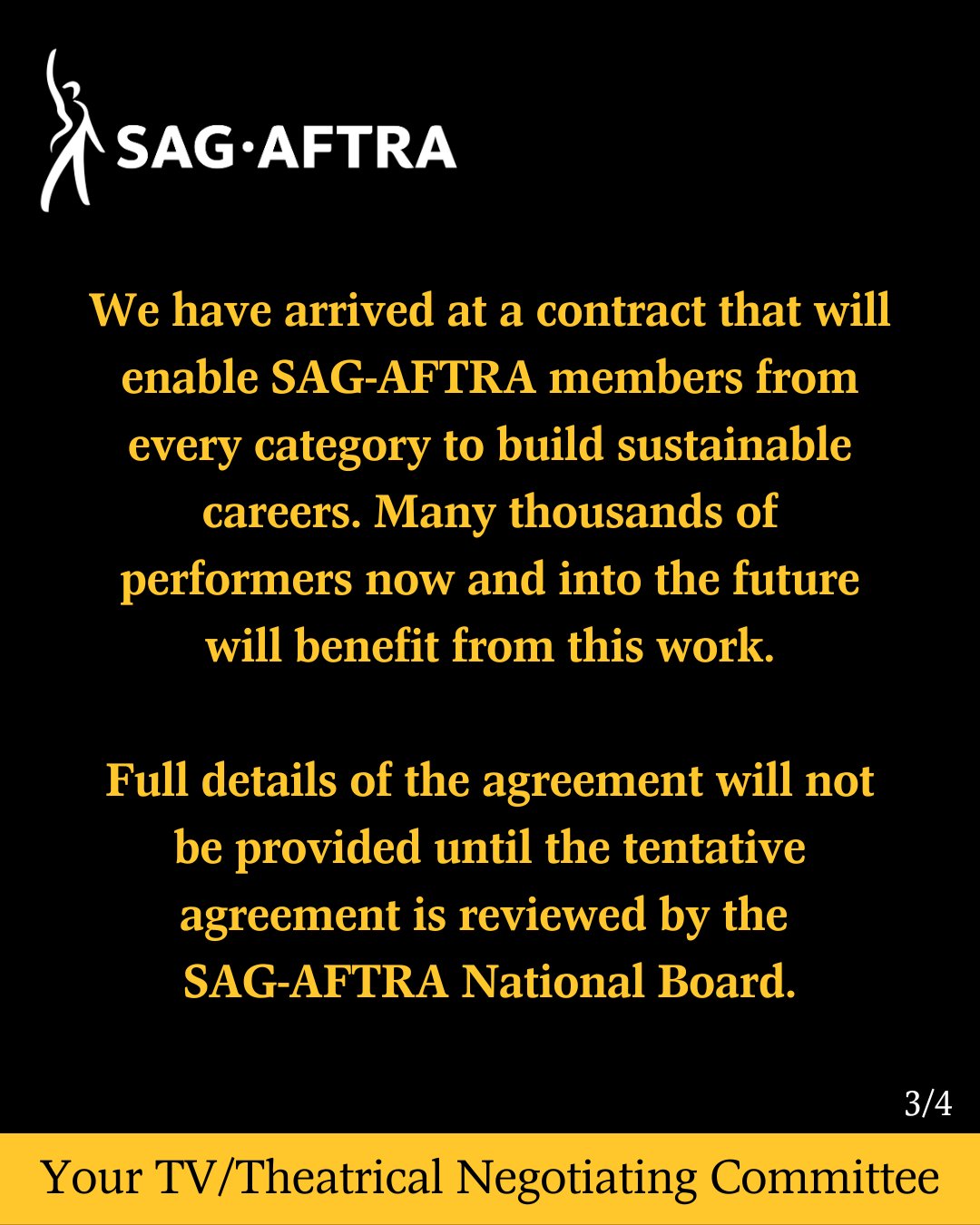 Full details have not yet been revealed but will be shared once the SAG-AFTRA National Board reviews the tentative agreement.
Yet, while this is no doubt a momentous victory, Kevin E. West, a member of SAG-AFTRA's negotiating committee, quickly clarified to Variety that the deal agreed to wasn't "perfect" but that even getting to this agreement was an "extraordinary" achievement.
West also shared that there were "tears of exhilaration and joy" in the committee room after the contract was approved.
"The final vote was unanimous. That's a difficult thing to accomplish. It's honestly been a really long two weeks."
Among their calls for better compensation, US actors – as well as writers from a separate writer's strike – have pleaded with film and TV executives for safeguards on the use of artificial intelligence, aka AI. Now, more than ever, AI has seemingly taken the world by storm; from art to literature, to even imitating actor's voice and bodies — all for cheaper labour.
Having had enough, a strike was called back in July this year. The knock-on effect from this meant the disruption of numerous films and TV shows, such as Marvel's upcoming Blade, as well as Dune: Part Two.
Members of SAG-AFTRA still need to vote to ratify an agreement, but as of now, the strike is officially called off, and members can go back to work.