Lake: Season's Greetings Review — A Nice Christmas
If there's one thing Lake: Season's Greetings wants to be, it's your yearly Christmas special. A game that sticks out in your mind when it starts to get colder, the holidays come around, and you're wondering what game to play to get you in the festive mood. On that part, it certainly succeeds.
A prequel to its predecessor Lake, this time you're put in the shoes of Thomas Weiss, an elderly postman whose number one job throughout this Christmas season is to deliver mail and — whether he wants to or not — solve problems. If it sounds a lot like the original game, then it is. And isn't it good that we have more of Lake?
Well.
When Gamious' Lake was released in 2021, I privately described it as a game that managed to 'capture lightning in a bottle.' That game follows Meredith, a middle-aged workaholic who finally takes a break from her tech job to look after her parent's house in Providence Oaks for two weeks. She also takes on the job of postwoman for her father, the aforementioned Thomas Weiss. Throughout her time there, she's forced to reconnect with a life that she believes she's outgrown, both as a bisexual and a 'modern-day' woman. How she does that is entirely up to the player, but if there was one thing about it that made it stand out, it was that it was never boring. On the contrary, being an outsider in a place that once was your home made Lake feel a little more exciting, all without going overboard in making it a tense experience.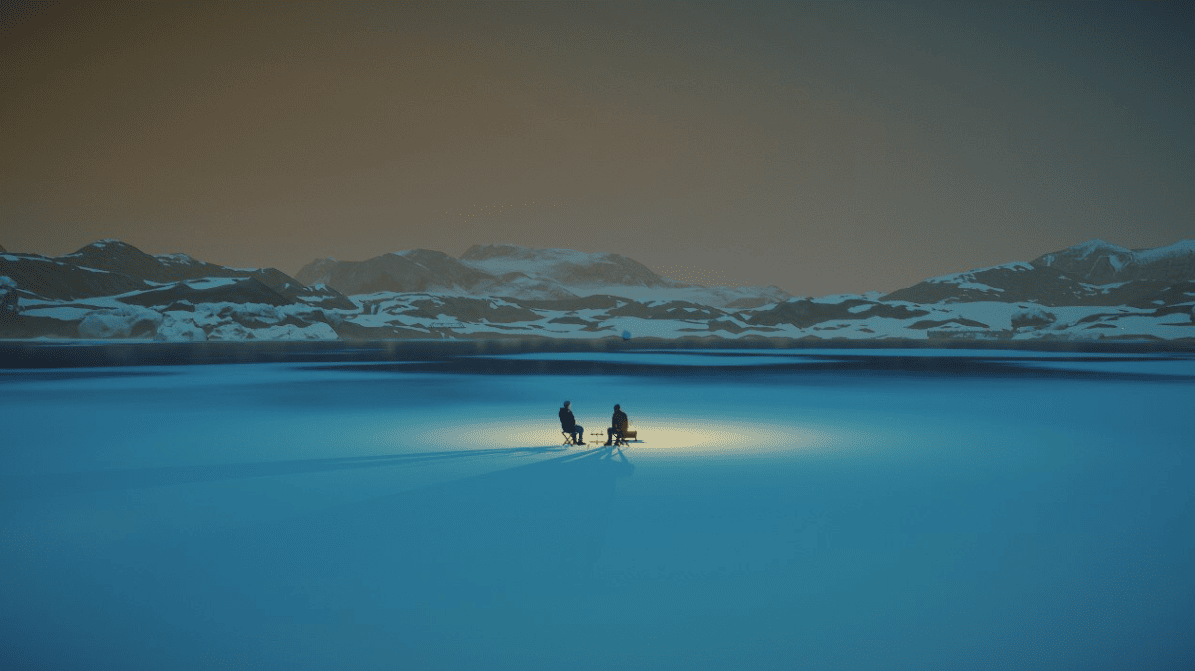 The downside of such a phenomenal game, that lightning in a bottle, is that it's primarily considered impossible to do it twice. And it hurts to say that Lake: Season's Greetings doesn't quite share the same magic that made its predecessor special. A shame, because it has almost all the ingredients: a return to the small, but beautiful town of Providence Oaks (PO), a cast of characters — both new and old — who all have their own problems, and a 1980s nostalgia that's as comforting as it is charming.
The one thing it's lacking, however, is the one thing that couldn't truly be involved in this prequel: Meredith.
In our previous preview with Lake: Season's Greetings, Gamious' Jos Bouman confirmed that Thomas and his actions throughout the game would not be as "life-shatteringly important" as Meredith's. "We didn't want to upstage Lake in creating a game/experience with important life choices, so we deliberately dialed down that area a bit."
On paper, I can respect and understand that. Meredith's goals and pathways are multiple in Lake. A Meredith who woos Angie, the owner of the Flick Shack in PO is far different from the Meredith who shacks up with local lumberjack Robert, and trying to tie in a sequel that respects both of these options would be difficult, if not impossible, without ultimately disregarding some choices. I can see why Gamious wouldn't want to do that and why, to counteract that, they moved the perspective to focus on Thomas, Meredith's father, instead.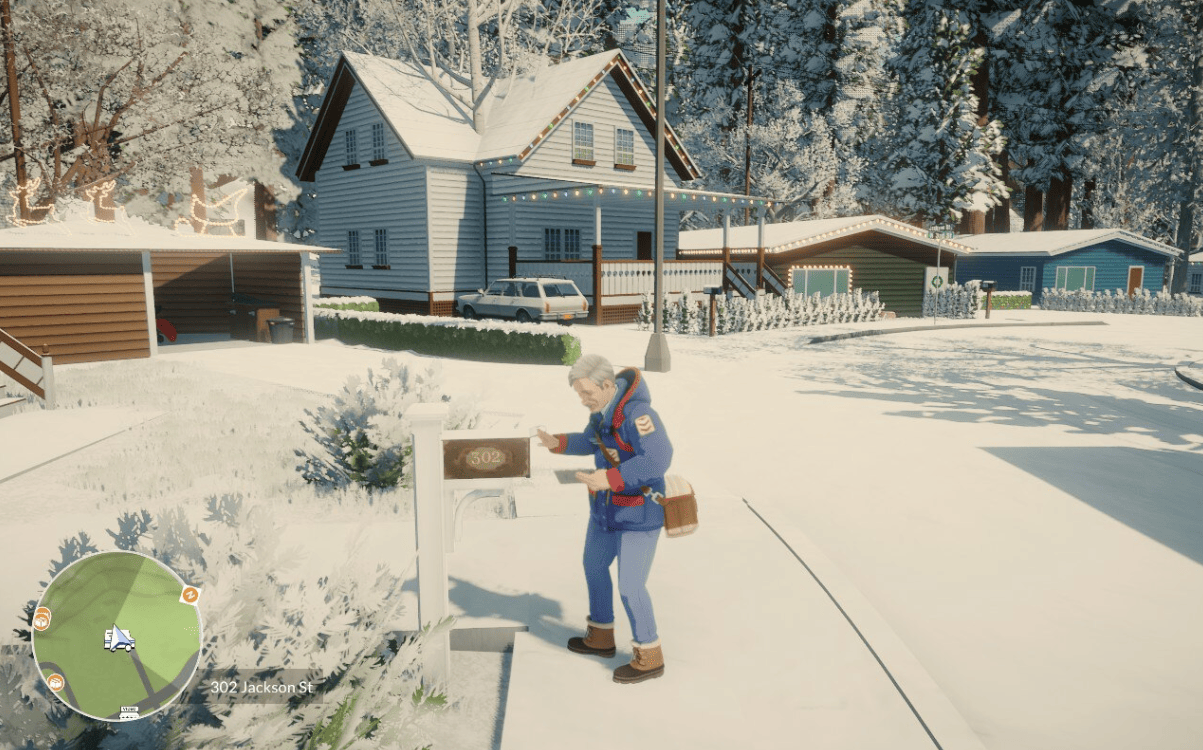 Unfortunately, this leaves Lake: Season's Greetings without what made it special and instead feels almost too comfortable. As Thomas Weiss, you're already a known variable to everyone in PO, and most relationships are already formed. Even when new characters get involved, Thomas is so likable that even the nastiest, smug a-hole can't help but be warmed up by him. On one hand, this feeds into the relaxing game atmosphere that Lake has always been, but on the other, it makes these new characters you interact with feel standard and not at all memorable.
As Thomas, the element of re-discovery that followed Meredith is nowhere to be seen. Instead, like many returning players, Thomas' view on PO is that of someone who is distinctly familiar with this small Oregon town and is very much in love with it. This gives a cozy vibe to the entire game, as players will no doubt — like I did — retrace their steps to see the differences and changes found in a PO coated in snow. For example, Angie's Flick Shack returns (alongside Angie herself) packed with callbacks to your favourite 1980s films and TV shows, but with a more festive twist. It's very cute.
While there are certainly places that have stayed the same, more has changed or been expanded on. In the original game, the motel (where Meredith's mom, Emily, works) didn't get its time to shine. In this prequel, however, things have changed, and it plays a significant role in giving the new characters (a news team stuck in PO over Christmas) their time in the limelight. There's also a new bookstore, which, like Angie's Flick Shack, has wonderful nods to some brilliant literature classics, such as The Colour Purple.
But what made PO memorable in the first place was its people. And in that, Lake: Season's Greetings does not excel as much as it should. As mentioned, there are 5 new faces among the old in this prequel, but unfortunately, none can stand out in a way that matters outside of Connor Price, a jerk news presenter. I'm unsure if it's because there's not as many in-game days compared to Lake, but there's barely enough time to get to know anyone, and the characters who you do know (such as Kay, Nancy, and Mo) aren't given the chance to breathe in the same way as they did before. For a game about the holiday season and bringing people together, there's far too little time spent on forging connections with people the player already knows. We knew these characters as Meredith, but seeing them through Thomas' perspective could have added much more to them, and it's a shame Gamious didn't explore that.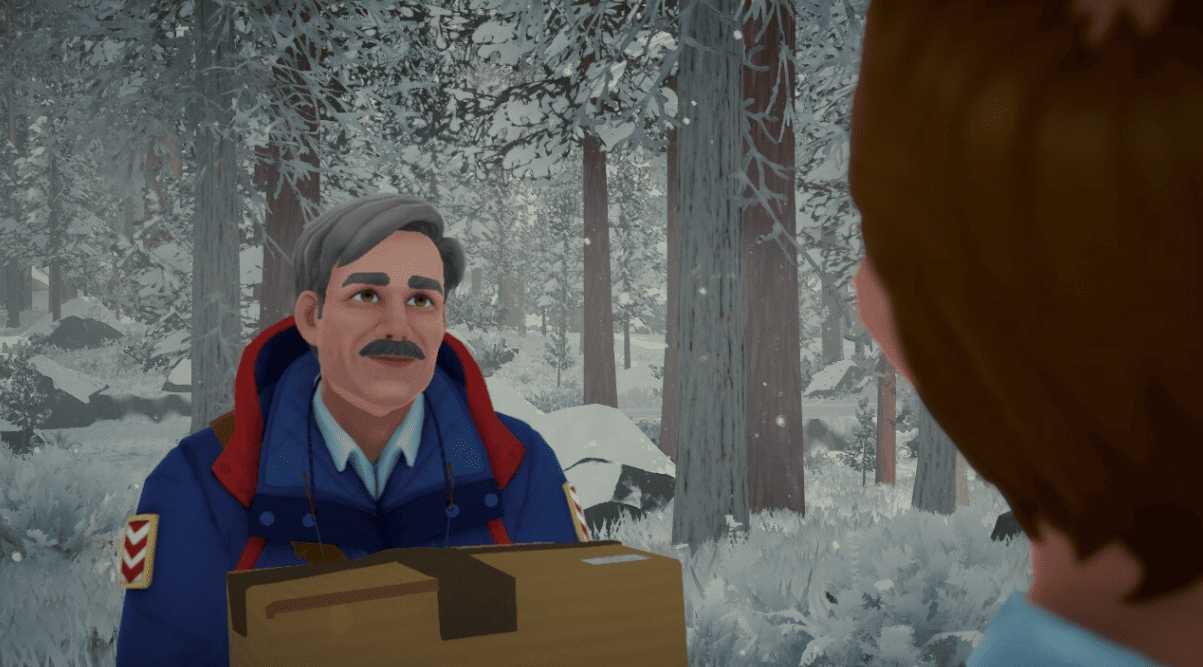 Even so, Lake: Season's Greetings still does showcase something special: a willingness to be mundane, and the humanity in that. Getting into his truck every day and listening to tunes on the radio while he delivers post across the snowy landscape of PO, Thomas Weiss is your average white-collar worker with a wife at home who loves him. He's beloved by his community, and on certain nights, he goes around to his friends to play poker and talk crap. He isn't a hero who can lift cars with his pinkie, or breathe fire to save the damsels in distress. He's just a guy, and sometimes the normal can feel extraordinary. Thomas Weiss captures that perfectly.
Most importantly, though, Thomas Weiss is a father figure in a video game that doesn't feel suffocating or obnoxious. It's become almost a running joke how many video games focus on fathers and their relationship with their daughters. This fierce protectiveness often overtakes their daughter's own role and initiative in their lives. Without getting too much into spoiler-territory, Thomas truly is the antithesis in allowing his daughter her own agency while giving her room to confide in him and her mother. It's a refreshing portrayal, especially in video games.
Overall, Lake: Season's Greetings isn't quite as interesting as its predecessor, but from what I can tell, that is by design. Even so, if you're after more adventures with Meredith or reliving good times with some of your favourite characters like Kay, this may not be the DLC for you.
However, if you're just after a new, soothing story set in a winter wonderland, then fret not: Thomas Weiss always delivers.
Score: 3/5
A copy of Lake: Season's Greetings for PC was provided to Gayming Magazine by PR.