Eternights Scavenge Guide: Where to find all missing items in Eternights
Looking for love? In Eternights from Studio Sai, the road to romance is paved with the many lost items you can scavenge for.
Eternights, a debut action-RPG with similarities to Persona, offers a variety of love interests for you to get to know throughout your adventure. But getting closer to them requires patience, training, and your love and attention.
One such way is looking for the missing items that your love interest is looking for, which will not only reward you with White Essence — an upgrade part that helps improve your stats — but earn you your love interest's favour too. The more items you can find, the more they like and appreciate your efforts.
Eternights Scavenge Guide: How to scavenge for missing items
Once you're back at your hub base, aka the train, you'll be able to interact with your companions and love interests. During the night period of each day, interacting with them will give you the 'Scavenge' option. It's here Yuna, Min, Sia, and Yohan will tell you about a certain item they're looking for, and that they would like your help in finding it.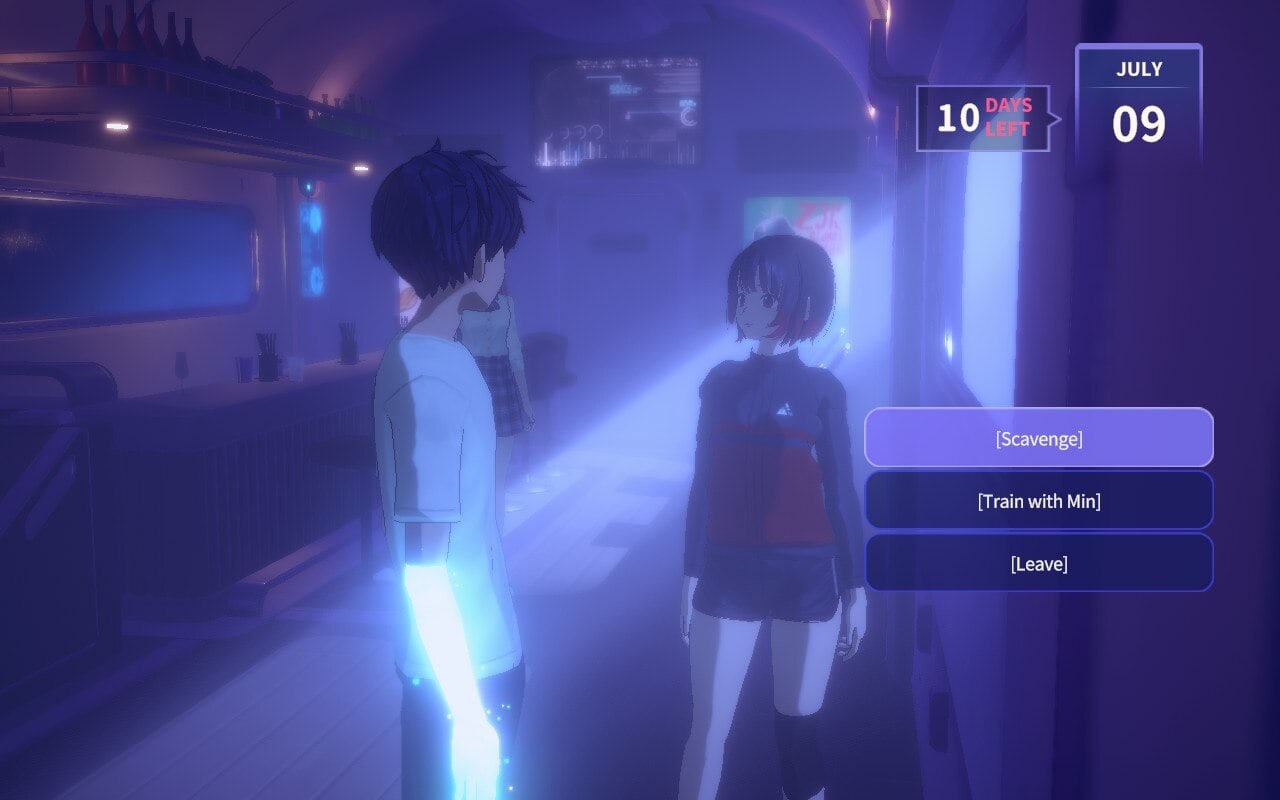 You'll be given three destinations to choose from for your search: the library, the convenience store, and the warehouse. Pick one and when you arrive at the destination, you'll have about 60 seconds to search for the item you're after.
As a side note: only love interests are able to ask you to scavenge for them in Eternights, meaning that as much as you may try, you're unable to scavenge items for Chani. Sorry pal.
Eternights Scavenge Guide: All of the locations of the missing items
As mentioned above, there are three different locations that the player can explore when looking for items to scavenge. Warehouse, library, and convenience store.
It's incredibly important that you find an item the first time as you're only able to scavenge at night and if you mess up, you'll go to the next day with little to show for your efforts. Sure you can probably save and load each and every time, but if you choose the wrong location you'll have to let the timer run down and wait until the next day. With Eternight's limited time frame, this is absolutely the last thing you want.
So, in an effort to make sure that certainly doesn't happen, we've listed below all of the items that you can scavenge for in Eternights and where they are located.
Warehouse:
Towels
Whip
GamerBoy
Shoes
Thick blanket
Kettlebell
Shoes
Batteries
Safety Gloves
Pillow
Underwear
Two bear plushies
Ball
Keyboard
Contact lenses
Library:
Picture frame
Mug
Bear clock
Candles
Tea Bags
Cactus
Board game
Nail clipper
Sleeping mask
Book: History of Calligraphy
Book: Human Electrical Currents
Brush
Convenience Store:
Baby wipes
Snacks
Pads
Coffee beans
Cleansing foam
Pain relief patches
Toothbrush
Flamethrower
Chocolate
For other Eternights guides, as well as our review, check out our Eternights category tag.