Fight Me Biqtch merges gaming and drag in a hilarious meeting of worlds
After winning The Boulet Brothers' Dragula Season 2, Biqtch Puddin' has been expanding her career, expanding further into the gaming sphere as a Twitch partner. It's no secret that the drag performer loves video games, particularly fighting games, so it's not surprising to see that she has now partnered with esports organization FlyQuest to create an online mini-series that combines gaming and drag called Fight Me Biqtch.
Fighting games have actually been part of Bigqtch Puddin's life since she was a little kid. Her first exposure to gaming was a PlayStation 1 demo disk that contained trial versions of Crash Bandicoot, Spyro, and most importantly, Tekken 2. This was the only game on the disk that had multiplayer, so Biqtch and her brother spent a whole night playing it on their uncle's PS1 while staying over at their grandmother's house.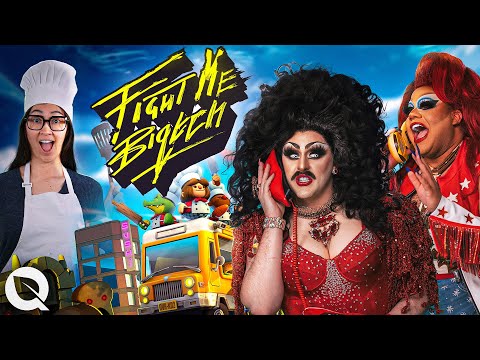 "And then he went out the next morning and bought Tekken 2," Biqtch Puddin' told Gayming. "So we spent like the whole time during the break playing and unlocking characters. And at that point, we were just addicted. And so he's really generous and actually gave us his first system, which is his Atari 2600."
Those memories of gaming with her uncle are some that Biqtch Puddin' holds dear, as she feels he gave her coping mechanisms she would be able to use for the rest of her life. As a self-identified "military brat," Bitqch moved around a lot throughout middle and high school, which she attended during the era before smart phones were the status quo. Without a lot of friends, they didn't really have anyone to talk with or vent to locally, but at home they had games.
"I would go home and disappear in video games," Biqtch Puddin' recalled. "And just by playing that PlayStation for that brief period of time, he kind of gave me keys to therapy in a way and how I use it for the rest of my adult life. Even now, it also was a huge inspiration for my drag. So thank you, Uncle Tom, I love you."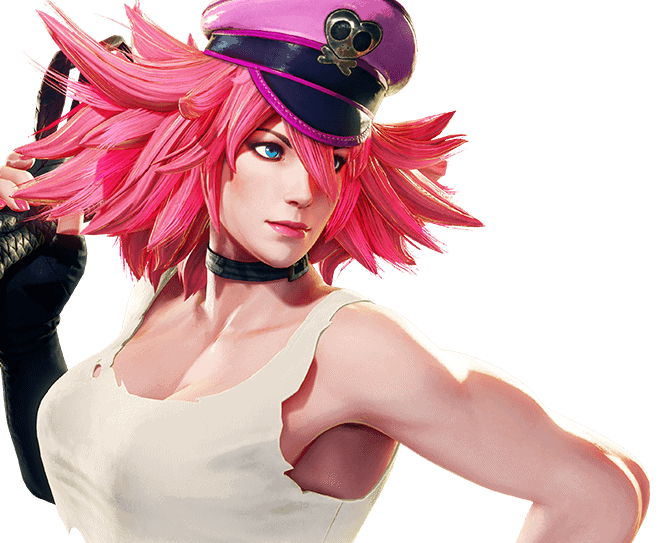 Chatting with Biqtch Puddin', it's not surprising to hear that the femme fatales of fighting games are some of the biggest inspirations for her drag style. If you compare her looks to Poison from Street Fighter/Final Fight, the takeaways are pretty clear. That's part of why this series has been so exciting for Biqtch Puddin' to create in collaboration with an esports organization like FlyQuest.
"I kid you not, like, literally just the fact that they were down to clown and it felt like they knew my voice was really refreshing because coming from this industry, sometimes you're in situations where it's like, 'this is what it is,' and Biqtch would never say that. But they just kind of gave me the keys to the car and let me drive and be rambunctious."
"And it just was really rad to me having a gaming company, especially one that doesn't have like a queer footprint, to be really a down and be fully committed to something like that. And I'm really grateful and I think it's really f*cking fun."
The show came to be after Ovilee (formerly of G4 and now with FlyQuest), came to one of Biqtch's bi-weekly parties at Precinct in downtown LA. Besides being a "fierce drag show," the event also features gaming consoles and even tournaments. Ovilee saw the potential of this crossover and approached Biqtch's co-producer Jenny about a concept for what would become the show.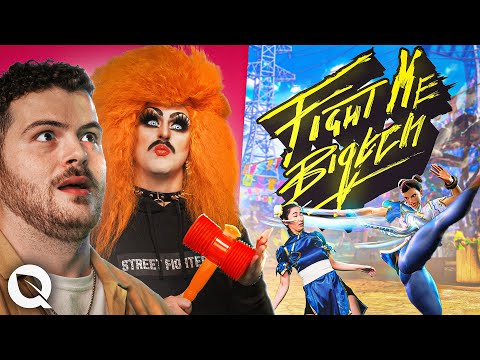 During the four-episode debut season of Fight Me Biqtch, Biqtch Puddin' invites one of her friends to come hang out in her basement and compete in a different video game with her to squash a silly beef — barring the final episode, which has a fun twist on the formula to pay off the show's B-plot. Some of these guests are fellow drag queens, while others are professional players from various titles who wear the FlyQuest jersey.
The fighting game community has been close to Biqtch Puddin's heart for a long time now, so getting the opportunity to mesh it with drag was a dream come true for her. Back in high school, she found her first real community by playing in Street Fighter 4 locals at the GameStop near the Chinese restaurant she worked at. That wasn't a feeling she was able to replicate until she stared drag.
"So it's kind of cool that during the show, I got to combine both of those things with having Alex Meyers [professional Street Fighter player] on there. And then also we had Deere on there, which was great. And, of course, Meatball, my co-star from Drag Me to Dinner."
Though there is a focus on fighting games (we see Super Smash Bros. Ultimate and Street Fighter 5 in the series), those aren't the only games Puddin' and pals play on Fight Me Biqtch. We won't spoil anything for you, but there are plenty of laughs to be found watching Biqtch Puddin', and Meatball try to work cooperatively in a couple of different challenges.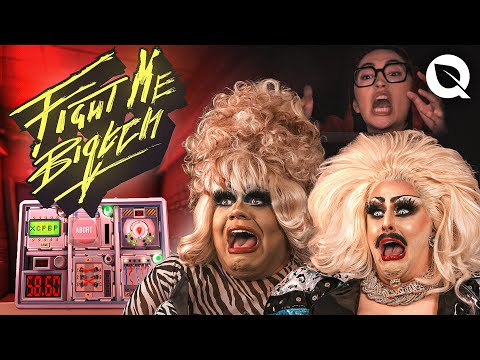 That's the highlight of this mini-series overall: it's extremely funny. Watching Biqtch try to be on her best behavior for this gig, and failing in narratively significant ways is a treat, as is watching her interact with esports pros, especially those who are less familiar with American drag culture. Should she get another season, Bitqch hopes to expand what the show entails.
"I if I get to season two, I would love the first episode to actually have Delta Work play Dead by Daylight with me alongside Deere and someone else who knows what they're doing," she told Gayming.
Some of her other ideas include blending Mario Kart and IRL go-karting, and showing off older, somewhat forgotten games like Bloody Roar and Bushido Blade. If these ideas sound interesting to you, check out the first season of Fight Me Biqtch now on the FlyQuest YouTube channel!