Crispy Creative's design approach is meant to be inclusive for everyone
Kylan Coats — an Obsidian Entertainment alumnus and founder of indie studio Crispy Creative — has wanted to be a game designer since he was a kid. When asked what he wanted to be when he grew up, his answer was always either a comic book artist or a video game developer.
"With games in general, there's something that's always been really captivating about creating these worlds that people can walk around and explore," Coats told Gayming Magazine.
He got his foot in the door of the games industry by doing game testing during three summers of his undergrad years. He also made some Flash games during this time (RIP), before moving on to graduate school where he did a thesis on empathetic play, or trying to create spaces for empathy through interactive experiences. This philosophy has followed Coats into their new studio Crispy Creative, and their debut game, A Long Journey to an Uncertain End.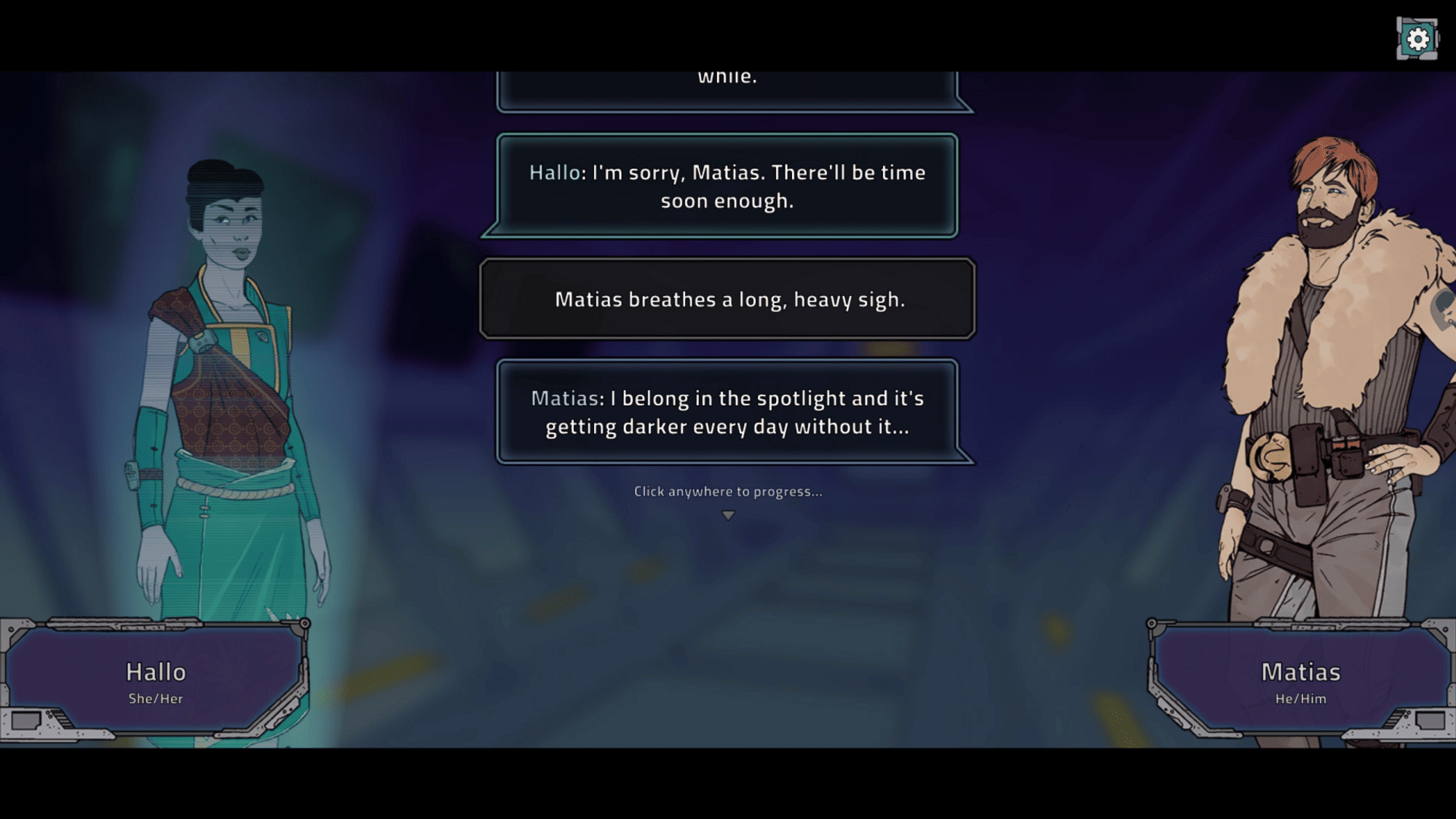 In this space opera visual novel, players take on the role of a sentient AI that inhabits a spaceship. In this world, humans have fled the Earth and now live in communities across multiple planets. AI is common, but it is illegal for them to be fully sentient or "unclamped." The player character, of course, is an unclamped AI who was set free by their abusive ex-lover and therapist. You are trying to escape from this ex while keeping a low profile from the authorities and trying to create a new future for AI in this world.
Having the player character be a sentient spaceship was a specific choice Coats and the team at Crispy Creative made to create a direct pathway for the game to be more inclusive.
"I wanted to create a game that was inclusive and open to not only the queer community, but also the straight community," Coats said. "So by having the player be a sentient spaceship, it opens up the doors for picking your pronouns to be like, 'hey, well, you're, you're a sentient AI your spaceship, like, there's no genitalia to, you know, associate with this question. It can be absolutely anything, and it fits within the sci-fi genre, but it's also an accessible way of coming into the queer experience for not only the queer audience, but also for a non-queer audience."
But the player character is by no means the only one that was designed with inclusivity and diversity in mind. The cast of A Long Journey to an Uncertain End was designed to reflect the real-life demographics represented by the Crispy Creative staff.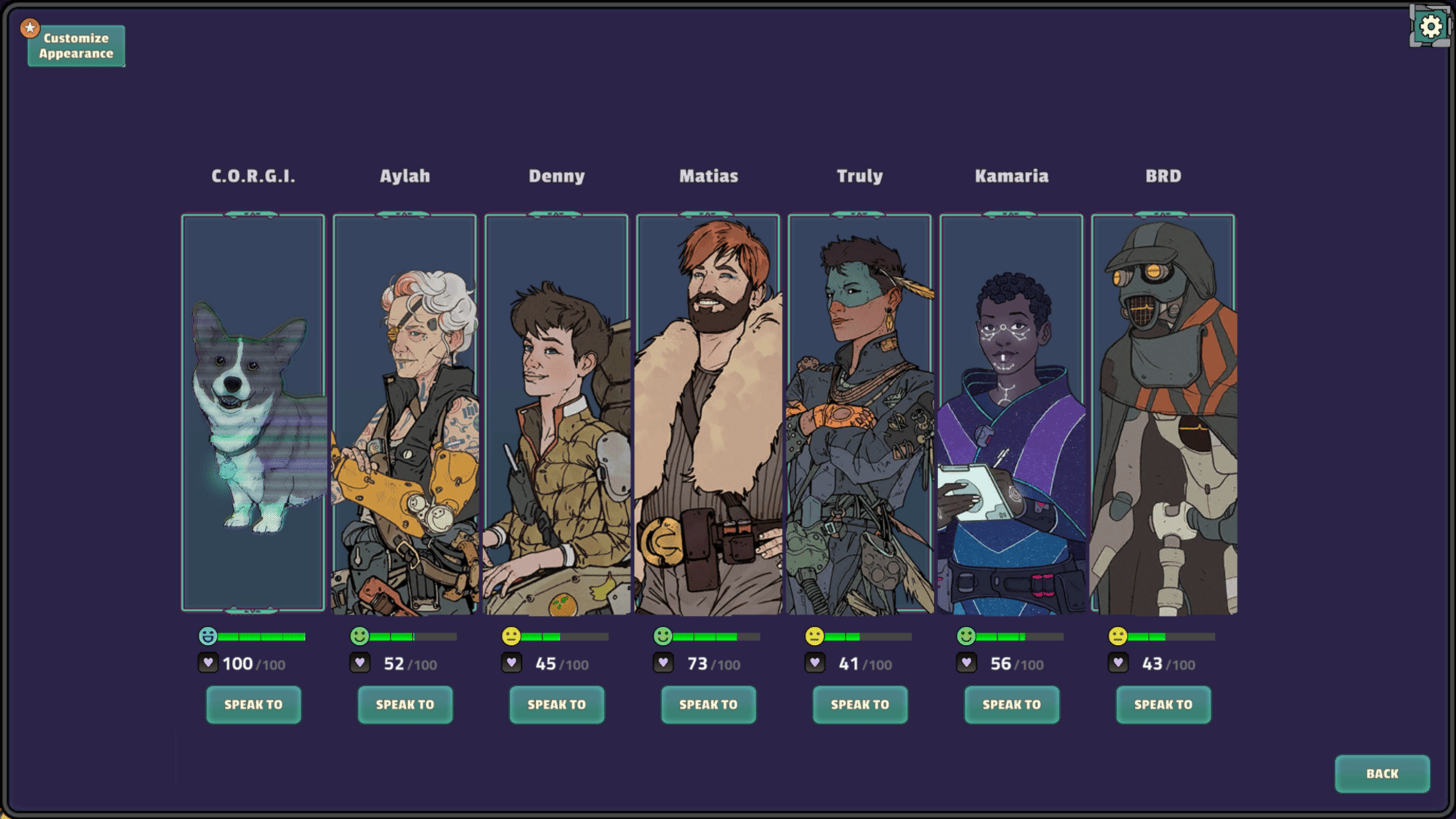 "One of the reasons why I wanted to make my own studio was sort of do all the things that I saw weren't happening in AAA. So inclusivity in terms of letting people be whoever they wanted to be, letting people have whatever relationships they wanted to have, but also having characters that were representative of at least the communities that most of the people that our studio are around," Coats told Gayming. "Those communities have drag queens, have nonbinary people, have all this."
"Our characters come from the hearts that come from authentic experiences. You will be very hard-pressed to find other characters like the ones in our game, as well as the story that we've created."
The game's diverse cast also builds directly into its themes of found family and finding spaces where you can be authentically yourself. Depending on how you decide to assign things, your relationship with your ex may or may not be queer, but regardless, your friend group/crew will include queer people, and they will offer you safety and care when you need it most. And you do end up needing them when you have to confront your ex and try to escape them for good.
Depicting relationships between adults, and the sometimes toxic sides of these relationships, can be somewhat fraught in the indie game space. Despite that, Coats and the team at Crispy Creative decided to tackle this topic head-on, maintaining their philosophy of making the storylines accessible to everyone, queer or not.
"It's not necessarily always black eyes, and, you know, broken arms. It [domestic abuse] can be, and quite often is, very emotionally abusive," Coats said. "So again, finding these experiences that are accessible, both to queer and a non-queer audience."
This philosophy is ultimately what's at the core of the design philosophy behind A Long Journey to an Uncertain End. Coats and his team wanted to create an interactive experience that would feel all-encompassing to anyone who plays it, regardless of their sexuality. That includes having folks of different backgrounds and identities in the cast; Crispy Creative believes inclusion means everyone really is at the table.
"We created or we sought to create an inclusive and authentic space opera experience," Coats said. "When we say inclusive, that includes straight people, not just the queer community. We also want it to give insight into what the queer experience is like, for a lot of people, so if, for a non-queer audience, if they are interested in what that experience might be like, this is a great opportunity to check it out."
A Long Journey to an Uncertain End is available to play now on Steam, and will be coming to the Nintendo Switch sometime in the future.