Gayming Magazine debuts Gayming LIVE Online this September
Just when you thought we couldn't get any bigger, we go ahead and decide to launch our first-ever streaming festival! That's right, Gayming LIVE Online, presented by Ally, will arrive this September!
The three-day free event will give game developers, voice talents, and drag stars the platform to discuss everything from upcoming releases in the entertainment world to body acceptance. No matter what you're looking for, you're bound to find something you'll love at Gayming LIVE Online.
The event will run through September 9 to 11, where we'll delve into all aspects of LGBTQ+ video game and geek culture via a full schedule of free Twitch streams, ask me anything sessions on Twitter Spaces and an Indie Game Festival running on Steam.
And who knows, queer gamers might also be in for a few surprises along the way!
In our Panel Room (twitch.tv/gaymingpanels) the schedule will include great talks such as:
Why does anime resonate with the LGBTQ+ community? With drag icon Rock M Sakura (RuPaul's Drag Race) (September 9, 4 p.m. EST)
Financial Wellness for Gaymers with Data_Dave and DEERE (September 10, 2 p.m. EST)
Slayers – a queer horror and gaming panel, with horror drag monsters Biqtch Puddin' and Erika Klash (The Boulet Brothers' Dragula) (September 10, 3pm)
The importance of representation in tabletop games with tabletop icon Cypher of Tyr (September 11, 2 p.m. EST)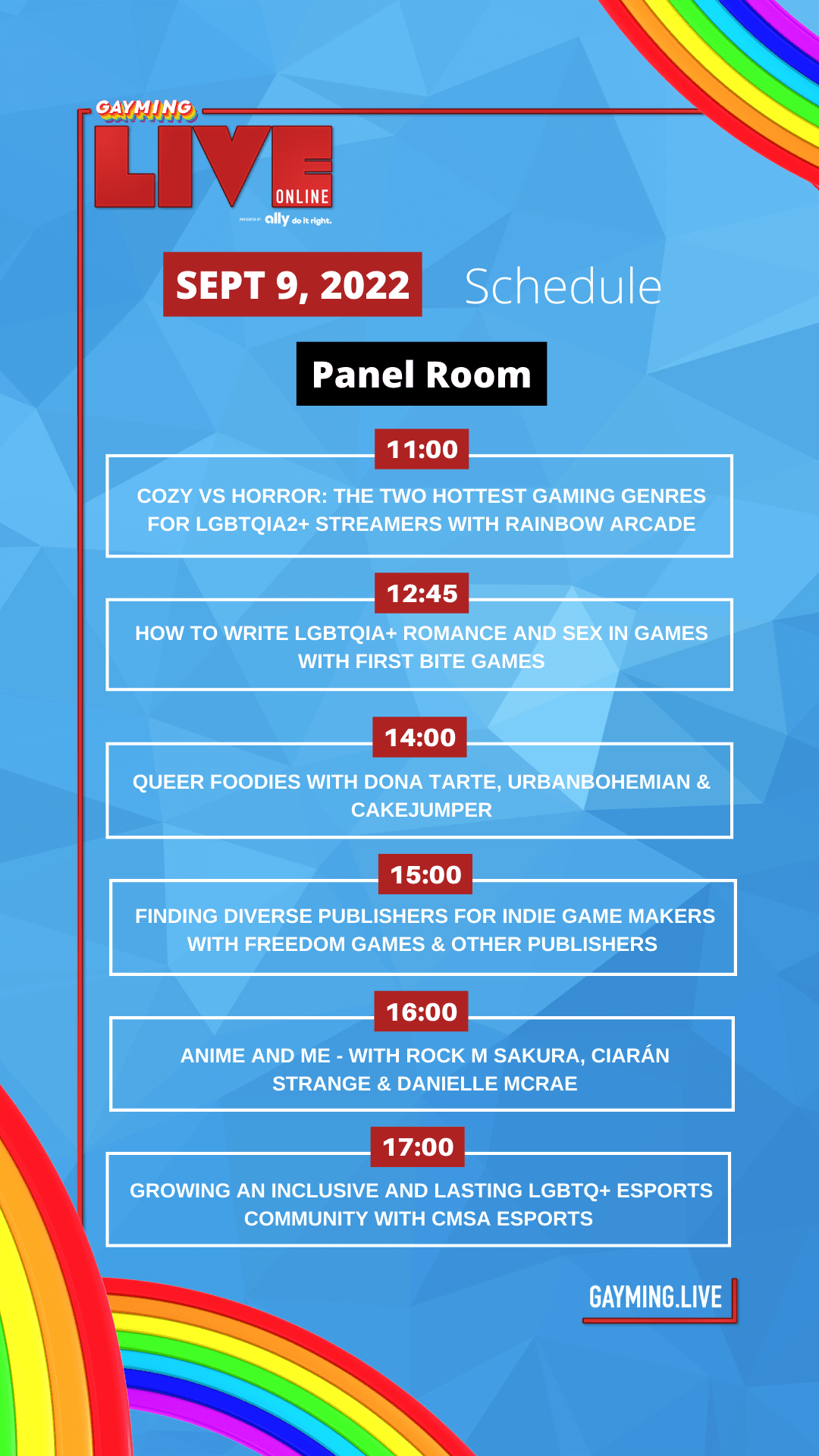 On the Main Stage, sponsored by Saints Row (twitch.tv/gaymingmag), three days of queer geekery await including:
Saints Row streaming with drag icons Juice Boxx (Canada's Drag Race) and Biqtch Puddin' (Friday, Sept 9 at 11am ET and Sunday, Sept 11 at 1.45pm ET)
Join Dona Tarte and guests for a gamer cake decorating competition (Friday, Sept 9 at 3pm ET)
Cosplay tutorial from expert and icon Jaremi Carey (Saturday, Sept 10 at 12 noon ET)
Stream Queens Scream-Along, a Dead by Daylight tournament (Saturday, Sept 10 at 4pm ET)
Creator of Netflix hit Dead End: Paranormal Park, Hamish Steele, in conversation with Robin Gray about the show with exclusive footage and exciting surprises (twitter.com/hamishsteele; September 11, 11 a.m.)
Voice actors August Black (Tell Me Why), Ciarán Strange (Borderlands 3, Astra Lost in Space), Danielle McRae (Final Fantasy 7 Remake, League of Legends) and Maggie Robertson (Resident Evil Village) team up for an iconic panel on bringing voice to LGBTQ characters (Sunday, Sept 11 at 3pm ET)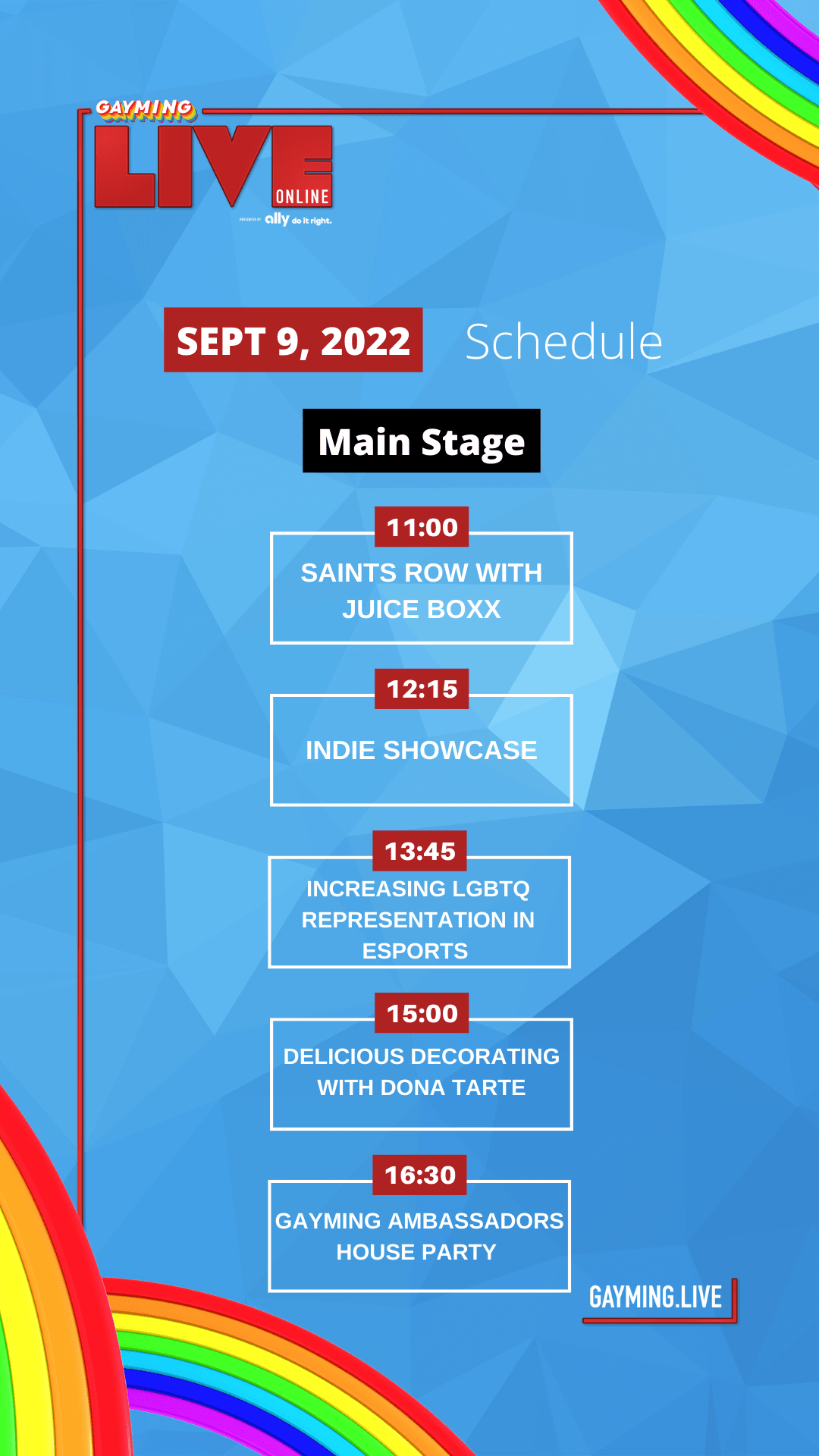 Alongside the three-day weekend, Gayming will also be running a two-week indie game festival on Steam from September 2 through 16. This will celebrate over 50 LGBTQ indie games and give players and fans the chance to discover new favorites alongside some older classics.
A full schedule of events can be found at gayming.live, and announcements can be found on all the Gayming Magazine social channels at @gaymingmag.
Founder and creator of our Gayming Magazine and Gayming LIVE Online, Robin Gray, said: "I'm so HYPED for this celebration of queer geek culture! To be able to bring together such an amazing collection of LGBTQ icons from streamers to celebrity drag artists, and iconic voice actors to IRL community groups, this weekend is going to be the biggest celebration of queer video games, anime, comics, and general geekery the world has ever seen! I'm also thrilled that it's free and open to the world by being fully virtual."
Gayming LIVE Online is presented by Ally Financial and sponsored by Saints Row, Devolver Digital, Freedom Games and Unknown Worlds, with more to be announced soon.
In other Gayming news, the next big thing for us will be The Gayming Awards, which will hop the pond and debut on Broadway in 2023!