Xbox Pride Controller Design Lab Review
Last year, Xbox shared a vision for a Pride controller featuring 34 community flags which Xbox says are interwoven "to celebrate the nuance, complexity, intersectionality, and strength of the many LGBTQIA+ communities." Sadly, those controllers were only available to a select group of players and creators around the world, including last year's DIGIPRIDE competition winner! Well, the big news for 2022 is that you can now get your hands on a Pride Controller in the Xbox Design Lab!
Microsoft gave me access to the Xbox Design Lab Pride Controller for me to try out and review.
Xbox says "this isn't just a controller… it's a symbol of the LGBTQIA+ communities that inspired it, and a call to continue efforts toward inclusion and representation across all gaming spaces." They state that "with more than half of game players (52% ) agreeing that "my gaming identity is a better reflection of myself than my real-world identity," video games are an important outlet that give players – especially those who are LGBTQIA+ – the option to be who they want to be."
LGBTQ players can now get their hands on a controller that closely embodies their identity and ensure you're more engaged with the queer gaming community.
Design Lab
If you're not aware, the Xbox Design Lab lets you create a custom Xbox Series X controller that's unique to you. There's a huge selection of customisation options available that allow you to create your perfect custom Xbox controller – almost every element can be tweaked to suit your taste, and you can even have the controller laser-engraved with a message of your choice.
I, of course, started with the Pride design top case which covers the whole front in the incredible dynamic stylings that captures our community flags in glorious technicolour! From there, it was decisions around the various colour schemes and elements like rubber grips that I wanted to perfect the design.
I imagine that if you were designing a controller that wasn't Pride-themed, and you had a plain coloured top case, then it would be easier to match colour schemes and create something very chic. Sadly, our life in glorious technicolour let's us down a little as trying to match a colour scheme to such a busy front plate is nearly impossible!
In the end I went for yellow sticks, metallic pink D-pad, pink bumpers, pale blue triggers and a purple back case. If you can't match your colours then don't try to! I also went for white buttons to save any more colour clashing, but I was thrilled that the classic Xbox 360 green, blue, red and yellow buttons are available!
Another frustration is that the back and side rubber grips only come in black. This means if you have the side grips, they obscure some of the cool design. As a result, I opted for just the back rubber grips.
Throughout the whole process, you have the accurate 3D preview in front of you to check all these things out, so you won't get caught out by opting for something that you don't want.
Finally, as a finishing touch, you can opt for engraving, so I signed this off as GaymingMag 2022!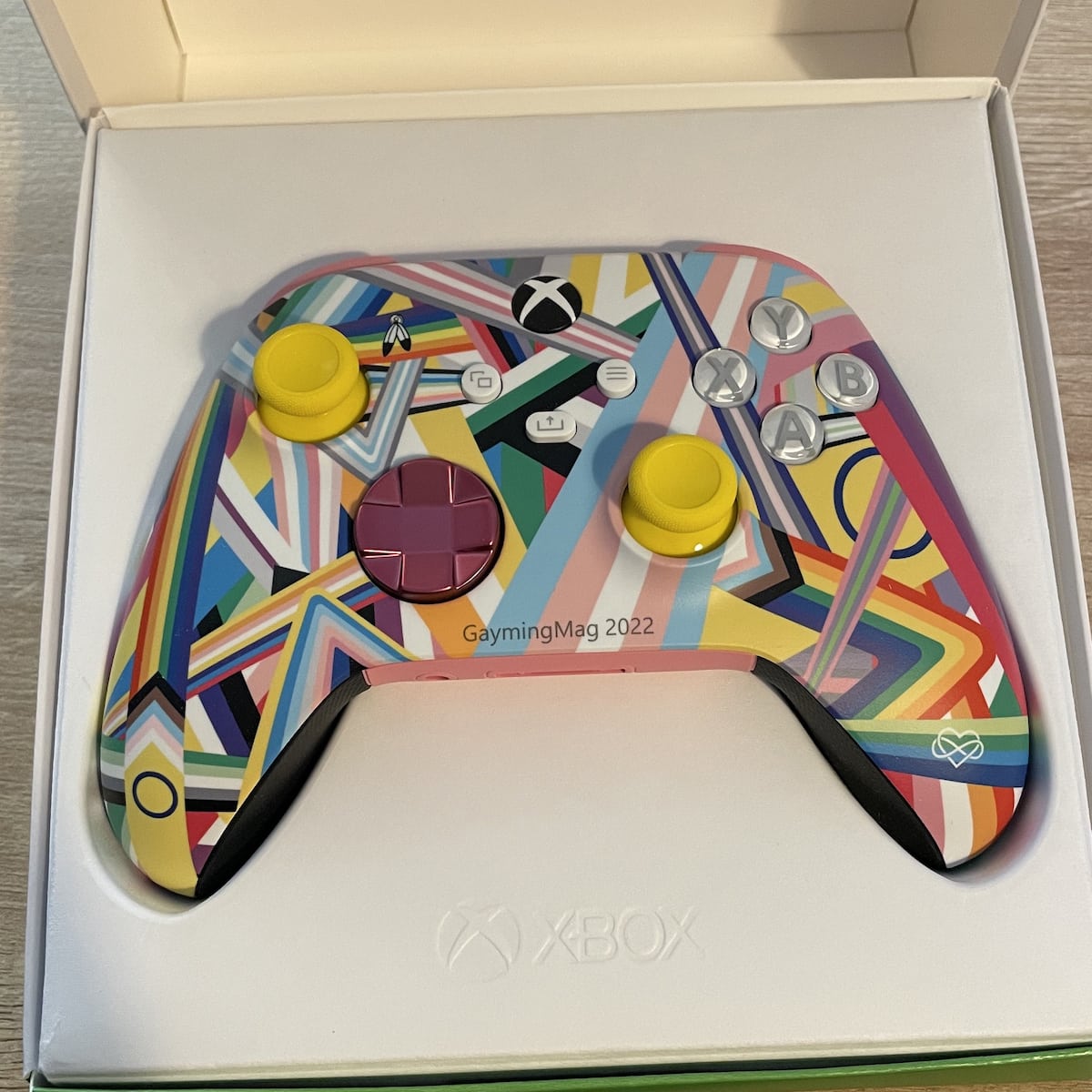 Delivery
A few short weeks later and a package arrives on my doorstep with this beauty inside!
Inside the boring cardboard box is a shiny white hologram box which begins to prepare you for the excitement of what sits inside.
Once the controller is in your hand, it does feel very special as you know that you're holding something you designed. Once paired, it's a standard Xbox Series X Controller, which for those who use them regularly, you know how reliable and excellent they are so we don't need to do a special review of that here!
Find Out More
Create your unique Pride controller starting June 9, available everywhere Xbox Design Lab is available.
Check out what else Xbox is doing for Pride month around the world, including details of their charitable giving here.