Arcade Spirits: The New Challengers and creating a game for everyone
Imagine a world where the arcades industry never really went away, a world where the great video game crash of 1983 never happened and video games went on to get bigger, better and mightier. The year is 20XX and there's a new protagonist in town, one that searches for glory in the complex world of esports, a subject touched briefly upon in the prequel of Arcade Spirits: The New Challengers.
The original Arcade Spirits was released back in 2019, putting you in the shoes of a down and out-of-their-luck protagonist who finds meaning and family in a small arcade their AI friend Iris (disguised as a self-help app) leads them to after being fired. This time around, however, our new protagonist wants something a little more complicated: to win the Fist of Discomfort 2 Pro Tour and beat their rival in order to fill the hole of misery that's been part of their life ever since they were young.
A new protagonist also means new antagonists and a brand new cast. Only this time, esports and the complexities of arcade culture takes the stage. "Instead of re-telling a story about the business of operating arcades, now we can explore being a competitor in the world of esports. The New Challengers has much more narrative room to play in, and that means more fun for the players!" Stefan Gagne, Project Director, and Aenne Schumann, Narrative Designer, developers at Fiction Factory Games, tells Gayming Magazine.
The shift to arcade culture in the way of competitive play stemmed from the developer's own interest in the esports industry. "Arcade culture has a lot of aspects to it and we wanted to explore new parts of the world of 20XX. We've got a passion for esports — for MOBAs, fighting games, shooters, other competitive video games — and the human stories of the teams and people struggling to reach their dreams in that environment."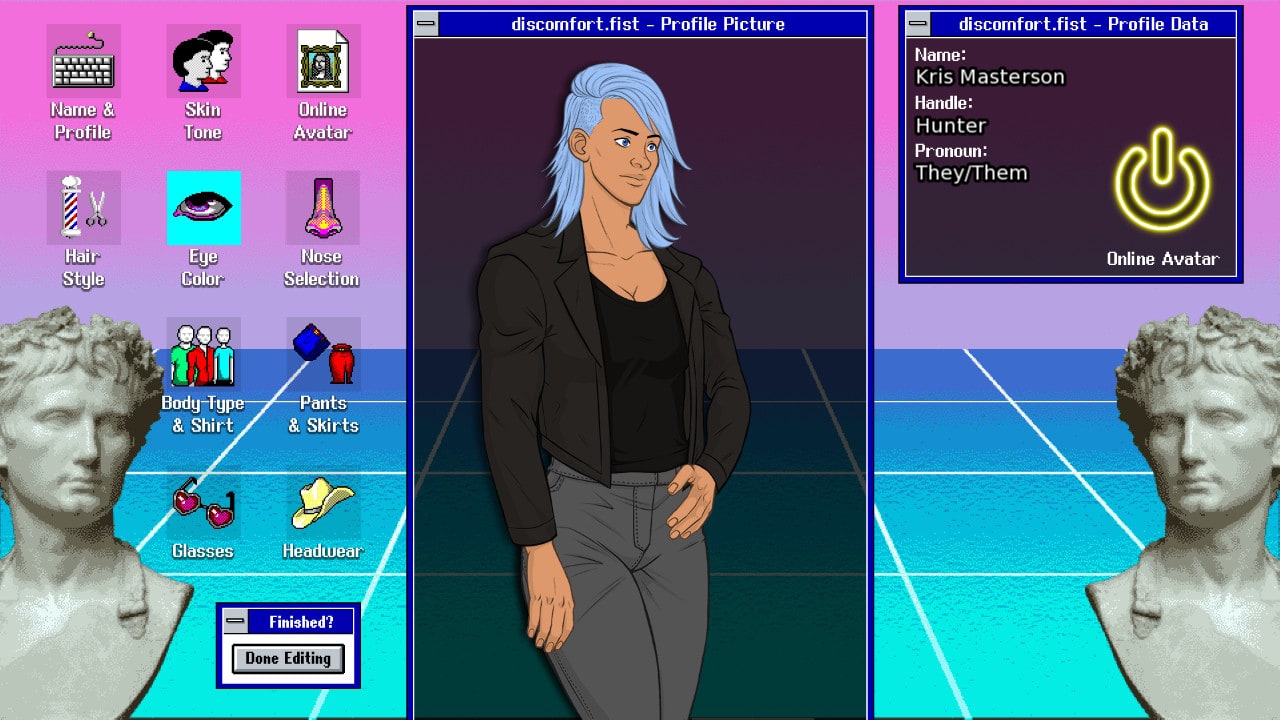 However, the focus on Arcade Spirits: The New Challengers doesn't just linger on the competitive side of gaming. One of the biggest changes in the sequel is that the team has massively improved their character creator to include more inclusive body types, unisex clothing options, pronoun choice, and the option to change all of these as players move from chapter to chapter – making it possible to not just follow the story of the game, but giving players the tools to tell their own if they so choose. This could be through a pronoun change, or maybe a new hair-do. Maybe players lost weight, gained it, etc. The possibilities are endless and fluid.
For most visual novels, customization isn't really a thing. Mostly due to the fact you don't really see your own character at all, allowing players to immerse themselves in the story and practically self-insert as the main protagonist. While this can play an important aspect in creating a distinct relationship with players, Arcade Spirits: The New Challengers goes in a different direction entirely by switching to a third-person perspective. As Gagne and Schumann tells me, this decision was connected to not just giving them the excuse to expand the character creator in general, but also because this time around players would be able to see their protagonist interacting with others, and be just as "expressive and emotive as anyone else." It also allowed for some distance too, allowing you to fully form a 'character' rather than just a 'self-insert'.
Arcade Spirits: The New Challengers has also expanded its cast – which means its romance options have also increased. "In the first game we had seven total romance paths, and in The New Challengers, we have ten (so get ready for a lot of love)." The two developers tell Gayming Magazine. "In some of the paths we've added a bit more spice, but also maintain options for people to follow their own pace and desires. Also included in those paths is the friendship route with its own unique scenes!
Lastly, we've included a "hidden" polyamorous path, depending on how you build your relationships. We researched that extensively and consulted with polyamorous folks to ensure we were presenting that kind of a relationship accurately."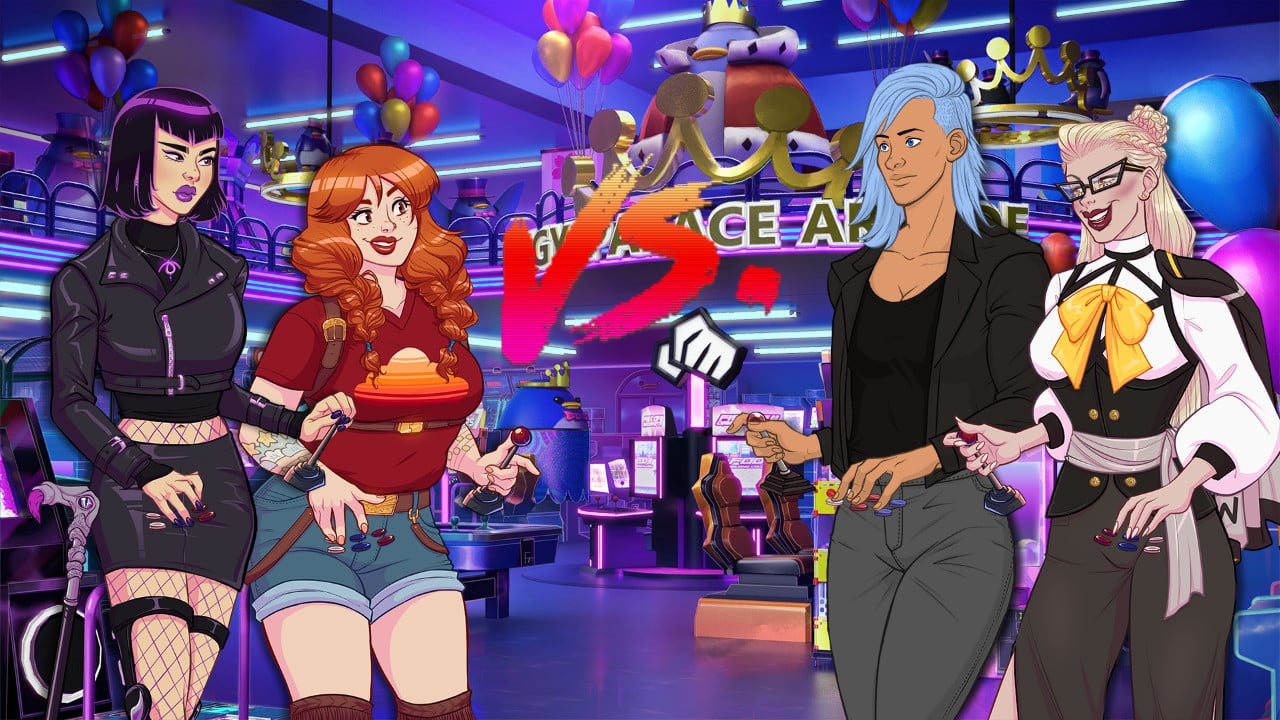 The diversity and inclusivity present in Arcade Spirits and Arcade Spirits: The New Challengers is one of the game series' strongest qualities. However, the line between appreciation and falling into stereotypes is certainly one that can blur when telling personal stories that you've not had experience with. As it has been argued in media criticism from the very start, representation is important, but doubly so is it to make sure that representation is authentic and not mired in bad and offensive stereotypes. For this reason, Fiction Factory Games reached out to Salt & Sage, an organization of editors and sensitivity consultants. Salt & Sage were there through the pre-production of the game, as well as for the production of each individual character that Gagne and Schumann didn't personally represent. The team also pulled from their own experiences whenever possible, such as with Jynx's disability, and from friends.
"Avoiding falling into stereotypes starts with listening and having friends of all different people and personalities." Schumann and Gagne tell Gayming Magazine.
As for the inclusion of LGBTQ+ relationships and romance, all characters in this game express sexual and romantic interest in the player character, regardless of their gender, weight, pronoun choice, and overall look. This 'easy' way to include romance for all players has often been labelled as playersexual in gaming circles. Regardless, Schumann and Gagne decided that they wanted everyone to feel part of the narrative and – if players want to – the romantic journey that takes place in their game.
"As LGBTQ+ developers ourselves, we've done our best to ensure a wide range of viewpoints and experiences are part of this world, because we understand how important it is for players to feel like they can fit into that world however they want to." They both explain. "For example, romance is entirely optional. If you're aromantic or asexual there are perfectly valid story paths through the game with just as much writing."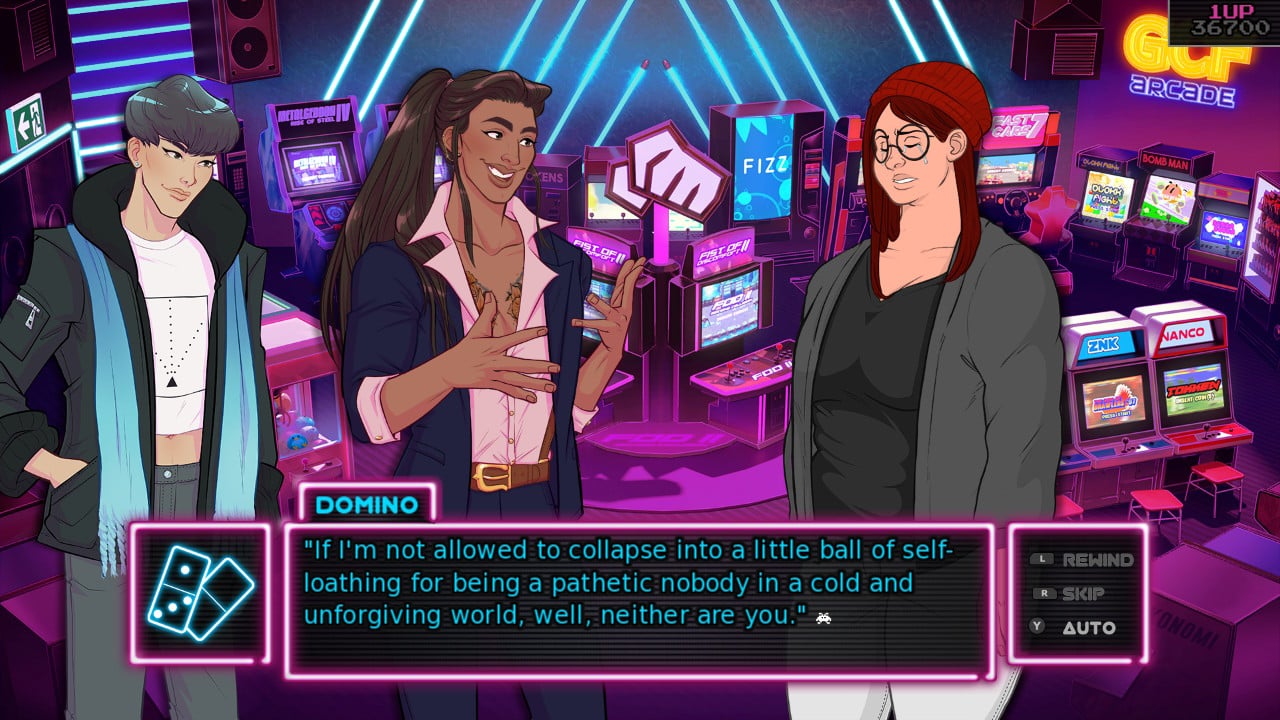 Accessibility was also a feature that Fiction Factory Games wanted to work harder on in Arcade Spirits: The New Challengers compared to the original game. "Accessibility is just as important in representation and implementation. We've worked with the visually impaired community to improve on our VI support from the first game, with complete replacements for complicated user interface elements such as the character creator." The team also worked with usability consultants to ensure animations (such as sudden flashes, characters moving quickly, etc) would not cause photosensitivity issues.
Gagne and Schumann explain to us that, overall, they want Arcade Spirits: The New Challengers to represent "the shining possibility of what gaming culture can become: inclusive, diverse, welcoming all." And ultimately? The game – and gaming in general – is meant to be for everyone, no matter who you are or what you've been through, Arcade Spirits: The New Challengers is for you and the team at Fiction Factory Games wants to meet you where you are in life and tell a story that will matter to you.
"We love arcade games, we love retro gaming, we always have, and this story is a way to share that love with everyone. We want it to be a celebration of arcade culture, first and foremost."
Arcade Spirits: The New Challengers is available to play on Nintendo Switch, PC, PS4/PS5, Xbox One, and Xbox Series X/S.