The Sims 4 to add custom pronouns
The desire for The Sims 4 to include custom pronouns within CAS (Create a Sim) has been a hot topic among The Sims community for well over a year.
Now it looks like pronouns will become a reality sooner rather than later, with The Sims team showcasing a work-in-process CAS that includes pronouns alongside asking players for the first and last name of their Sim.
In a livestream – that has been fully transcribed via The Sims Community website – the team at Maxis showcased a first look at the new CAS, which included a selection of pronouns that we've seen before, such as they/them/theirs, her/she/hers and he/him/his, as well as the option to include custom pronouns. Custom pronouns mean that players can include neopronouns such as ze/zir/zirs if they so choose. The more choice, the better!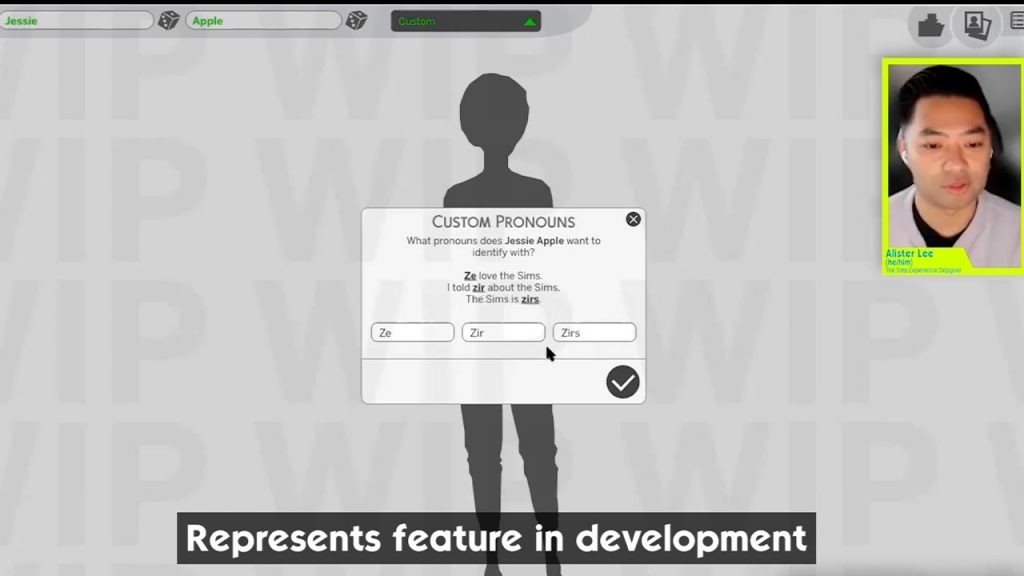 As of now, the choice of pronouns will only be available in English. This is due to some languages (such as Spanish) having gendered language that's hard to get around in a way that's respectful to the language, while also being inclusive and authentic.
Veronica Morales, Lead of EA Localization, explains that the 18 different languages The Sims 4 is translated to comes with their own rules and challenges. "It has to be treated and broken down to the specifics of the language because culture regulations and the language itself have a great impact on how this topic is handled in the different regions. Linguistically speaking all different sides of the spectrum are represented in the languages The Sims are localized into. Some languages have an officially accepted and ready to use non-binary pronouns."
Some language communities have started using non-binary grammar in the syntax systems, but these are not 'officially accepted'. Even so, Morales explains that "they are being used by a part of the society and they feel comfortable with this grammar and system and syntax systems."
As for when players will see this pronoun system added to The Sims 4, a date has yet to be confirmed outside of it being released when The Sims team thinks it is in a good place to be pushed out.