Nearly every LGBT+ gamer faces harassment online according to an online study
One of the most memorable moments in my career has been when my good friend and EIC of Gayming Magazine, Robin Gray, asked me if I'd ever faced harassment online. My answer was quick and simple: yes, I had and as both someone who is part of the LGBT+ community and a woman, harassment is just something I expect. So, with that in mind, I do not use voice chat – ever.
Harassment is something that, according to an online study from OnlineRoulette.org, many LGBT+ gamers have sadly experienced during their time online gaming.
Speaking to 788 respondents for this survey, OnlineRoulette's studies looked at a variety of different experiences that LGBT+ gamers – from the most welcoming communities to online harassment. The website admits that the survey was purely an 'exploratory project', but it still garnered some incredible insight on what it means to be a queer gamer online.
One pivotal stat was that 73% of the people they surveyed experienced harassment based on their sexual orientation. The majority of that percentage identified as lesbians at a whopping 83%. Harassment received online was then broken up into what 'type' of abuse that was thrown gamers way – the majority of it being derogatory comments about their sexuality, while some have gone as far as online stalking, as well as threats of sexual assault. Women and non-binary gamers received this form of harassment at a startling 15% increase compared to men.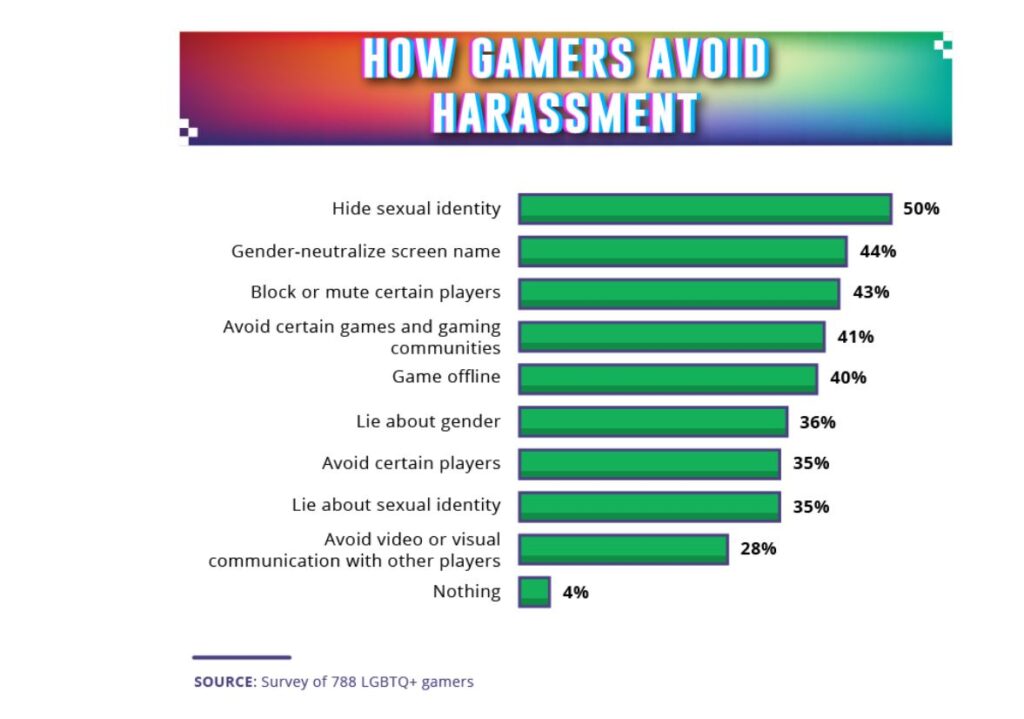 Even more shocking is that LGBT+ gamers were 21% more likely to be harassed online than those who have not had their sexuality disclosed to their community. Harassment has even made it so that 40% of LGBT+ gamers have foregone online gaming at all. But what's more upsetting is that 35% of those who do play online have actually lied about their sexual orientation in order to avoid harassment from other players. The lies don't just stop at their sexual orientation either, some will lie about their gender, or name or actively gender neutralize their online gaming name – actively denying themselves to be who they want to be.
The fact that players are unable to be themselves is incredibly depressing to hear about. Especially as the survey confirms that while the majority of people asked didn't discover their sexuality through gaming, 45% did. It was also revealed that 81% of those asked were more likely to buy a game if it had a queer storyline.
As this survey shows, gaming has a huge effect on the LGBT+ community and the people within it. It's very important for LGBT+ gamers to see themselves not only represented in this medium, but actively looked after by gaming communities too.
For the full report, that also tackles how queer eSport stars are paid less than their straight counterparts, head on over to OnlineRoulette to find out more.