Xbox Series S review: budget-friendly next-gen gameplay
If a tree falls in a forest and no one is around to hear it, does it make a sound? The same philosophical question could be posed about 4K nex-gen performance. If your console delivers a full 4K experience, but you don't have a high performing 4K TV or monitor to match, does it play at 4K?
Don't worry, this isn't a philosophy lecture, this is simply my way of saying that people can get a bit distracted about the fabled 4K experience but forget that they need all the parts to make it actually work.
The Xbox Series S is the all-digital sibling of the Xbox Series X, designed not only to be smaller and disc-free, but more importantly, to provide a budget-friendly way of experiencing next-gen gaming, perfect for casual gamers who want to enjoy the gameplay and not worry about high graphic performance.
I freely admit to the fact that I am a casual gamer, so I figured I was best placed to try out this console. Much love to Microsoft for giving me an Xbox Series S to try out.
Hardware
The Xbox Series S is the smallest Xbox ever. I was shocked, truly shocked, when I took it out the box at how tiny it was. It's only a couple of inches bigger than my Nintendo Switch! This makes what they have managed to squeeze into this space all the more impressive.
Under the casing, there's 8 core 3.6GHz processor with 10GB RAM and 512GB solid state hard drive. There is also support for a 1TB expansion card, same as the Xbox Series X. I'm no tech person, but this results in video performance of 1440P at 60 frame per second, with support for up to 120 FPS.
One of the things that surprised me the most was the noise it made, or lack thereof. This thing is silent. If it weren't for the Xbox light on the front being on, you wouldn't know. Plus with no disc drive, there's no noise there, but even doing heavy gameplay you cannot hear the fan. This is a big step up from the last Xbox which at times sounded like someone was cutting down a small forest inside the box.
Looks-wise, it's not a massive departure from previous Xboxes. In fact, it's very similar in looks to the current Xbox I have, the Xbox One S, especially as it's white too! Being smaller is great, it's more subtle and looks good if you have a tidy TV station. However, the one thing that is distracting is the black fan grating. Why Xbox? Just make it white too!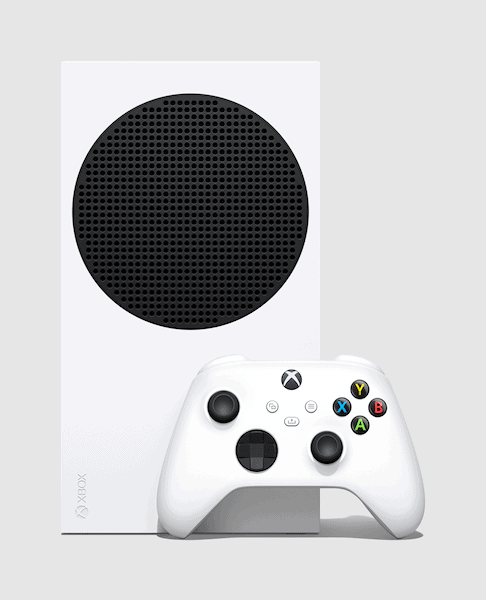 The new Xbox controller is also a slick performer having received some ergonomic improvements and tech upgrades to ensure that there is better latency and better cross-device connectivity. The controller is compatible with not only Xbox Series X|S, but also Xbox One, Windows 10, Android, and iOS. There's also a new sharing button which makes it easier to share screenshots.
In-hand, I can feel some subtle differences, the most notable being the addition of textured grips and triggers, plus there's now an 8-way D-pad, similar to that of the Elite controller. It's all very familiar and that's a good thing, because the Xbox controller in its size, shape and layout, has all been the best controller in my opinion. In fact, its layout has pretty much been adopted as the industry standard, so it's doing something right!
Performance
Xbox's new Xbox Velocity Architecture is a dream. It reduces load times to just a brief pause, I have tested this on games like Mafia 3 and Red Dead Redemption 2, where normally you could comfortably get to the kitchen, make a cup of tea and come back while the game was still loading.
It also has a clever trick of being able to keep a number of games active simultaneously, which means you can flick between titles and resume instantly where you left off. Quick Resume is a great way of being able to jump in and go on your favourite games.
Hardware-accelerated DirectX Raytracing helps deliver some stunning visuals with amazing depth, reflections and shadows adding a lot of extra layers to an already impressive vista. This also works on older games through a clever reconstruction system which means that existing games can be given a boost. I saw this first hand playing Mafia 3, which is already quite visually stunning, but on the Series S adds in even more detail.
The Series S has support for up to 120 frames per second, meaning that controls can be more precise and action can be faster and smoother than ever. I got a hint of this potential playing Doom Eternal, a game that is notoriously a bit laggy. I pushed the game as hard as I could but couldn't find a single moment of lag, it was intense!
Good Bits
Let's go over the good bits of the Xbox Series S:
Load speeds
This thing is lightning fast. From the speed it loads up at to the speed it can load your games at, there's no sitting around waiting! Combined with the awesome Quick Resume function, there's no awkward pauses and time to slip off to make a drink. Sit down, get on with it and have fun!
Backward compatibility
Unlike the PlayStation 5, Xbox has got the backward compatibility thing down! You will be able to play thousands of titles from four generations on the Xbox Series S on day one. That makes it the largest launch lineup in Xbox history.
But it's not just the ability to play your old games, they look spectacular! The games run natively on the new Xbox hardware meaning they will run at the peak performance that they were originally designed for. Older games will also see significant reductions in in-game load times and the automatic improvement of visuals. As I reported earlier, I have tried this out with some older games, and they really are like playing remastered versions, they look so much richer!
Wider Xbox ecosystem
A lot of the Xbox's benefits don't come from just the console alone, they come from the wider Xbox ecosystem. Back in February, Xbox CEO, Phil Spencer, was asked about who he saw as the main competition and his answer of Google and Amazon was pretty widely mocked in console fan circles (Twitter), but it's true. Xbox is transitioning into a place where "playing an Xbox" isn't just console-based, courtesy of the cloud system, you can play Xbox games on PC and on handhold devices (Android now, but I suspect an iOS solution won't be too far behind, despite the current impasse with Apple).
This is reflected through Xbox Game Pass, the 100+ strong library of games ready to download or stream. The amazing benefit of Game Pass is the availability of first party titles, most are usually available on day one, whereas PlayStation Now has more games, but rarely new releases. Plus, the partnership with EA Play means that a huge selection of EA Games will be available to play too.
Game Pass games can also be played on PC and on hand-held devices, plus paired up with cloud saving, it means you can save your progress on your console, then walk out the door to pick up your game on the bus!
Budget minded
This is where the Series S blows the other next gen consoles out the water. At $299/£249, this is the cheapest next gen experience going, and as I've tried to lay out here, you don't miss out on too much from it's bigger brother the Series X.
Xbox have also expanded the hugely popular Xbox All Access finance deal to 12 countries, with more to come in 2021. Xbox All Access gives you the console plus 2 years subscription to Xbox Game Pass Ultimate for just $24.99/£20.99 per month! That's a new next gen console and over 100 games immediately available to play for a third of the price of one new game per month!
The Xbox Series S offers an incredibly budget minded package for anyone to be able to jump into next gen gaming. This is a very shrewd move by Microsoft and I agree with Xbox's CEO, Phil Spencer, that the Series S will outsell the Series X over time.
Bad Bits
Now the not so good bits:
Hard drive space
There's only one really bad thing about the Series S and it's the storage space. At 500gb, the hard drive is pretty small already, but once the operating system is accounted for, it leaves you with around 360gb of available space. Considering this is a digital-only console, this does limit the number of games you can have downloaded. I would have thought that a digital only console should actually have the larger onboard storage.
There are some positives though… the install sizes are smaller on the Series S. I have downloaded some new games and the install size is only around 30-40gb. This is inline with the previous news that Xbox Series S game sizes will be small than on Series X. So at least that 360gb can go a bit further.
Also, there is a 1TB expansion card from Seagate which precisely matches the onboard hard drive which means that it can seamlessly run all the fast loads etc. But, this is over $200/£200 which is nearly the same price as the whole console!
You can use a third-party external HDD to store games, but you can only play backward compatible games from it and it won't achieve the same performance or speed of the internal SSD.
Overall
The Xbox Series S has some serious performance firepower in a small, budget-friendly box. It's perfect for casual gamers who aren't 4K obsessed to jump into next gen game play and just have fun! It's perfect for people or families who are on a strict budget. It's even perfect for people who own a PlayStation 5 but still want to keep a bit of Xbox in their lives.
It's not perfect, the box is a bit bland and there's a storage issue, but if you really just want great next gen gameplay and a cheap gateway into the Xbox world, go get a Series S!