The number of drag queen streamers on Twitch has grown exponentially over the last year. But Elix, along with the Stream Queens team, is at the forefront of not only Twitch, but social media.
You may have seen Elix in her viral video playing as Mercy in Overwatch, and more recently she's hit TikTok with her hilarious videos. On stream, she's not only one of the top Hag players on Dead By Daylight, but she also's huge fun both in and out of drag and cares deeply for her community. Below we chat streaming in drag and how to use your platform to support others.
Oh…and Fall Guys, of course.
When and why did you start streaming?
November 2017 was when I started streaming on Twitch. I was always wrapped up with work and I really wanted to start gaming again. I grew up with gaming and I just love to game. If I can maybe entertain people in the process it would be a great hobby to take on. So I started buying all this really cheap equipment from Amazon, and it's one of the best decisions I've made. It's really made me a happier person to have a platform on Twitch and be able to entertain people through one of my favourite things to do.
What games do you prefer to stream?
Right now one of my favourite games to stream is Dead By Daylight. I love games that are co-op, collaborative, you can play with real people. I'm extremely competitive, like you don't understand! I'm one of the top killers in the world with DBD. I recently got into Fall Guys, I think it's the craze right now, and I love it! I'm so horrendous at Fall Guys but it's so much fun! I'm screaming left and right. I've been playing 20 hours, here I am barely making it past round one! I've never snatched the crown. I mean I already wear a crown, but I wanna crown this crown, you know?
What is it with drag queens and Dead By Daylight?
For me, I grew up loving horror films since I was two. I grew up on Nightmare On Elm Street, Halloween, Friday The 13th, Alien. I think that is something I would take refuge in because I always knew I was a very different person from everyone else and always did my own thing. Me and my twin brother, we would just take sanctuary in our horror movies and our games. I think that is part of the reason why I just love horror games especially DBD, it has these iconic characters and amazing killers. Also the horror of it and the fierceness of some of the survivors. Jane Romero, we love a thicc queen, come through pear shape!
Jane Romero playing Jane Romero @DeadByBHVR pic.twitter.com/YzB5OagBOv

— Elix (@Elix_9) August 7, 2020
What makes your stream unique? What can people expect?
A lot of drinking. A lot of laughs. We try to foster inclusivity, we welcome everyone, we are a safe space. A lot of screams! A lot of singing, I love to sing, especially when people subscribe. Scary games. DBD. Amazing killer gameplay! We make it fun and I like to make people laugh, I'm a jokester.
So why stream in drag?
I love streaming in drag because I've always loved drag culture and femininity, I'm a feminine person naturally. I was on Twitch and watching Drag Trashly and Deere and they do drag and I thought maybe I might like it? I literally turned into a new person. I always tell people it's a reflection of my soul, it doesn't really have a sex or gender. So the reason I love doing drag is it gives me that huge boost of confidence, being able to play my alter ego, who I'm truly meant to be, and really just have fun with every game I'm playing. It makes people laugh. A new thing to that is it's inspiring people to try drag or come out of the closet. That's a huge thing that I've recently learned to accept – that I'm inspiring people. That's such a beautiful thing.
And you're branching outside of Twitch with streaming and drag…
A lot of people think you can just make it big with Twitch alone – no, that's completely incorrect. You need to branch out, have a YouTube or something. I started Twitter because it's easy and I don't have the time to edit videos. I went viral with one clip of Mercy and that helped my viewership and then just recently I went on to Tik Tok. When you go on TikTok they just fucking love everything! I guess drag and gaming is just so new on TikTok which is so gagging to me.
You're really passionate about your community and supporting others. How do you cultivate such a strong bond with your viewers?
I think most importantly it's just being a genuine and honest person. I'm completely transparent. I'm able to clock myself when I do something wrong or say something inappropriate. I hold myself accountable and sometimes they hold me accountable and they see me develop through that process. And I think that really helps me cultivate that type of community. I share my experiences with them, I share all my successes and failures, because something I always told myself was if I ever have a platform and I can share any of the struggles I've had in my life, I really want to speak about it. If one person can hear my story and it helps them handle whatever they're living with in a better manner then I've done my job. And I'm fucking funny too!
How important is community?
They mean so much to me because a lot of people in the community haven't come out or they're struggling accepting who they are, they don't have anyone to talk to. Helping people through that is everything. Sometimes I'm crying, reading these DMs, and I try to do as much as I can. I never knew my community would mean this much to me. To me, it's all about building people up.
How does being part of a team help you as a streamer?
It's helped me as a streamer be aware of how much the drag queen scene has blown up on Twitch and really build relationships, play games with them, collaborate, help them grow their communities. I want to do everything I can on my part, just like Deere has with the team, to really put a spotlight on this on Twitch. It's so big now, there are so many drag queens, it's so beautiful to see. I get a lot of traffic from the Stream Queens team, there's a lot of discoverability so people can find me that way.
What advice would you give to gaymers wanting to start streaming?
Have very thick skin because every day I stream I receive many hateful comments. Every single day. They don't phase me, but what impacts me is how my community is seeing it and how it's affecting them. Be able to clock yourself and hold yourself accountable. Have a consistent schedule for your stream, so it becomes habitual for your community.
Be yourself. Be fun. Don't be mean, don't tear others down. You have to be able to channel those natural human emotions to better yourself instead of being hateful and stopping your growth focusing on negativity. Enjoy it. Do it because you want to game, because you love to game and you want to interact with other people. Don't focus on money at all. I love money, everyone loves money! It gives you security. But that should not be your main motivator.
Have someone that supports you. Surround yourself with people that will support you and not ridicule Twitch. I would not be where I'm at right now if it wasn't for my friends on Twitch that have supported me, and especially my man. He does my wigs, he builds my costumes.
And don't do long streams. Girl, let me tell you… I was a very small streamer and I did a 27-hour stream in full makeup, wig, five-pound crown, two bras, two corsets, and full costume. You start the stream at the beginning and I look fabulous, and by the end of the stream one of my eyes is swollen because I had a reaction to the makeup, my makeup is at my neck, I look so cakey!
This is all excellent life advice!
If you have a platform, share something! If people can talk about their experiences and at least one person's watching and it's going to really help them be better, you've done such an amazing service.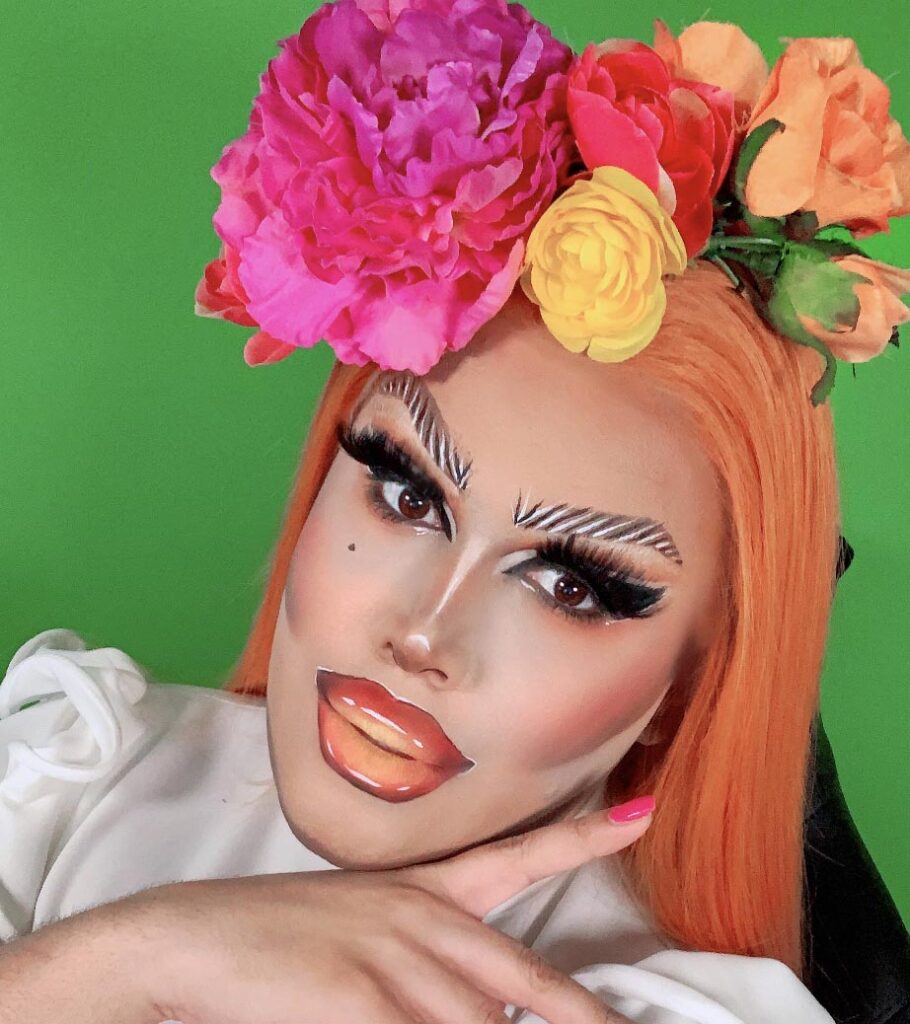 What's the best thing about being a streamer?
The best thing is you have your own schedule, your own rules. It's freedom. It's liberating. You can be your true self in the comfort of your own home. Nothing matches that. But also what comes with it: a beautiful community, people you're inspiring. That to me is just wow. I cannot stress enough how happy streaming has made me and how it's changed my life.
What's your game of the year so far?
Oh god I don't want to say Fall Guys because I play a lot of single player games off stream…you know what? Fuck it, let's go with Fall Guys. Fall Guys is everything! Any game that makes me scream and turn blue and lose my voice – mad props. And that's Fall Guys right now, it's the game of the year for me. I tried so hard to stray from saying that!!
---
To find out more about Elix, catch her streaming on her Twitch channel, Elix.
Don't forget you can vote for your Streamer Of The Year at the Gayming Mag Awards right here!