Love Shore is creating an unabashedly queer and colorful cyberpunk story
Perfect Garbage Studio's debut game, Love Shore, is a queer cyberpunk visual novel with RPG elements.
A diverse cast, an incredible level of polish, and compelling storylines make it easy to see why the game already has people excited. I spoke to studio founders Son M and Emmett Nahil about the game for Gayming Magazine. We also spoke about the current state of queer games, and our hopes for the future.
Although the studio is technically based in Chicago, Son M and Emmett Nahil first met over Twitter when Son reached out to Emmett about helping them complete a horror story they'd been working on. Once they began thinking about the setting and implications of the idea, they realized that it needed to be a fully-fledged game.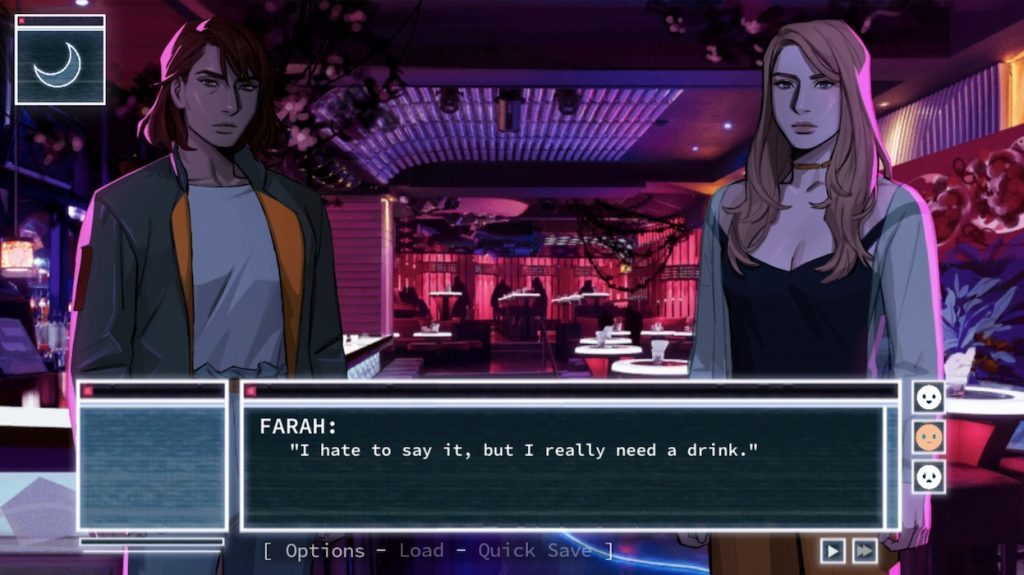 Son: Perfect Garbage was created because we want to make games, especially games that featured heroes and protagonists that looked like us. Emmett and I are both from ME/NA [Middle East/North African] backgrounds and we want to make games that not only incorporate that, but also feature LGBT+ protagonists as well.
Emmett: Our goal was to make a game that we would want to play, that would be super queer and super brown, and that idea reflected what we weren't seeing in the VN world at the time. Luckily, the audience has been very receptive to that idea, and we've gotten a ton of support from people both inside and outside of our own communities.
Being vocally proud of your identity, especially as a marginalized person, means you're going to run into some opposition from privileged voices in the industry, but that's sort of par for the course. Doesn't mean it's right, but our only response has kind of been to sit back and say, "Alright, well, we're going to continue to make the game we want to make, because we know what kind of story we want to tell."

Many visual novels (or VNs) can start to look formulaic after a time, often re-using anime cliches and art styles. Love Shore has an amazing sound and style, and unlike most other games in the space. It is a world of neon and sunshine, a tourist paradise and a grim noir of alleyways.

Emmett: Besides our own inspirations for the world itself, we've been extremely lucky to work with some incredibly talented artists and designers on the Perfect Garbage team. Kabo, as our art director, has really been a driving force behind the aesthetic choices in the game. Zi, who does Love Shore's environments, is astonishingly good at creating mood, and Sonja does all the UI, which is immaculate.
Son: As for our visual inspiration, we are often caught by the visuals in the John Wick movies, with the intense neon city and constant action. The Ghost in the Shell movies, as well as the Stand Alone Complex anime is another big one.
While queer gamers have more options than ever, much of the mainstream games space is still a minefield of either no representation or downright hateful missteps. Visual novels and dating sims have historically attracted a large queer audience and their low cost to make has meant that they are a good avenue for beginning creators trying to share their voices.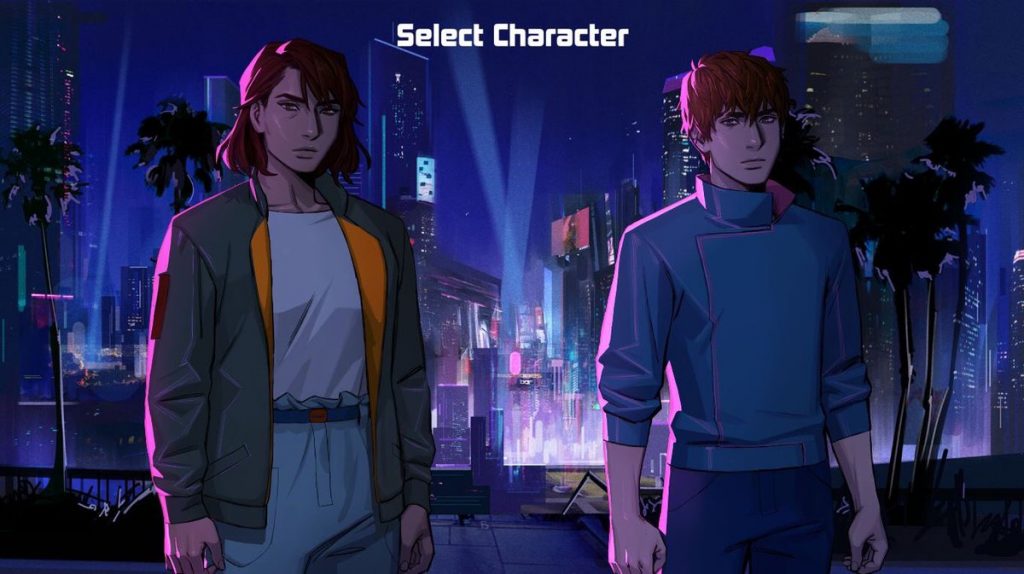 Son: Love Shore came as a niche in a space I was obsessed with and never really get to see. Our goal was to make a game that we would want to play, that would be super queer and super brown, and that idea reflected what we weren't seeing in the VN world at the time.
I grew up on games that were heavy in worldbuilding and VNs, with the chance to have smartly dispersed lore, are the perfect form of storytelling in many ways. What I'm especially excited about is the growing types of visual novels, especially in OELVNs, where oftentimes, we were only getting gag games. I love gag games but it's so cool to see some amazingly detailed worlds and story! I would really like to see more of it all, to be honest."
Emmett: Again, I'm optimistic about the indie space right now! I really want to see more devs exploring weird genres in queer VNs. Which is kinda predictable, given that's what we're trying to do, but still. I want more! It almost goes without saying, but I always crave more diverse casts: more gender diversity, more racial diversity, and especially more diverse teams developing those games.
Thanks in a large part to Kickstarter, it's become easier than ever to crowdfund directly to LGBTQ players that desperately want queer games, and aren't being served by the AAA space. You don't have to know a lot about games or get a pricey console to enjoy visual novels, which means we're in a great place to reach all kinds of queer folks who want to play, and that's really important to me as someone who wants to see games become more accessible overall.
The campaign was absolutely grueling, but so much fun. We ran all of our own promos, top to bottom, and both of us were managing the community as it was springing up around the campaign. The energy was wild, and it was incredible to see people rally behind Love Shore as an idea AND as a game. When we couldn't keep each other sane, the other team members working with us on Love Shore kept us on track, 100%. I was wandering around the middle of the main expo hall during Pax East last spring when we got the news that we'd reached our goal, and I just remember screaming my head off."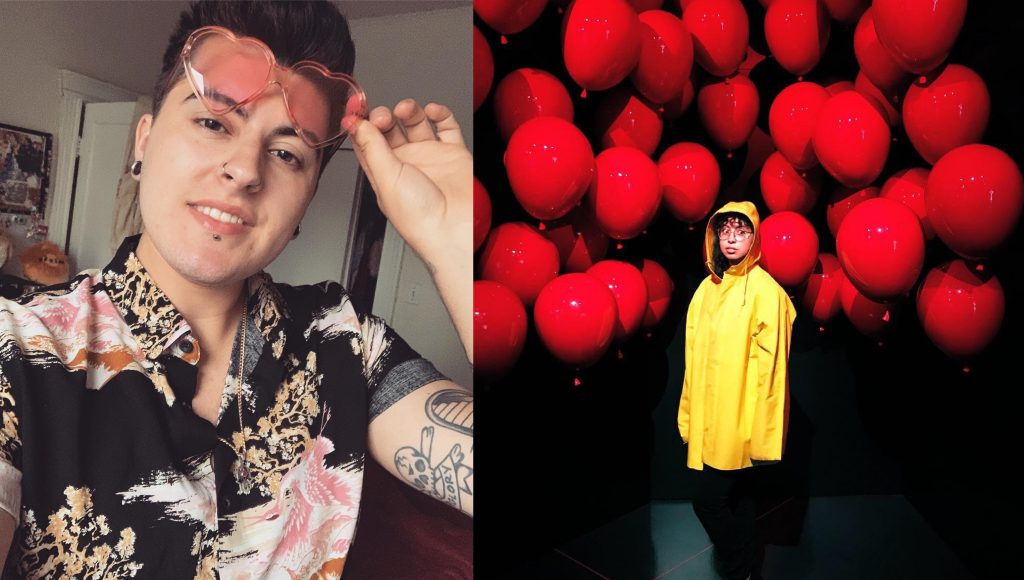 Son: Emmett face-timed us screaming. The ultimate validation.

Surprisingly, the idea to make a Kickstarter did change the scope. We increased the level of storytelling we wanted to do as well as the complexity of the game mechanics. The reason? If we were going to run a Kickstarter to make sure everyone on the team we hired was paid fairly for their labor and also paid in the future for their hard work, we wanted to work with everyone to make sure we got the chance to make a good one!
As for Kickstarter, this wasn't my first rodeo. Being completely independent of any big sponsor or company, Love Shore had to be entirely funded by the audience we wanted to make the game for! And to do that required getting the word out. I often say I'm very lucky to have an amazing community that uplifts each other and we were able to work closely with members of the community to spread awareness of the project we want to do!

I'll never say Kickstarting is easy. There were days I would lose sleep, days I cried in anxiety and times where I truly questioned if anyone really wanted to play such a specific and niche game. And I genuinely think that despite that, I would do it again in a heartbeat. Having the support of the whole Love Shore team and Perfect Garbage really made it the experience it was."
---
Love Shore is due to be released in 2021 but there's a demo out now. You can follow and support their progress on Patreon. Emmett and Son are both on Twitter and their site is Perfect Garbage Studios.