One Honk Before Midnight is the goose game of your dreams
Looking for a goose-based tabletop game? Step no further, because One Honk Before Midnight is the game for you.
Created by Jack Dixon, the author behind Adventure with Pride, and Andrew Collins, One Honk Before Midnight dares to ask that all-important question: what if you were a very naughty, no-good-at-all goose with a chip on their shoulder and hatred in your heart?
If that sounds up your alley, then you're in for a honking good time.
Set in the idyllic town of Stafford-On-Gander, One Honk Before Midnight puts you in the shoes (webbed feet) of an elite gaggle of geese who are determined to usher in the HONK-pocalypse and reestablish an era dominated by geese. Unfortunately, these pesky humans are making that dream a little difficult. Looks like you'll need to bring in the big honks.
In this 20+ page story, players will need to dive into the daily lives of the eccentric residents and foil them at every turn. Whether that's through combat or roleplay is entirely up to you.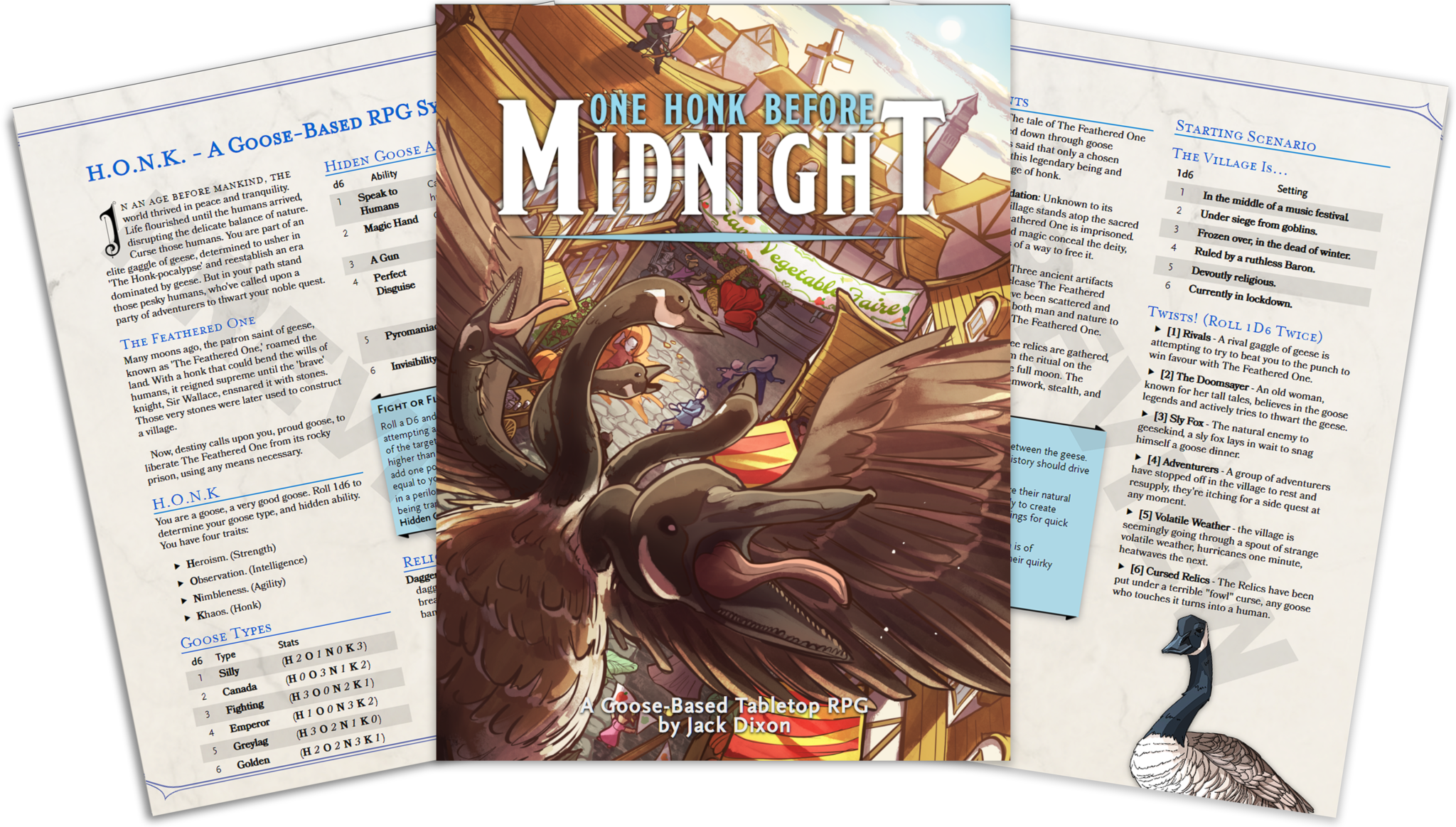 Alongside a new story, One Honk Before Midnight also comes with a new system — the H.O.N.K system. Based on four vital statistics, H.O.N.K stands for Heroism, Observation, Nimbleness, and Khaos. It's a 1d6 RPG-inspired system, influenced by games such as Goat Crashers and Honey Heist.
The game is currently live on Kickstarter, having smashed its goal of £1,000 and (as of writing) is sitting cozy at nearly £9,000. It's a great day to be a fan of geese-related games.
Backers of the deluxe physical edition will receive a variety of delightful goosey extras along with the physical book. These consist of a miniature set featuring three goose minions and the fearsome Goose Hydra, along with bookmarks and art prints.
The Kickstarter is running from the 4th of November until 4th of December, and some tiers are limited. The shipping date for physical rewards is expected to be March 2024.