Baldur's Gate 3 is getting a physical edition release in 2024
Since Baldur's Gate 3 was released this year, one question has been on every player's mind: will we ever see a physical edition of one of the best RPGs?
In a games industry that seems to be further edging away from physical copies of video games, more and more players are looking to collect games for sentimental value (among other reasons) in their physical form. Larian's reveal of a Baldur's Gate 3 Deluxe Edition, then, is a significant but very welcome surprise.
For players who already have Baldur's Gate 3, you may be wondering whether it'll be worth it to double dip and grab a physical edition — especially if you're not that interested in the preservation of your favourite games. With the Deluxe Edition, players will receive not just physical discs of Baldur's Gate 3, but a 570 x 690 mm poster made of chalk paper, 32 stickers, 2 10cm patches (Flaming Fist and the Mark of the Absolute), a 160 x 180mm, bookbinding cloth, 2 sides print world map, 3 CDs of the original soundtrack, and last but not least, a collectable box created in the style of the original series.
Digital goodies will also be available. This includes the Divinity Item Pack with items inspired by the world and characters of the Divinity Original Sin series, a Bard Song Pack which allows you to play special sets of new songs, an exclusive dice skin, a digital OST, an artbook and character sheets, and last but not least, an Adventurer's Pouch to help with storing camp supplies and other nick snacks.
You can see the goodies in full below.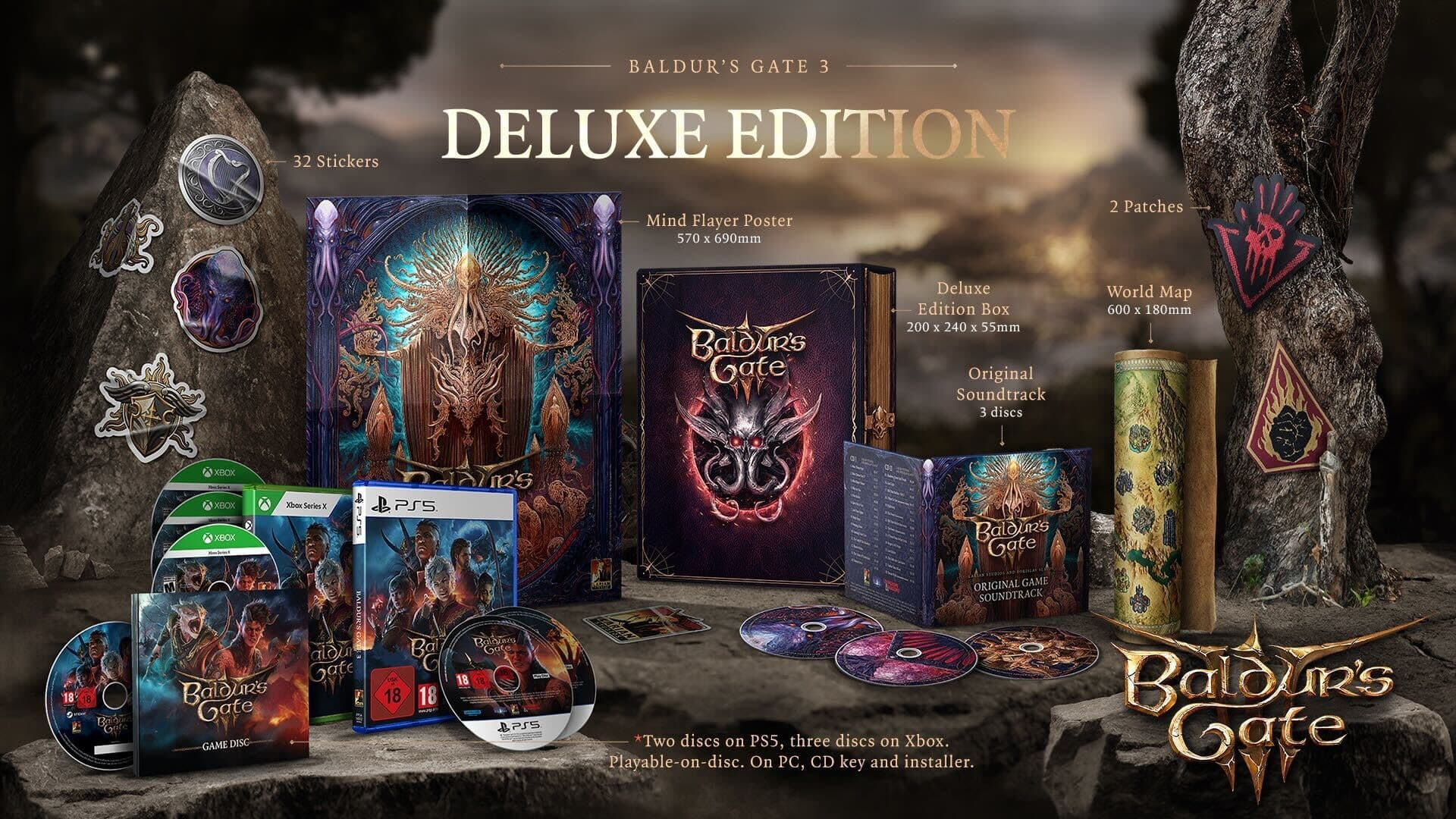 For the PS5, you'll be able to play Larian's biggest RPG via two discs, whereas it'll be three for the Xbox Series X/S. For PC, a DVD will host the custom Larian installer, and it arrives with a Steam key.
In a statement (as seen via Polygon), the director of publishing at Larian, Michael Douse, revealed that the release was an "experiment" for what the future of physical media will look like at Larian. "We spent the last few months learning how to do it from scratch and put everything we learned from the Collector's Edition into what we hope is unbeatable value for what we're considering our standard physical version going forward. If it works out, we'll keep doing it this way. We understand the value of physical media, and while there are clearly increasingly significant challenges when it comes to the archiving of games, we truly believe it's worth experimenting, even if it means a fuck-ton of discs."
If you're eager to own Baldur's Gate 3 physically, you can pre-order the Deluxe Edition at Larian's official store for $79.99 on PC, Xbox Series X/S and PS5.