Insomniac's Spider-Man 2 confirms Black Cat is bisexual
Black Cat aka Felicia Hardy, has been confirmed as bisexual in Insomniac Game's Spider-Man 2.
Fans of the spandex-loving thief aren't necessarily surprised by this, as Black Cat has been known as bisexual ever since she shared a kiss with rival and enemy, Odessa Drake back in the Black Cat comic that was released in 2021. She's also locked lips with her best friend Tamara, a fellow thief and patron under Black Fox known as Iron Cat.
And now Black Cat has made a reappearance in Spider-Man 2, with a much bigger role than last time (where she appeared in DLC). Black Cat's relationship with Spider-Man and Peter Parker in general has been tumultuous throughout the entirety of her existence. They've been friends, enemies, and even lovers.
Considering Insomniac's Spider-Man series is separate from the comic, some fans were speculating whether that relationship would evolve into something more romantic throughout Spider-Man 2.
That isn't the case. Not only is Peter with MJ — and has been for a while now — but as confirmed by Black Cat herself, she's got a girlfriend now — one that appears to be in quite a bit of trouble.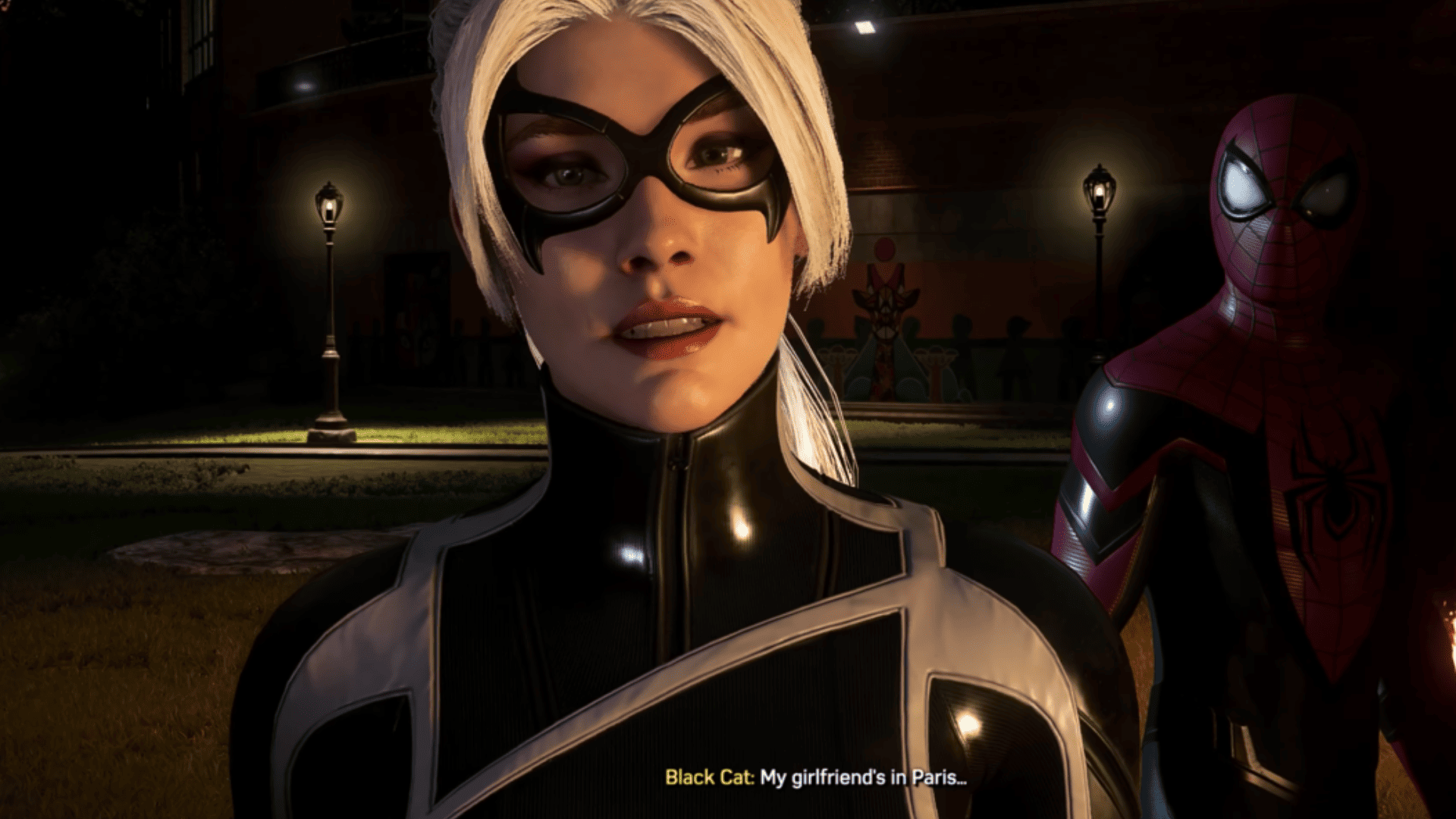 The confirmation comes after Miles Morales catches up Black Cat during a mission that has them zipping through the streets of New York — as well as other places — until there's nowhere else to run. After Miles accuses her of being selfish, and only doing things for her own benefit, Black Cat drops the bombshell that she's doing certain bad things (spoilers, and all) because her girlfriend is in a tough spot because of decisions she's made, and she wants to protect her. Not so selfish after all, huh?
Again, this isn't the first time that Black Cat has shown interest in the same sex, but it is the first time that it's been confirmed in Insomniac's Spider-Man universe. As to who her girlfriend is, a name is never revealed, so technically, it could be anyone.
This isn't the only LGBTQ+ representation to be found in Spider-Man 2, however. There's the LGBTQ+ mural in the city, with flags depicting various sexualities and gender identities. And, outside of the occasional troll, its appearance has delighted fans and captured the diverse and inclusive communities that are to be found in New York. It's a good day to be queer and into Spider-Man!
Spider-Man 2 is available to play now on PS5.