Dead by Daylight Pride Charms Guide (2023)
Dead by Daylight may be a horror asymmetrical video game, but it's also well aware of just how diverse its community and fanbase are. That's where the Dead by Daylight Pride Charms come in.
Pride is a significant event, and not just in real life either. While many may feel conflicted when it comes to companies pinkwashing, or seemingly only supporting the LGBTQ+ community one month out of twelve, others are happy to receive even the smallest amount of support. This usually means allowing players to express themselves via cosmetics for video games.
Cosmetics are a significant part of the Dead by Daylight experience, particularly with in-game skins and charms. They allow the average player to express themselves, similar to the character they choose to play represents them. Because of this, players can get a ton of charms and other collectibles, either through purchasing with in-game (or real-life) currency.
However, some skins and charms are able to be obtained by inputting certain codes. For this guide, we'll focus on all of the Dead by Daylight Pride-related cosmetics.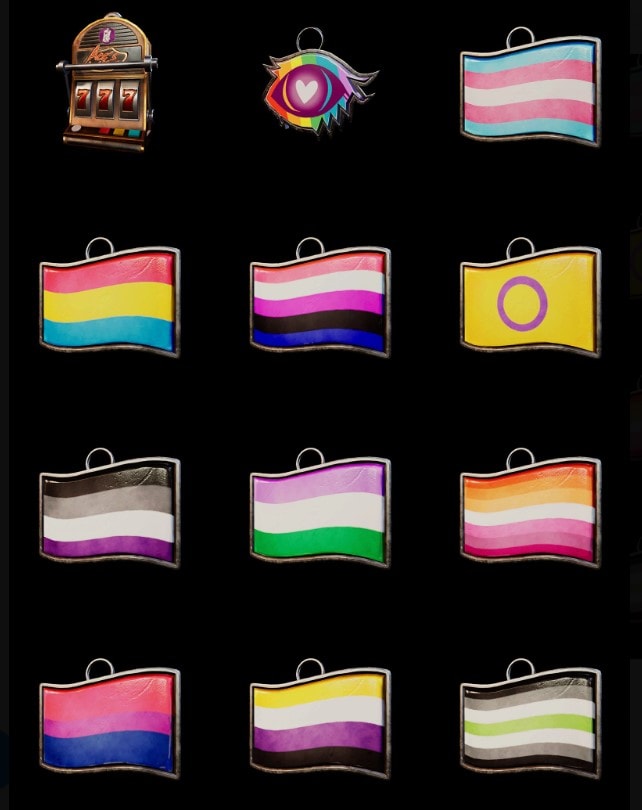 Dead by Daylight Pride Charms – All of the Pride charms and how to get them
Dead by Daylight has a handful of Pride charms, some of which are only obtainable through using codes. Once you have the code you need, you need to head to the in-game Dead by Daylight store and select Redeem Code. Once redeemed, you'll be able to select the charm you want and put it on your Survivor or Killer.
The full list of Pride charms, and the code needed to earn them, can be found below:
Feathers of Pride Charm – CAWCAW
Pride Charm – PRIDE
Pride Charms 2022 – PRIDE2022
Bisexual Flag – FLAGB
Pansexual Flag – FLAGP
Asexual Flag – AFLAGS
Agender Flag – AFLAGG
Gender Fluid Flag – GFLAGF
Gender Queer Flag – GFLAGQ
Non-Binary Flag – NBFLAG
Intersex Flag – ISFLAG
Glance of Pride Charm – KINDRD
As you can see in the above image, there are other Pride charms on the way too. However, the code for said charms has not been released as of yet. When we know more about how to get each Pride Charm for 2023, we will update this guide.