Celebrity Gaymer: Frankie Grande
Actor, producer, dancer, YouTube personality, television host, and overall star, the first thing that Frankie Grande tells us is that he is made up of all things "glitter, sci-fi, rainbows, and fantasy, with pure love, light, and laughter."
A lover of queer horror, Grande recently proved his acting chops once again in Summoning Sylvia – an LGBTQ+ horror comedy from Wesley Taylor (Smash, The Spongebob Musical) and Alex Wyse (Marvel's Iron Fist). It follows a gay bachelor party where three besties kidnap the groom and take him away for the weekend. Only it isn't mindless partying they'll be after, but a getaway at a haunted house instead. What should be a fun, if a little spooky, time however is rudely interrupted by army-uniformed, heterosexual Harrison, who joins the group's gaycation. Then there's the whole evil spirit the group might have woken up…
Grande plays Nico, one of the fabulous best friends who goes through a night of terror. Alongside himself, the entire leading cast is queer, as are the majority of their characters. What makes the movie special, alongside other films that are part of the queer horror genre, is that Summoning Sylvia allows queer people to be, to exist without a caveat. "We are finally the main characters in the movies we love, rather than the cult favorites who are the first to die!" Grande told Gayming.
According to Grande though, speaking to a queer audience isn't actually what makes Summoning Sylvia so special. "It's that even with a queer cast and creative team, this film can speak to ANY AUDIENCE. That's groundbreaking! Summoning Sylvia shows that inclusion doesn't lead to exclusion, and I hope more films follow suit."
Grande's love for all things horror doesn't just extend to his own movie; the star is a big fan of all things nerdy and pop culture. He is got his very own Spongebob Squarepants podcast, and are utterly obsessed with the movie Aliens, having burned a hole through the tape of the original VHS back in the day. He is also covered in Lord of the Rings, Star Wars, Star Trek, and Harry Potter tattoos, proud as punch to show off their inner geek whenever possible.
But their love for geek culture doesn't stop there: Grande is also a gamer. "I just played Hogwarts Legacy and loved it, so that's probably my favorite console experience to date," Grande told us. However, it isn't just the world of magic that interests the actor, but horror too, with their favored game to stream on Twitch being Dead by Daylight – a game well-known and beloved by the LGBTQ+ community.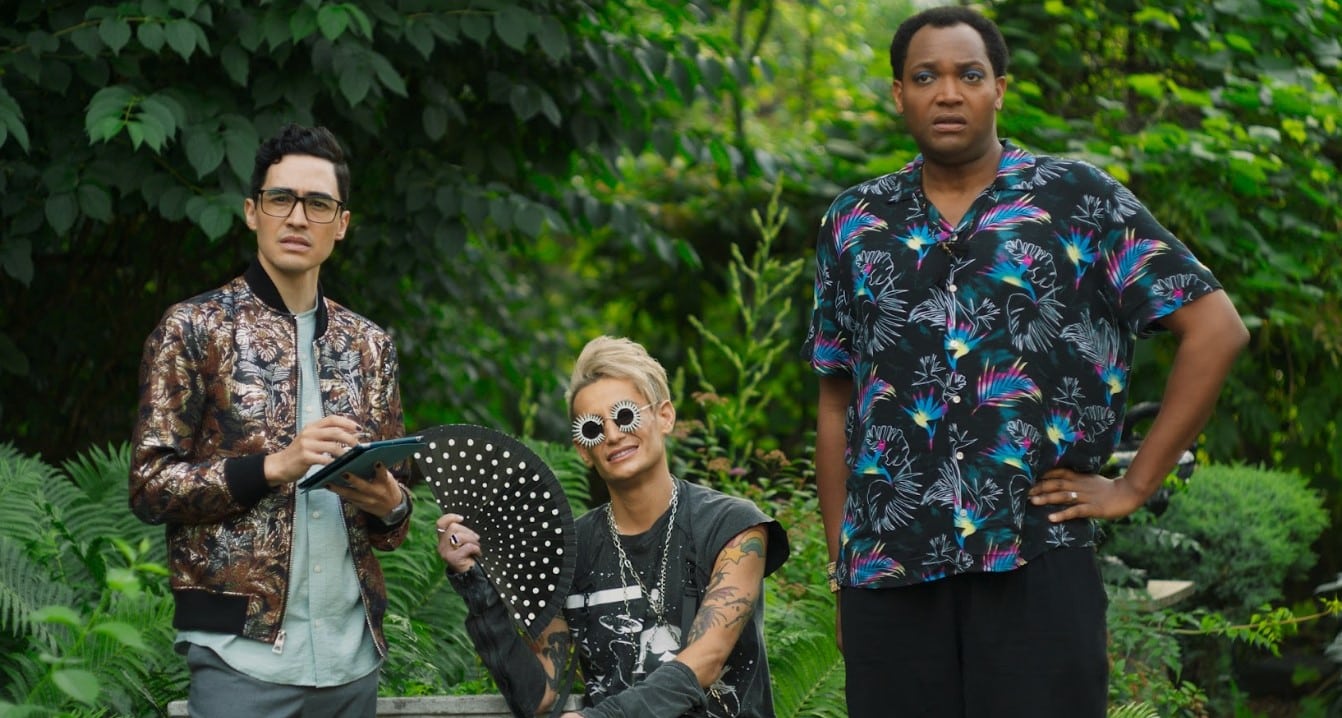 While playing video games alongside his husband, Hale Leon, on Twitch has been a momentous journey, it hasn't always been easy.
"Interestingly, Twitch opened me up to many homophobic attacks that I haven't had to deal with in a long time." Grande said, stating that it felt as though he was back in high school and being bullied for being gay all over again. "I think Twitch can be a pretty toxic place. But I am so grateful my husband has done such a beautiful job, along with his mods, of fostering a safe and inclusive Twitch community that I feel comfortable being a part of, so I only really stream on his channel, otherwise I probably wouldn't stream at all anymore."
Despite homophobic trolls, Grande's love for Dead by Daylight in particular still shines through during his streams alongside his husband. So, of course we had to ask him more about the Dead by Daylight movie and, if he was offered a role for it, who would he want to star as. The answer may surprise you.
"I would love to play a creature! That's always been my dream ever since seeing Andy Serkis play Gollum. So maybe… HAG! But Mikaela is my favorite survivor, and I play a witch in Summoning Sylvia so I think I would love to play her too!"
Fans of Frankie Grande can keep up with their work over on their social media platforms, such as Twitter, Youtube and Instagram.