Gayming LIVE reaches 1.6 million people
Gayming LIVE, presented by Ally, was held to huge success over September 9th – 11th across Gayming Magazine's presence on Twitch, website, Steam and social media.
When initially announced, the target for the event was 100,000 people to be reached across all channels. This number was smashed within 3 hours of the event starting as the numbers kept accelerating to an awesome 1.6 million people. This achievement easily established Gayming LIVE as the world's largest LGBTQ+ virtual convention.
Attendees were able to delve into all aspects of LGBTQ+ video game, drag and geek culture via a full schedule of free Twitch streams, ask me anything sessions on Twitter Spaces, and an Indie Game Festival running across the weekend on Twitch and longer on Steam.
Highlights from the Saints Row Main Stage included Cosplay Creations – Teen Titans Raven Cosplay Tutorial with Jaremi Carey, Stream Queens Scream-Along, Saints Row Let's Plays with Juice Boxx and Biqtch Puddin', and an exclusive look at Season 2 of Dead End: Paranormal Park with creator Hamish Steele, including the debut of a first look clip.
Meanwhile, in the Panel Room, an amazing collection of diverse groups came together for important conversations around a wide variety of topics to do with LGBTQ+ gaming and queer nerd culture.
I'm so proud of what we have achieved for the global LGBTQ+ video game community. From amazing exclusive shows and reveals on the Saints Row Main Stage, to the empowering and important conversations that took place in the Panel Room. I'm thrilled with how this resonated with so many people. I'm also delighted at the response to the Gayming LIVE Indie Festival both on Steam and in the trailer plays in the Indie Showcase where I've heard great feedback from indie developers on their results. We've truly started a cultural moment and I want to thank the sponsors, supporters, production staff and everyone who took part in making this such a huge success. Bring on Gayming LIVE 2023!

Robin Gray – Founder of Gayming Magazine & Gayming LIVE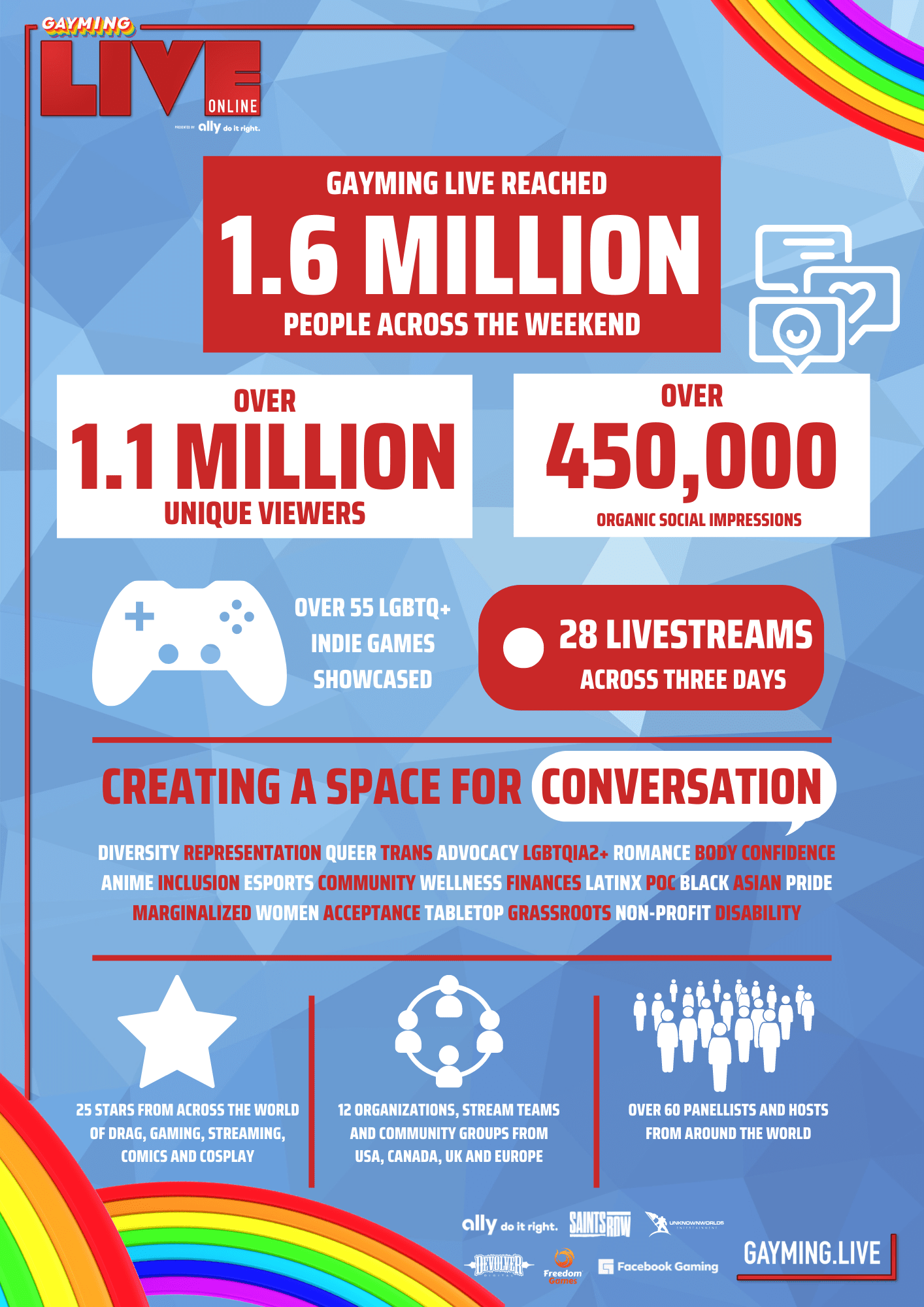 The Gayming LIVE Indie Festival included a two-week Steam Event and Indie Showcase streams on the Saints Row Main Stage, which combined were watched by over 250,000 people. Gayming Magazine has always been a champion of LGBTQ+ indie games and the Indie Festival was a huge testament to that.
The Gayming LIVE event was such a success and we saw a nice lift in awareness for our games, Read Only Memories: NEURODIVER and Kitsune Tails, as well as Steam Wishlists. The Indie Game Showcases and other fun events were a delight to watch, and we're so proud of their ongoing success. Any developer out there making inclusive games should pay more attention to Gayming Magazine and their excellent events.

Cade Peterson – CEO, MidBoss
Gayming LIVE was presented by Ally Financial and sponsored by Saints Row, Devolver Digital, Freedom Games, Facebook Gaming and Unknown Worlds. The Gayming LIVE streams were powered by noblechairs, Overclockers UK and Streamplify. For more info on the sponsors, head over to the Sponsor page on the Gayming LIVE microsite.
If you missed anything from the convention, all streams are available to watch back through the following links:
Saints Row Main Stage: twitch.tv/gaymingmag
Panel Room: twitch.tv/gaymingpanels
Gayming LIVE YouTube Playlist (being updated)
Gayming LIVE Indie Festival: gayming.live/indie-festival