FaZe Clan's silence on Pride controversy hasn't gone unnoticed by LGBTQ+ gamers
Petey Plastic has been streaming since before Twitch became the behemoth it is now, and competitive gaming has always been part of that. The non-binary streamer managed to reach the top-500 of Gears of War during its competitive heyday and had dreams of being signed to an esports organization some day. These days, those dreams have largely been shelved due to Petey's age, but he's remained an avid esports fan, with a particular affinity for famous esports organization FaZe Clan. His current apartment is even across the street from one of their offices, which coincidentally moved there a few years ago. But after the recent FaZe Clan Pride tweet debacle, the streamer has found himself deeply disappointed in the organization.
Like many other companies during June, FaZe posted a tweet celebrating Pride Month on June 1. Shortly after, one of the organization's content creators, Talal "Virus" Almalki, posted a now-deleted quote tweet of the original Pride post stating that he doesn't support anything LGBTQ because he is a Muslim. Beyond this tweet's deletion, FaZe Clan has never addressed what Virus said publicly, or to any publication (including Gayming Magazine, who has not received any comment at the time of publication).
While it would be easy to chalk this up to the usual apathy companies often display when asked to actually back up their alleged allyship, FaZe Clan's silence on this issue is particularly noticeable considering the organization has had to publicly apologize for two other incidents of bigoted and insensitive speech within the past week. On July 3, the organization posted a statement announcing that it was dropping Fortnite player Evan "Cented" Barron after footage of the player using the N-word during a stream in 2021 surfaced.
"FaZe is constantly evolving and we expect our members to do the same," FaZe Clan wrote. "Cented is permanently removed from FaZe due to his use of hate speech. We, and the gaming community at large can't tolerate discriminatory language any longer."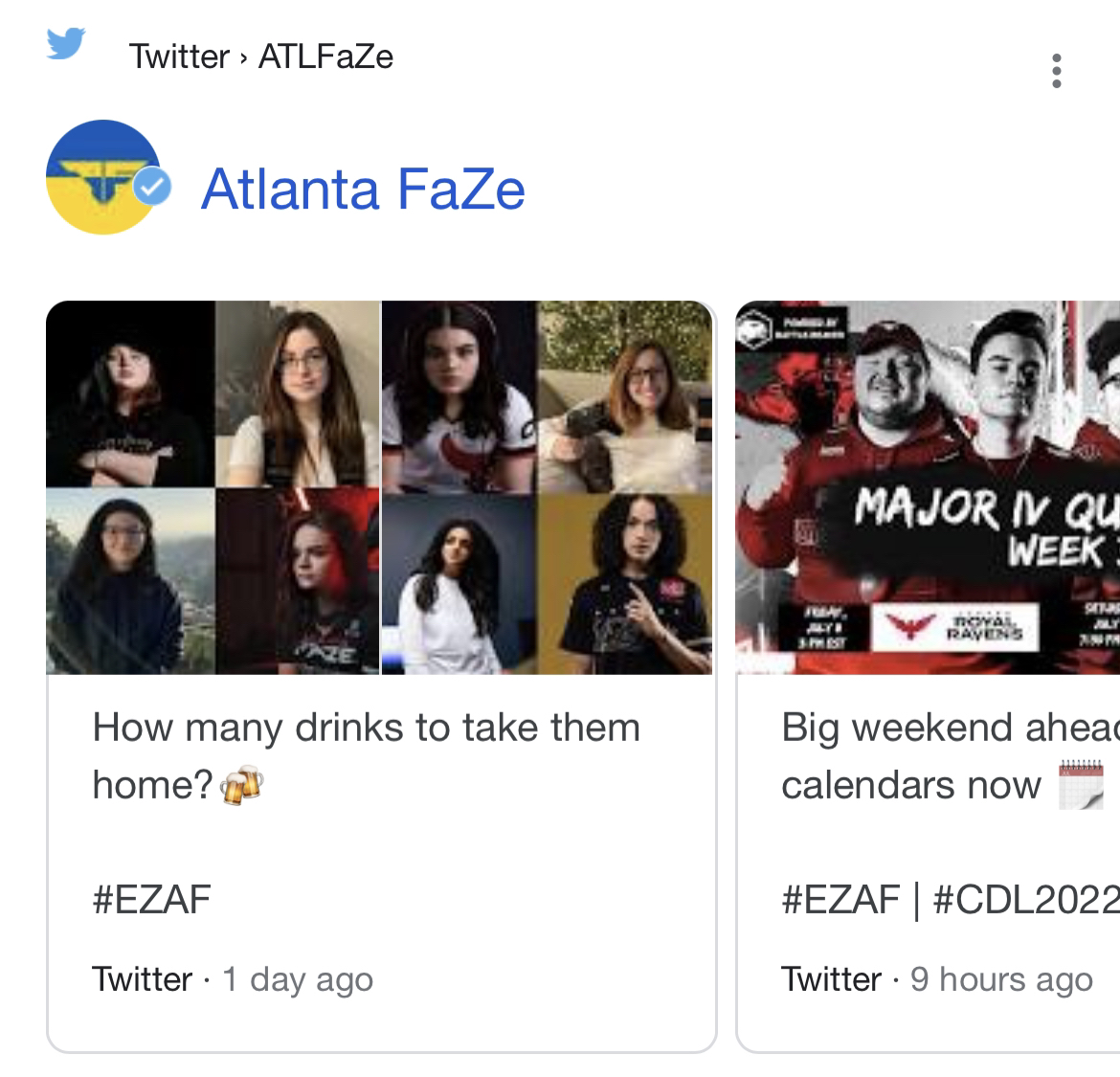 Just days later, the Atlanta FaZe account – which is a separate account specifically for the organization's Call of Duty League team – made a tweet enforcing rape culture using its Call of Duty League hashtag, #EZAF. The account posted a collage of photos of women esports players with the caption: "How many drinks to take them home? [clinking beer mugs emoji] #EZAF." The tweet was deleted soon after, and the Atlanta FaZe account subsequently posted a statement addressing the situation.
"Our entire organization wants to apologize for the misguided tweet posted recently," the statement reads. "This is not okay. We understand that there is no room for misogynistic or harassing behavior and that women & the Call of Duty community deserve better. We deeply apologize to those we have offended and know that we have fallen short of your expectations and ours. We have addressed this issue internally and vow to move forward in a positive manner for all."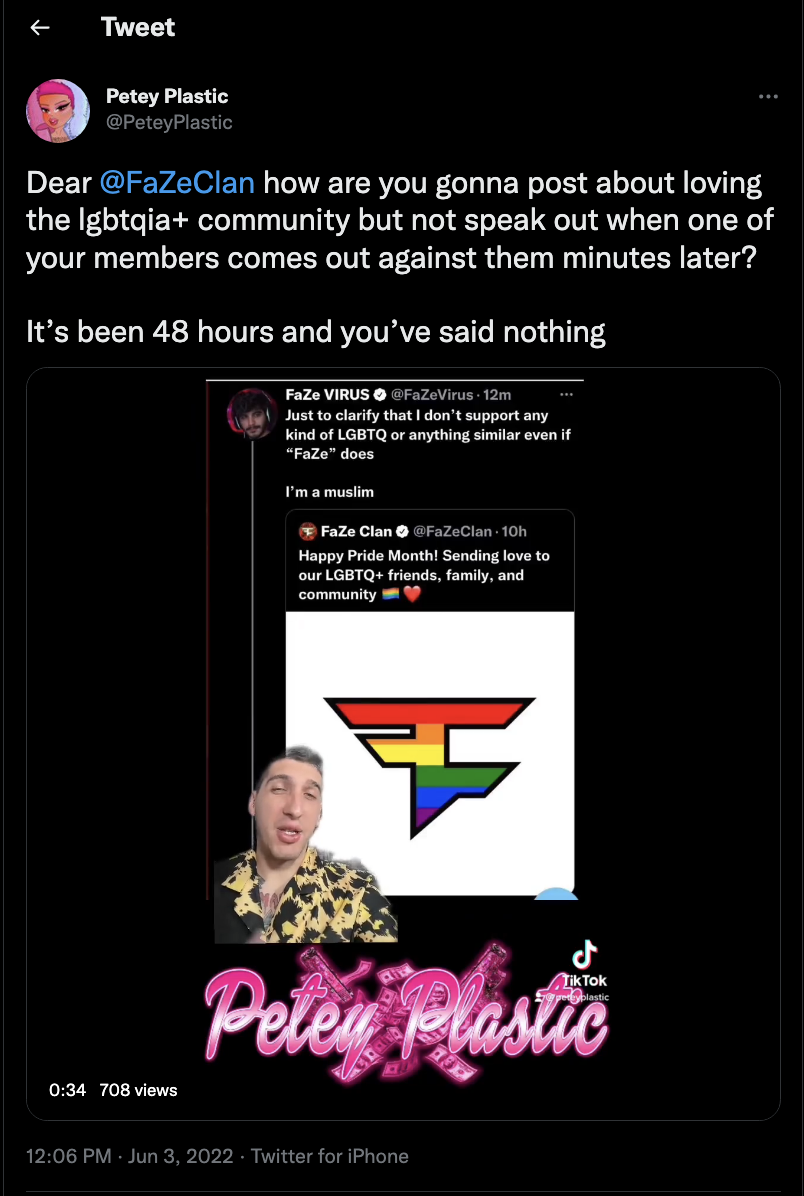 Beyond FaZe's acknowledgements of its other wrongdoings this month, Petey Plastic has also been tweeting at the organization repeatedly and made both TikTok and Instagram Reel videos about the Virus situation in an effort to garner some kind of recognition of what occurred.
"Literally, within two hours of this last incident that just happened [with Cented] they did a tweet, they kicked them off the team, all this kind of stuff," Petey Plastic told Gayming. "But they just swept this completely under the rug."
The streamer acknowledges that this Pride tweet incident being framed as a religious issue probably makes things more complicated for FaZe Clan than other incidents, but doesn't feel that's a reason for the organization to remain completely silent.
"I know that they could get sued for it, if they were to maybe kick them off for religious beliefs or something like that," Petey Plastic said. "I know that there's a possibility for that, but they could have spoken up about it."
He went on to list other ways FaZe could have handled the situation, from simply stating that they fully support the LGBTQ+ community despite Virus' comments, to having Virus have to take some kind of sensitivity training – as other esports professionals have had to in the past.
Streamer, actor, writer, and Muslim Furgie agreed, stating that Virus using his religious beliefs as the reasoning for his post was "laughable and offensive."
"Offensive to so many cishet Muslims around the world, those who live in Islamic countries and just don't care, they aren't going out of the way to be homophobic, being silent is an option," Furgie told Gayming. "Virus using his religion and country as a weapon to minimise the responsibility of his actions and to be hateful is just beyond disrespectful. He went out of the way to be bigoted, that's all."
He went on to point out that there are queer identified people who are also Muslim out there (including him), and that no nation or person is actually able to take someone's internal religious identity away.
"Also factually speaking a lot of LGBQTIA2+ Muslims exist, that's a fact, no country and no human being has the power on this planet to take their religious identity away from them," Furgie said. "So yeah, him using religion and culture and country is just stupid."
FaZe Clan has remained entirely silent on the matter, and the Pride tweet in question is still up. This incident has left both streamers Gayming spoke with disappointed or further disillusioned with corporate Pride undertakings and the esports ecosystem in general.
"I would honestly like them to take the tweet down," Petey Plastic said. "Because they're not an ally, clearly."
"I expect nothing less from FaZe Clan, just like I expect nothing less from million of other companies on this planet who use pride month as a marketing tool and trend but do absolutely nothing beyond that in regards to the lives and rights of LGBQTIA2+ community," Furgie said. "All I'll say is if FaZe Clan wants to have a bigot within their culture and company, that's their choice, just don't hide and pretend to be anything less, own that and I just want the companies who sponsor them and work with them to decide what values they want to align with."