Meet the Gayming Awards LGBTQ+ Rising Star Class of 2022
The second Gayming Awards is only days away, so what better time to announce the very first Rising Star Class?
Previously the Rising Star Award category was awarded to an up-and-coming LGBTQ+ streamer that has risen the ranks and has made an impact, however the award has since evolved to create a class of LGBTQ streamers who have used their tremendous growth to celebrate and support the LGBTQ Community.
The inaugural Gayming Awards Rising Star Class of 2022 (sponsored by Twitch) consists of 6 streamers, all of which have made incredible strides in their streaming career over the last year and have made significant contributions to the LGBTQ+ world within the gaming space.
The following streamers have been chosen to be part of the prestigious class:
The class of streamers were chosen by a global panel of experienced LGBTQ+ streamers that were assembled solely to nominate and judge the category. At first the goal was to pick one streamer that stood out, but it quickly became apparent that the impact to the LGBTQ+ community was so substantial from the entire nominees, so the decision was unanimously made to evolve the award to become a class of incredible streamers.
"I'm delighted to be celebrating the next generation of inspirational LGBTQ streamers with the establishment of the first LGBTQ Streamer Rising Star Class." Robin Gray, our founder, says. "These six awesome people have done amazing work for their communities over the past 12 months, and I'm
excited to see where they go next!"
Not only will each member be part of this incredible new class, but they will be awarded with a prize package from the category sponsors: Twitch, Shure, Overclockers, Noblechairs, Streamplify, and Cooler Master.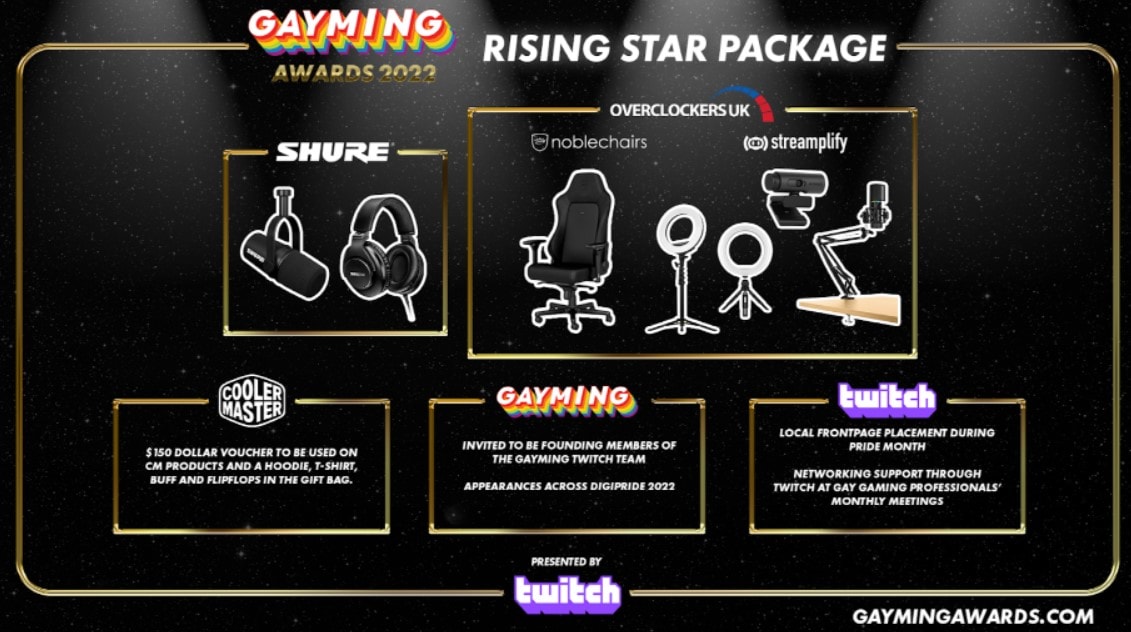 The Rising Star Package consists of:
Local frontpage placement during Pride Month [Twitch]
Networking support through Twitch at Gay Gaming Professionals' monthly meetings [Twitch]
Microphone – MV7X [Shure]
Headphones – SRH440H [Shure]
Noblechairs – a standard Noble chair that is available in their region [Overclockers]
Streamplify – a Streamplify Complete bundle (or individual items within the bundle to compliment their existing set up) [Overclockers]
$150 Cooler Master voucher [Cooler Master]
A hoodie, T-shirt, buff and flip flops in the gift bag [Cooler Master]
Invited to be founding members of the Gayming Twitch Team [Gayming]
Appearances across DIGIPRIDE 2022 [Gayming]
The Gayming Awards will take place live at the Troxy Theatre in London on Monday 25th, April. You can grab tickets to the upcoming event over at Ticket Tailor.