[EXCLUSIVE] Ian Alexander and Blu del Barrio talk Star Trek Discovery, gaming and more
Star Trek has always been about pushing boundaries and challenging social viewpoints. Whether that was the historic TV kiss between a white man and black woman in the 60s or bringing forward female representation with the series' first female lead in the 90s, Star Trek has always been about using storytelling as an allegory for positive change.
However, one thing that had been sadly lacking on-screen was any significant LGBTQ representation – save a few fleeting references in the 90s. With Star Trek Discovery, that has been well rectified with the introduction of a gay male couple in season one and, more recently, the introduction of a trans/non-binary couple in season 3 onwards.
Adira (Blu del Barrio) is the young non-binary engineering genius who is revealed to be human but carrying a Trill symbiont named Tal. Gray (Ian Alexander) was Adira's boyfriend and the previous Til host who sadly died in an asteroid collision, resulting in Adira taking the Tal symbiont and becoming the first non-Trill to bond with a symbiont. Adira and Gray are still able to talk to each other and through various spoiler-filled details, their relationship is able to endure.
This highly emotional love story has developed over the course of last season and the season currently airing to become one of the most important relationship dynamics in the series, offering a rare example of authentic representation of trans and non-binary people in television. This is something we love to see, and is so important for our new generation of young trans and non-binary people to see themselves reflected back.
To find out more about their time on Star Trek Discovery, their other work, and even to talk about the Discovery Dungeons and Dragons campaign that got the cast through lockdown, it was my huge pleasure to sit down with Blu and Ian.
Hi both, thanks so much for joining me today. Before Star Trek: Discovery, were you big Star Trek fans?
Blu: Hi Robin! Thank you for having us. I actually wasn't introduced to Trek for a very long time. It wasn't until I auditioned that I started going back and watching different branches of the series. Deep Space 9 is my favorite so far! But I quickly understood why Trek has such a big and beautiful fan base. There's so much history within this universe. It must be a wonderful thing to grow up with it!
Ian: To be honest, I hadn't seen much Star Trek myself. My parents are huge Trekkies, so I grew up watching Star Trek: The Next Generation because of them! My mom's favorite character was Spock, and my dad would always joke that secretly she was Vulcan.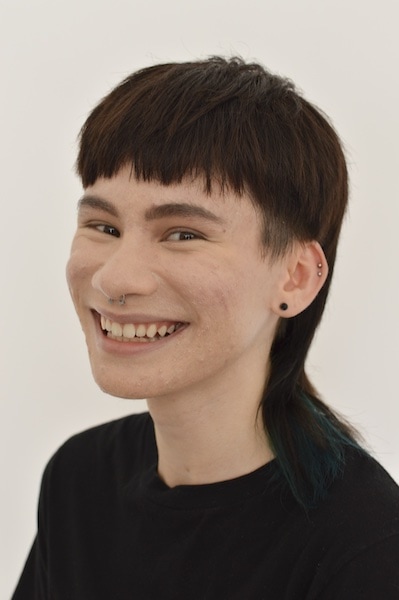 How did you both feel when you found out about being cast on Discovery?
Blu: I was completely speechless. This was something I'd worked so hard for, but it still felt unreal. Getting to play a trans character in such an important franchise is really one of the biggest gifts I've gotten in life so far. And this cast… I mean I used to watch videos of Anthony and Wilson singing when I was 10 years old. Mary, Doug, Ian, Sonequa, EVERYONE. They are all masters at their craft and I'm just so grateful I can call them castmates, friends, and role models. I think when I found out I was filled with joy but I had no idea how truly life-changing this whole thing would be.
Ian: I was shocked too! I thought I didn't do well during my audition, but I'm really glad they were able to see my potential. I believe Alex Kurtzman had seen my work on The OA and wanted to cast me based off of my performance on that show. I remember thinking – I'm really a part of Star Trek? It didn't really hit me how I would be a part of the Star Trek community for the rest of my life. It didn't sink in until I was actually filming season 3 of Discovery, and I was surrounded by my incredible castmates, who were talking about the fan conventions they were a part of.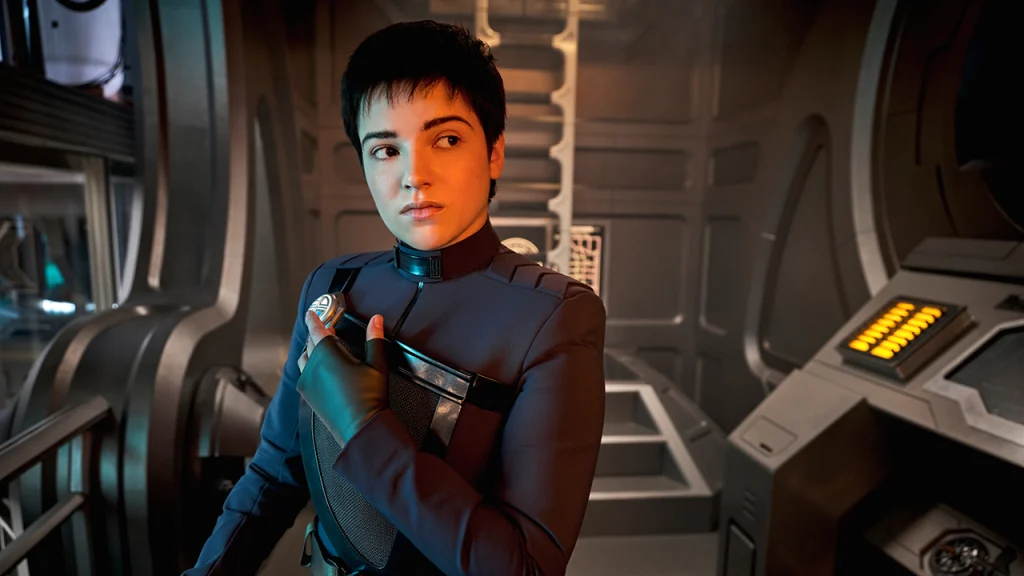 The story of Gray and Adira has been amazing to watch unfold, were you daunted by the significance of this role and storyline?
Blu: At first, yes, I was very nervous to be sharing this story with the world. I just wanted to do it justice. I was only at the beginning of my transition at that point so I definitely felt a lot of weight on my shoulders. This was a character that would have changed my life as a kid. It means the world to me. So I was very grateful to have Ian by my side. He'd already been through the process of playing a trans character in The OA, which I'm obsessed with, so they helped me through my nerves and self-doubt. I really don't know what I would have done without them.
Ian: It's an honor to be a part of the trans representation on Discovery. As Blu said, I've been a role model for trans teens since I was a trans teen myself, so it's incredible to see the impact I have on my community. I get lots of messages from people thanking me for the positive influence I had on them, and their families were able to understand their identity better after seeing another trans person on their TV. It makes me emotional, thinking about how trans youth can see examples of two successful trans-nonbinary people on Discovery. We give people hope that their future will be bright, too.
Gray and Adria are one of the best LGBTQ+ couples on television right now, what was working with each other like?
Blu: I always say the same thing but it holds true! I cannot speak highly enough of Ian Alexander. They are a force of nature as an artist. He is one of the most caring and giving scene partners I've ever worked with. Ian carries love with him everywhere he goes, so they make every workday feel welcoming and fun. I'm very lucky to have them as a partner and a friend.
Ian: Aww! It's so lovely acting with Blu. They're an incredible performer and we've both grown so much since we started working together. We've had conversations about life, comparing our acting experience to one another – Blu went to an acting school and has a heavy theater background, whereas I've never been to acting school and have been working in the industry since I was 14. We complement each other beautifully, I think it's due to the chemistry we have in real life that translates to screen really well.
Gray and Adira have been welcomed in by Stamets and Culber to make one big queer family, how was working with Anthony Rapp and Wilson Cruz?
Blu: As I mentioned before, I used to watch videos of these two as a kid. Getting to work with them was something I never in a million years imagined I'd get to do. The cherry on top is that they are two of the kindest people I've ever met. They really did "adopt" Ian and I into the Trek world and for all intents and purposes, are like parents to us. 'Found family' is very real and these two, plus Ian, are definitely part of mine.
Ian: Working with Wilson and Anthony has been so much fun. They really have taken us as mentees, so the relationship dynamic on Discovery is really similar to how we are in real life. Wilson and Anthony both have their extensive history on Broadway so they're always singing on set, and it's never a dull moment around them. During filming season 4 of Discovery, we were all in Toronto during lockdown due to covid, so we bonded a lot more than we might have pre-pandemic. I really cherish the opportunity I have to work with Wilson and Anthony and also to know them.
Why do you think LGBTQ+ storylines and characters like Gray are important to have in the modern entertainment world?
Blu: Having a character like Gray or Adira on my TV as a child would have changed my life. At the time, I couldn't see myself reflected back to me in the media, so I thought something must be wrong with me. By erasing LGBTQ+ storylines from the media, we are invalidating an entire community of people. We cannot underestimate how important it is for every marginalized community to see their stories in film and television. Since Ian and I have been on the show, we have received so many messages from other trans people who are so happy to see themselves represented. I even get messages from parents saying our show allowed them to have a conversation with their LGBTQ+ children about their experience. That alone says enough. Representation is everything, and it can be life-saving.
Ian: When trans healthcare is under fire in many states across the US, it's so important to have examples of trans people in the media. Gray is a confident, happy, successful person who is also trans, and is in a healthy relationship – something that is so necessary for young people to see. Especially if those people are also trans! The more representation we have, the more we feel empowered to embrace our true selves.
Blu, yourself and Ian, plus Anthony Rapp, Mary Wiseman and Emily Coutts, formed a Star Trek D&D group, who's idea was it to start that campaign?
Blu: I'm PROUD to say it was me! I had gotten really invested in DnD during the start of the pandemic. I was watching a ton of Dimension 20 and playing at home with friends. So when it was time for us to go back to Toronto, I suggested we start a campaign. Luckily everyone was into it! Also lucky that Noah Diamond is a wonderful DM and offered to run the campaign. We could only play over Zoom due to Covid protocols, but it was always the highlight of my week. And we're still going!
Ian: As Blu said, there weren't many things we could do together because of the pandemic, so it was a great way for us to socialize off set in a safe, socially distanced way. Noah was playing DnD over Zoom as well, so Mary suggested that he could DM for us! Anthony was excited by the idea because he has played DnD before. I was a complete newbie, and Mary and Emily were also new players, but Noah, Blu, and Anthony were willing to show us how to play!
Does campaigning with cast mates bring you closer together as a group?
Blu: Oh absolutely. As much as DnD can just be a fun environment to goof around, it really brings out people's cores in the coolest ways. Whether you are like your character or not. You can find out so much about yourself and the other players. It's the main reason I love it so much.
Ian: We shared a lot of fun and laughter, but also some really deep, emotional, therapeutic moments together. DnD is so much fun, I highly recommend it, even if you've never played before. I hadn't interacted with Mary, Noah, or Emily much so I got to see what they were like outside of work. And it was so fun to see Blu really thriving in their element, they're a huge DnD fan.
Ian, outside of Star Trek, you're also an experienced voice actor, having voiced Lev on The Last of Us 2, an incredibly important LGBTQ+ video game. How was your experience voicing this character?
Ian: Lev was the most challenging character to play in my career so far! He's such a powerful character and it was such a pleasure being able to get into his headspace. It was an honor working with Laura Bailey and Victoria Grace, and being able to meet Ashley Johnson and Troy Baker who are so kind.
I think the most challenging scene to do was the scene where Abby and Yara find Lev after he ran back home, trying to convince his mother to flee the Seraphites and join him and Yara. He accidentally kills his own mother, it's a really dark scene for a really dark story. I remember thinking, "This poor baby," especially because he loses his sister directly after that. It broke my own heart to act those scenes out, and I think fans of The Last of Us felt that heartbreak too. The game has such a powerful message, about everything you lose in the process of trying to get revenge.
The Last of Us Part 2 has proven that LGBTQ+ characters and storylines can sell games. Is it important to keep pushing the envelope on LGBTQ+ storytelling in games, TV and movies?
Ian: It's so important! I mean, there will always be the haters that say they're sick of seeing LGBTQ+ people in the media. For every hater, there's twice as many people who are begging for more representation.
There's such a high demand for more diversity in media, and having just a few token LGBTQ+ characters isn't cutting it anymore. There is an urgent need for representation in front of the camera and behind it – that means hiring trans people across every department in production. I feel like I've been saying this for years, and I'm slowly starting to see a difference.
On a film I worked on, Daughter, the crew was almost entirely people of color, especially women of color, and a lot of us were a part of the LGBTQ+ community. It's the most diverse project I've been a part of yet, where behind the camera there was diversity too. In the crew, in the production office, in every part of the film.
Lev meant a lot to players all over the world and many want to see him and Abby return. Do you think that will be possible, and would you be down for a sequel?
Ian: I adore Lev and think his friendship with Abby is so special. I would love to be a part of a third game for The Last of Us or a DLC! I'm speaking it into existence! I look a lot older now, of course, so they'd have to time jump a few years after Part 2!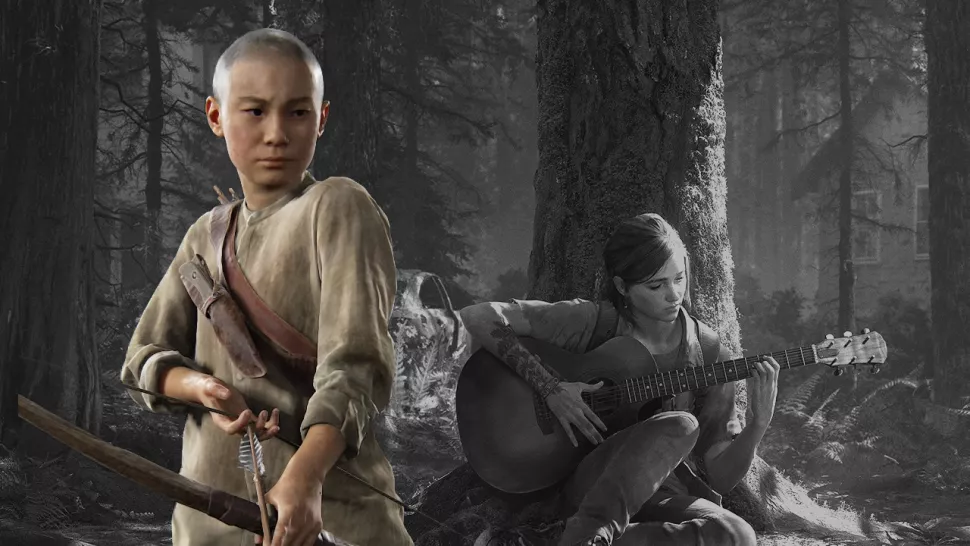 When you're both relaxing away from work, what video games do you enjoy playing?
Blu: I've gotten back into Animal Crossing at the moment! But I have also been playing Rocket League, Hollow Knight, and Pokemon.
Ian: Minecraft is my favorite game! And Animal Crossing too. I also love playing Mario Kart and Just Dance with friends. Minecraft is my true love though, I'm obsessed with it and play it on my stream. My friends and I play at least once a week, if not more. But recently we've started playing Don't Starve Together, which is kind of similar to Minecraft as a survival game. It's really hard, you can die so easily and it's difficult to revive someone that dies. I also recently started playing League of Legends, because I watched the Netflix series Arcane and became obsessed with the character Jinx. So, I guess I'm officially a sweaty gamer now!
This has been a true pleasure to sit and chat with you both. Lastly, what's coming up for both of you?
Blu: Well, season 4 of Star Trek Discovery is being released right now, so that's a big one! There are a couple of other things I can't talk about yet, but I'm also very excited for. At the moment I'm just really happy to be back home with friends and family. The past couple of years have been insane and I'm trying to take in all the love and rest I can get.
Ian: I'm working towards becoming a Twitch Partner! I'm a Twitch Affiliate right now, but Partner is the top level you can achieve. I need a lot more viewers to reach that goal, but I'm steadily getting closer to that goal. Also, I'm going to be streaming DND games soon – stay tuned for that! As for acting, I'm manifesting a lead role sometime soon. It's about time we have a blockbuster feature film with a transmasculine lead!