Baga Chipz spills the tea on Let's Sing 2022
Let's Sing 2022, the newest entry in the critically acclaimed karaoke series, launches tomorrow on November 23 2021. What better way to celebrate the release than with the drag singing sensation herself, one-third of the Frock Destroyers, Baga Chipz!
The 30-song playlist of Let's Sing 2022 will make every music lover's heart sing as it features current hits as well as classics that guarantee a blast from the past. The playlist also features an impressive array of iconic queer tracks including "Head & Heart" (Joel Corry x MNEK), "Kings & Queens" (Ava Max), "Stupid Love" (Lady Gaga), and even a festively queer option with "Last Christmas" by Wham!
The game features eight thrilling Game Modes: Legend, Classic, Mix Tape 2.0, Jukebox, Playlist Creator, Feat., World Contest and Let's Party. Each offers opportunities for solo play or to assemble a party of up to 8 players for an all-out karaoke contest! Also, to make each player feel part of the singing action, each song is accompanied by the official music video which appears on screen!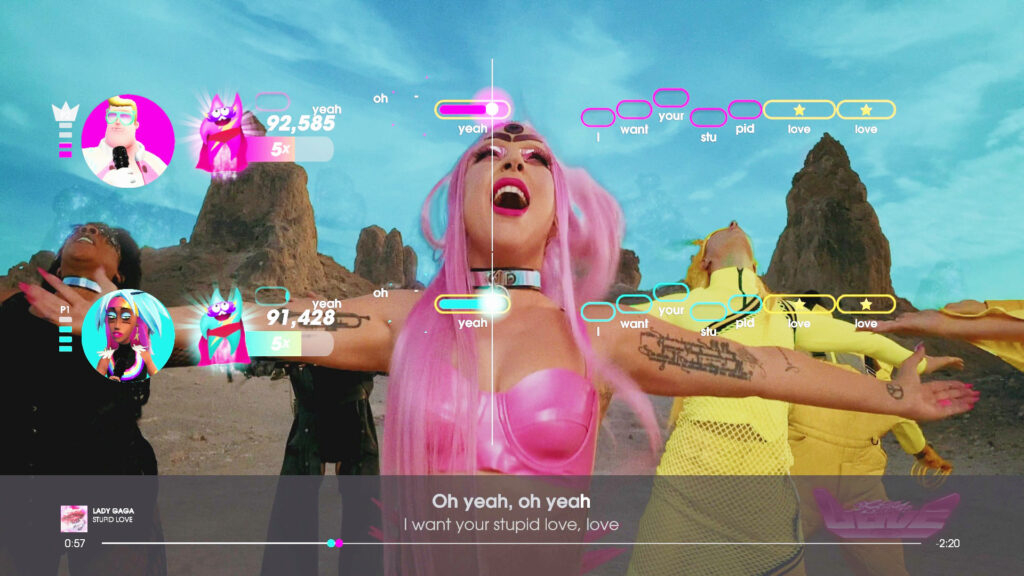 Let's Sing 2022 is the first karaoke game on the new console generation and is available now on Nintendo Switch, PS4, PS5 and Xbox. For more information please visit amzn.to/32eopM8
As the singing sensation of RuPaul's Drag Race UK and the global drag scene, there couldn't be anyone more iconic to front this new karaoke game than Baga Chipz. I had the opportunity to speak with her about the new game and what she's most looking forward to:
Hey Baga, thanks so much for joining me. Which songs on the new Let's Sing are you looking forward to singing?
Heya Robin! I'm loving all these songs, but especially the old classics from the 80s. I'm old school, so give me anything from the 80s, the 70s, or even the 60s and I'm all yours. I do like dance music, but there's a reason all my drag race sisters call me Nan! So yeah, if it's if it's before 1997, I do it!
Let's Play lets you have up to 8 players, so if you put a party together to play it, who would be on your team?
Well, I would definitely have my good friend Sum Ting Wong, she is probably the biggest gamer I've ever met in my life. She plays all those intelligent games so will be brilliant with the trickier game play parts where you'd need to have some common sense to play! I'd also have my Frock Destroyer sister, Divina de Campo, especially for those high notes and also my good friend The Vivian, she's an amazing singer, a cross between Cher and Meatloaf!
Which songs would make the best main stage lip sync?
There's many amazing songs on the playlist that would be great on the main stage as a lip sync, but some of my top picks would be Amy Winehouse's "Back to Black", I'm a big Amy fan, and that album is fantastic! Also, P!nk's "What About Us" and Lady Gaga's "Stupid Love" are both amazing songs. I also have to say "Head & Heart" as Joel Corry is a mate of mine!
If you had your own special edition of Let's Sing, called the Baga Edition – what songs would be on your playlist?
Well I'd have to have the Spice Girls, I love a bit of Spice Girls! Cher would have to be on there too. I'd also say some Missy Elliott, and I'd have to say me too, some of my own songs would need to be on there!
What other games does you enjoy playing?
I would say I'm a bit of retro gamer. I just remember as a kid getting my SNES and my favourite game is still Donkey Kong! I also love some Tomb Raider as Lara Croft is quite the gay icon and reminds me of myself!
I also love the Sims because I'm a typical gay and like doing interior design and dressing people up. I could spend ages just decorating the house, and then you make your character and I was like, I'm going to have big boobs and big hair!
What's coming up next in your world?
Oh, there's loads and loads coming up! I've filmed lots of TV shows, so you're going to see me doing a bit presenting and I've done some game shows for ITV and BBC. And then next year, early next year, is going to be something really, REALLY big! It's gonna be much better!