Anime Impact: Doukyusei (Classmates) embraces the euphoria of your first love
Classmates (also known as Doukyusei) is a manga created in 2006 by Asumiko Nakamura, creator of other LGBTQ+ works like Double Mints and A White Rose in Bloom. With different stories and spin offs of the Classmates series, an anime adaption of Doukyusei Classmates was released in 2016 with the help of A-1 Pictures (responsible for producing the latest Sword Art Online movie, the Persona 3 movies, and cult classic favorite series Saint Young Men). Having voice actors Kenji Nojima (from works like Free!, Banana Fish, Psycho-Pass, Yuri!! On Ice) and Hiroshi Kamiya (Attack on Titan, Haikyuu!!, Fate/Stay Night, Saiki K), who are famous for their performances and acing any character they are tasked to be, was enough to wake me up and focus on watching this BL story. I was also sleep deprived from a delayed connecting flight home, and trying to find ways to stay awake that's not buying the $11 USD Monster Energy drink, but let's not focus on that. 
The movie opens up with a music teacher guiding his choir class through a song for a competition they're taking part in. You catch the first main character, Hikaru Kusakabe eyeing a student, Licht Sajo, who seems to not be singing, but mouthing the words, in choir class. After the school day passes, Kusakabe has an internal monologue on what he thinks of Sajo, convinced the Sajo probably thinks he is too cool for music, being a star student in academics and all. But, while running through his assumptions in his head, Kusakabe catches Sajo in a classroom by himself, singing off-tune to the song. Surprised, and slightly bashful, Kusakabe offers to help Sajo out after class on perfecting the pitches needed to sing.
This begins the budding relationship of the two main characters.
Sajo and Kusakabe's relationship is reminiscent of many stories you have heard of before in both the yaoi and yuri spaces – bringing up those warm feelings of having your first crush, finding ways to get together that make it inconspicuous. You have Kusakabe, the nonchalant guitarist, trying to find ways to spend more time with Sajo, the star student of the school. Study dates become real dates, cute moments become moments to overthink on, there's a misunderstanding, and they make up. You've heard it all before. But as predictable as the story was, I still found myself tearing up.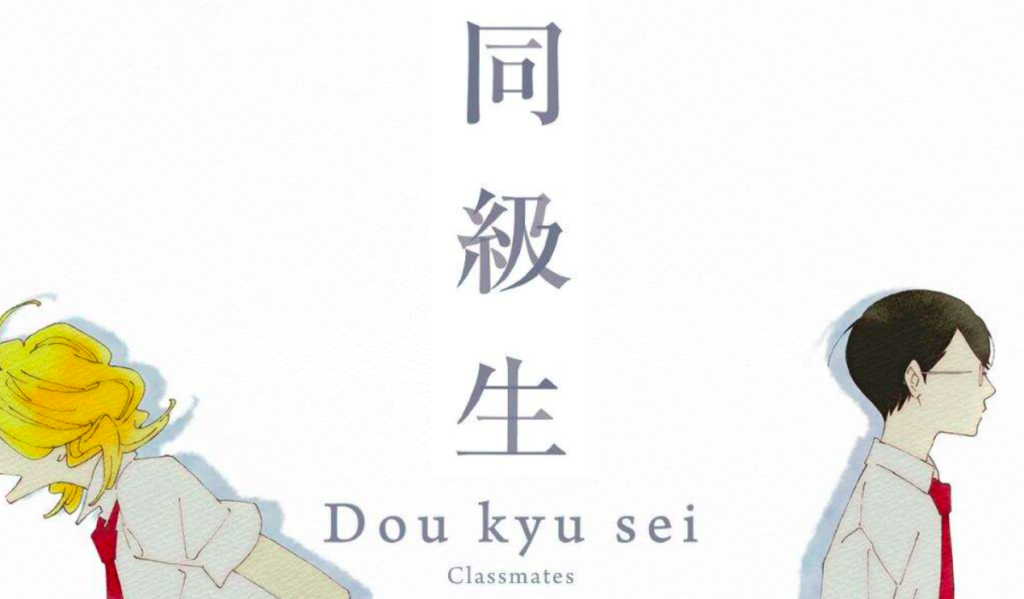 I can't seem to get away from stories about first loves, no matter the hundreds and thousands of times I watch, read, or listen to them. Doukyusei Classmates' animation combined with the genuine care and dedication from both main characters is something therapeutic not just to me, but I'm sure for many others who might find closure, a sense of comfortability, and hope in these stories.
Doukyusei Classmates' loose animation to resemble the manga brought a unique feeling of intimacy that only a book can do. While watching anime on a screen can be a great experience, something about cracking open a couple volumes of manga really helps the head transport to the story's setting. The anime adaptation gave me that same feeling without reading the manga, I was fully immersed, despite watching this at the Miami International Airport at 4PM on a Monday afternoon where everything, metaphorically, was a hellfire.
Kusakabe and Sajo very much acted their ages, much like how most are in high school: stubborn, not the best with working through emotions, and feeling like a failure if you haven't made a life plan for after you graduate. Yet with a happy ending, and a healthy, cute, and openly emotional relationship to pair, Doukyusei Classmates shows me the importance of continuing different variations of similar love stories because it helps mend a lot of hurt one has faced in opposite circumstances at that age with their sexuality, home life, or relationships. As people grow older, we accept we can't change the past, and to help rehabilitate those feelings, adults tend to try heal that inner child/teenager with buying trinkets their younger selves would have loved, letting themselves indulge in childish foods, or watching TV shows and movies that might help bandaid some "whenever" years old hurt from long ago. That is what the anime has done for me the moment I finished, to help mend some mysterious open wound that developed long ago.
This anime I consider one of my new favorite treasures, and a must-watch as an easy pick-me-up for whenever you might be feeling slightly low. While the special edition Blu-ray is sold out, Doukyusei Classmates is available for viewing on Amazon Prime (U.S.) to rent or buy digitally.