The Syberia series represents the search for lesbian liberation
In 2002, the first of three games in the Syberia series was released. A graphic adventure game, Syberia charts the travels of high-flying NYC lawyer Kate Walker across Europe and Russia, as she aims to close the sale of a struggling toy factory. The owner of the factory has died, meaning Kate must search for the heir, her brother. A subplot is the increasing conflict in Kate's personal life – with her mother, fiance, and best friend. 
The game, released by Microïds and designed by Benoît Sokal was an instant success, commercially and critically. Reviews praised the intelligent script, elements of art nouveau and clockpunk fiction. Two follow up titles were released – Syberia II (2004) and Syberia 3 (2017). A fourth game is in production, although Sokal sadly died in May this year, after battling a long-term illness. By 2016, sales of the first two games had reached 3 million worldwide. 
My introduction to Syberia happened in January this year when I bought a Switch. It was one of three games I bought alongside the console and it remains one of my favourites. There's a lot to love about the series – the beautiful art, the atmospheric rain, the emotional and interesting storyline. Syberia matters so much to me because of the lesbian subtext within Kate Walker's journey from New York City to Syberia.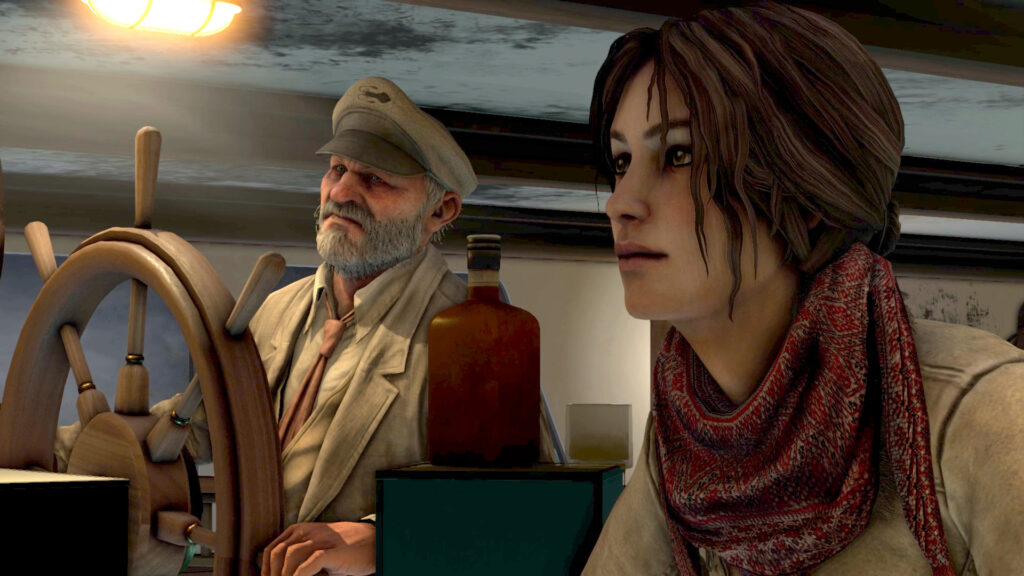 Kate is a successful corporate lawyer when she arrives in the fictional French village of Valadilene to secure a corporate buyout of a failing automaton factory. Her  pursuit of the heir of the factory, to sign off the sale, develops into something much bigger. It leads her to leave behind every aspect of her life – her high-flying legal career with an abusive boss, her male fiance, and the friend with whom he cheats on her with, and her demanding mother. 
Kate develops a stronger personality across the series, with her dramatic break from heteronormative capitalist expectations serving as an allergy for the realisation of a lesbian self. The isolation, struggle, and dangers of the new life she chooses, appeal to Kate. They pale in comparison to the loneliness and immense disconnect that her old life contained.
That Hans and Oscar become her close friends, represent the forming of queer community – in this instance, perhaps in the original sense most of all. Hans, a genius, who seems coded as having a learning disability and/or as autistic, is shunned by society. Oscar, an automaton designed by Hans, is also an outsider. In these friendships, Kate shares in a sense of otherness, which grows to something akin to a chosen family. LGBT people are too often rejected by our family of origin, or struggle to maintain intimacy, and trust. This leads friends and peers to take on a much more significant place in the lives of queer people, in terms of emotional and practical support.
Although she loses both these beloved friends by the start of Syberia 3, Kate does not return to her old life. She chooses the more difficult path of sticking with her new way of living – this serves as an excellent allegory for the coming out process. Not everything is better, immediately. The capture of Kate at the end of the third game leaves her fate unknown. Kate, when captured, has been living with the Youkol people. A leader from the tribe is also captured. Held in a psychiatric hospital, the medical establishment wishes to hold both of them, indefinitely. The doctors wish for the Youkol people to assimilate to society. Here we have a deeply colonial desire to eradicate deviation. This is also a huge part of the history of homosexuality. Same sex relations were criminalised abroad by colonial powers. And until the 1990s, homosexuality was widely believed to be a psychiartic disorder. This is a representation of the pressures of compulsory heterosexuality. That it can be hard to resist the norms of society.  Kate is captured by Olga Efimova, a woman doctor. This shows how straight women play a crucial part in enforcing and upholding the norms of patriarchy. Socially, lesbians face the possible rejection from friendship and inclusion.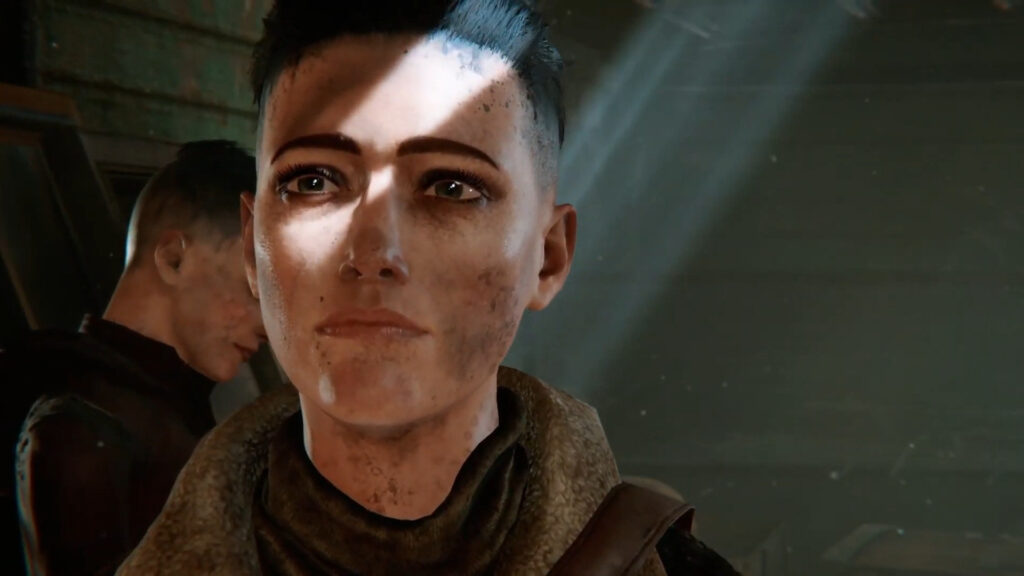 With Sokal's recent passing, the gameplay and narrative for the fourth game may develop in different directions. As it stands, the game will involve playing as Kate and a 17-year old girl Dana Roze. Dana begins a brilliant career as a pianist, as fascism is on the verge of engulfing Europe. Here there are further sapphic allegories. The historical character represents that queerness has existed throughout time, and the path from professional greatness to being thrown off, into conflict and chaos, mirrors Kate's path in previous games.
Thankfully, we've come a long way on LGBT rights and visibility since Syberia was released in 2002. But history repeats itself, and progress is not linear. Today, in Russia and Poland, there is mass homophobia, hostility and violence towards LGBT people. As someone who denied my sexuality for many years, it is on reflection media with lesbian subtext which had the most powerful impact. In an environment in which it was too dangerous to come out, the subtext provided for example by Jane Eyre as a teenager, and Carmilla in my undergraduate degree, made roots. I felt understood by these books even if I couldn't yet understand why. Syberia's epic adventure across Europe and Russia, both in pursuit and denial of living as your true self is still as relevant and important almost 20 years on.