Gayme of the Week: Guenevere
The Arthurian Legends are all just one big fanfiction taken seriously and it's about time we realized that. That isn't a bad thing, especially when fanfiction can be so good. That's why I'm looking at Guenevere, the interactive novel by Jean Townsend for Gayme of the Week.
I first stumbled upon Guenevere back in 2015. I was 18 and was desperately in love with all things Arthurian, heck, BBC Merlin was one of my favourite shows and I'd studied up on Morgan Le Fay and The Lady of the Lake ever since I'd heard about them. To say I was obsessed is possibly the biggest understatement of the year.
18 was also the year I officially came out as a queer woman. I'd done so earlier to my friends and family, but by 18 I was ready to be myself. How does Guenevere fit into this? Guenevere was the interactive novel I played during downtime and the relationship between Morgana and Guen has been my favourite ever since I'd watched the BBC version of it.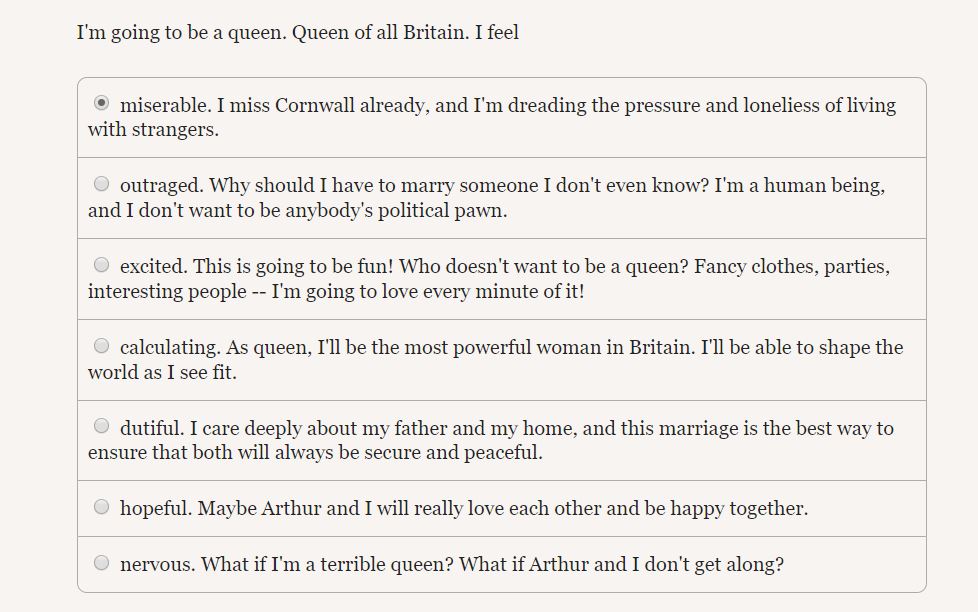 But what is Guenevere and why is it gayme of the week? To put it simply, it's an interactive novel that puts you in the shoes of Guenevere, Arthur Pendragon's bride and the Queen of Britain. However, you get to choose who the Queen of Britain actually is. Is she a ruthless dictator that's willing to stomp on everyone and everything to get her way. Is she a kindhearted, but naive person? Is she really just there to have sex with everyone she can get her hands on? All interpretations of her are completely valid.
The game is very carefully written and is inclusive of LGBTQ+ identities. The protagonist can identify as a lesbian, bi, pan, ace or aromantic, and if you choose the right options, can be in a polyamorous relationship with her three love interests. The latter has yet to be written, as the game is still very much a work in progress, but if you're looking for a game that respects both Arthurian legends and the player's agency, then look no further.
It's also great if, like me, you just want to kiss some Arthurian villains and by some I mean Morgana and, potentially, Mordred later on in the series. Morgana and Guenevere's relationship in legends often changes depending on the telling, but the sapphic vibes are nothing new and I'm so pleased that Townsend has decided to acknowledge that in the two women's scenes with one another.
As of yet there are no gay, male romances but there has been implications and Townsend has acknowledged a possibility of Arthur and Lancelot hooking up. Fingers crossed for that one, reader.
Unfortunately, the game hasn't been updated in a while, but Townsend is actively working on the game and you can check out their blog to find out more information about it.
With that said, check out the game for yourself. While it isn't complete, that doesn't stop it from being an enjoyable, meaningful experience.
---
Gayme of the Week is a weekly column by Aimee Hart about indie LGBT+ games that she's played and what she loves about them. If you've got any recommendations, be sure to contact her on Twitter (@AimemeRights) or email (aimee@gaymingmag.com).