Chappy Joins Forces with Gayming Magazine and Ditch the Label with the 'Find Your Player 2' Campaign
Gaymers if you didn't know, it's Gayming Live! The week-long event that is starting today, the 30th of September. It's an exciting moment for us all at Gayming Magazine, and we're so overjoyed to share it with Chappy.
If you didn't know, Chappy is a gay relationship app for men, and has teamed up with Gayming Magazine and international anti-bullying organization Ditch the Label to launch its 'Find Your Player 2' campaign at the Gayming Live series. The series of events, which are free to attend, will be taking place from Monday, September 30, until Saturday, October 5, at the Jägermeister Soho pop-up shop in Great Windmill Street, London. The week will feature an in-store activation hosted by Kitty Powers, drag show from Ginny Lemon, and more.
"Chappy has always been focused on providing gay men a safe, judgement-free space for meaningful connections," said Chappy's Co-Founder and Head of Brand Sam Dumas. "We are committed to improving the experience for gay men online, especially in the gaming community which has been identified as a toxic environment for many."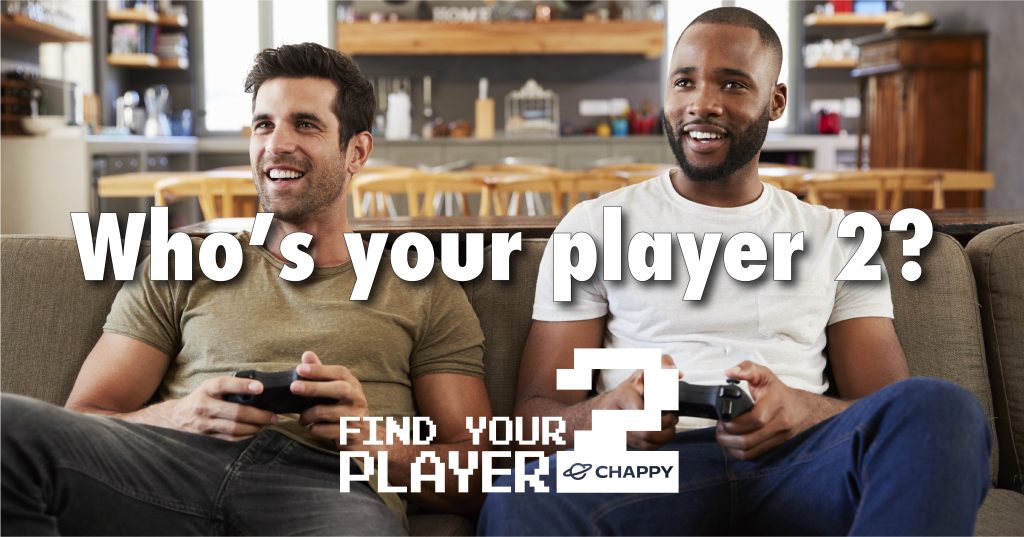 Dumas goes on to say: "This was a natural partnership for us, especially after our launch of Chappy Friends, the friend-finding vertical of Chappy. Whether you connect with someone before Gayming Live and meet with them at the event or you mutually match during the event itself, gamers can platonically connect with their fellow 'gaymers' in a safe, pressure-free environment. This collaboration only puts us one step closer to cultivating a digital universe of safer, more accountable connections."
A special Chappy event will take place on Wednesday, October 2, at the famous Admiral Duncan where the hilarious Ginny Lemon will perform her 8-Bit Drag Show alongside special guest queens Lydia L'Scabies and Khom Queen. Additionally, legendary game developer and Drag Queen Kitty Powers will be hosting an event which consumers can attend for a chance to win over £1,000 of goodies, including a PlayStation 4, Switch Lite, and many more games prizes, during the morning of Saturday, October 5, at Soho Radio.
Robin Gray, Co-Founder of Gayming Magazine, said: "Gayming Magazine has a key focus on bringing people together – helping people connect with their local gaymer group, and bringing the industry closer to the community through interviews and features on LGBTQ+ companies, developers or other notables. We're delighted to be working with Chappy on the 'Find Your Player 2' initiative, which matches the goals of Gayming Magazine. Online gaming can be a toxic environment for LGBTQ+ people, so Chappy is a great – and safe – way for gaymers to make new friend connections."
Liam Hackett, CEO of Ditch the Label added: "We know from our research – and also from personal experience – that LGBTQ gamers are more likely to suffer from bullying online. So we wholeheartedly welcome this initiative to allow gaymers to connect with others in a safe environment."
Chappy Friends was launched in June 2019 and now accounts for more than 15% of daily activity on the app, squarely challenging the long-held stereotype that gay dating apps facilitate casual hook-ups only. Users must mutually swipe right to match and initiate a chat, just as they would in Chappy Date.
In Date Mode users can connect in Commitment, where they embark on an exploration that can lead to something a bit more serious; match in Casual, where it might be light speed, but it'll be seriously fun; or stargaze in All Dating, where they can go along for the ride and match with people in Commitment and Casual.
Chappy is available for free in the App Store and Google Play in US, UK, Canada, Australia and Ireland.
Find Your Player 2!
Gayming Magazine has teamed up with gay relationships app Chappy to use their Friend Mode to make it even easier for you to find friends to hang out and game with, in person or online!