The best gay Stardew Valley mods you need in your life
In case you hadn't noticed, it's still very much Pride Month and with how much us gays love Stardew Valley, it'd be an absolute travesty not to write about the many gay mods you can find surrounding the game.
Stardew Valley has a very active modding community, and it's not hard to see why. There is just so much to do, whether that be mining, getting to know the people of Pelican Town, or doing that whole farming thing, there's something for everyone.
Then there's modding. Modding only enhances that choice and considering there are still so many gaps for you to add your own personality to the game, mods are a fantastic way for gamers to pick and choose how they'd like to experience ConcernedApe's farming simulation once again.
With all that in mind, it is our sacred, queer duty to highlight the many gay mods that'll turn your Stardew Valley experience from good to great.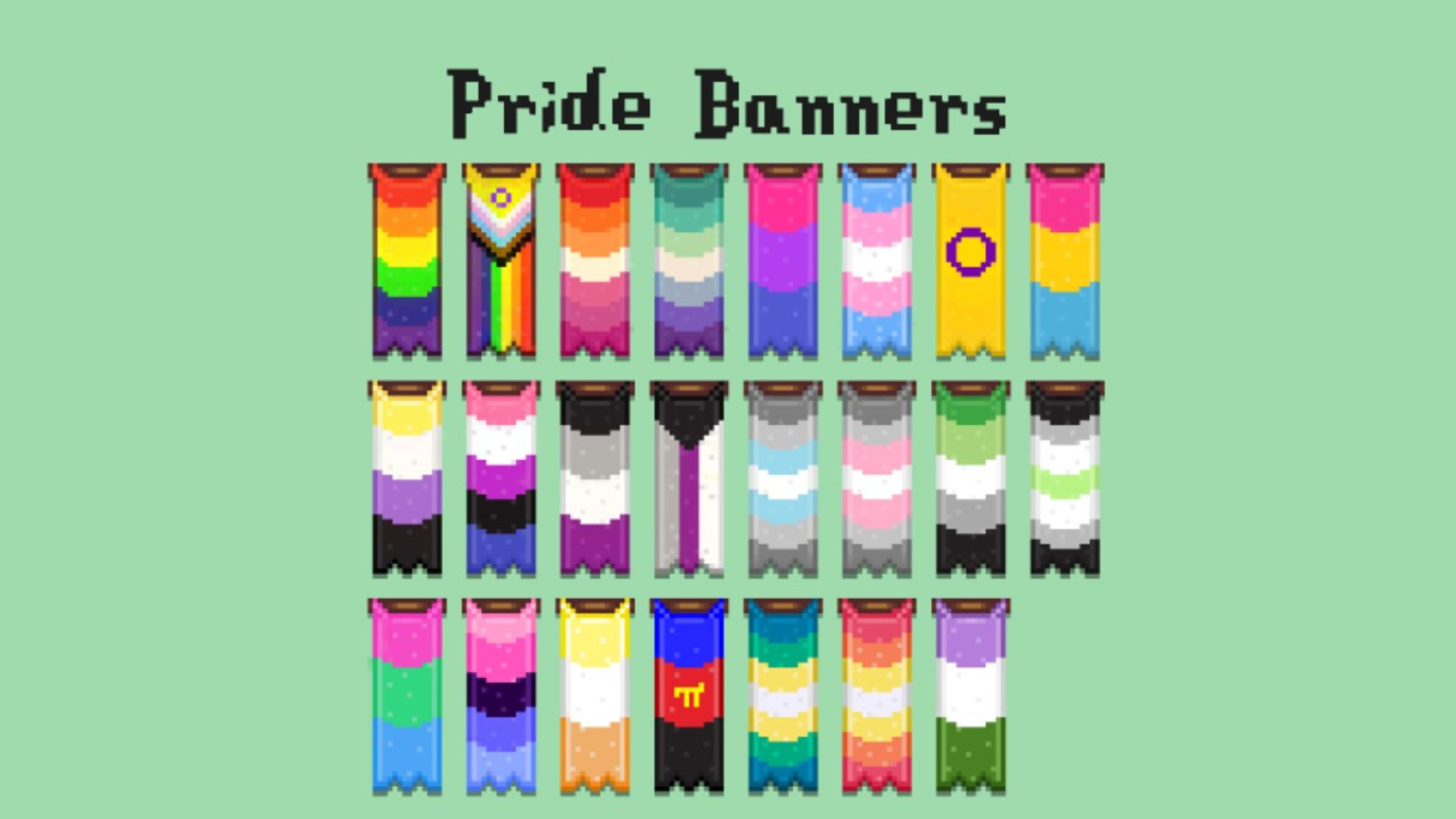 AT- Pride Banners
We know what you're thinking: there's nothing very revolutionary about including Pride banners into a video game. But that's where you'd be wrong!
These Pride Banners from user Amchro add 29 different flags for you to put up in your home, and you don't have to restrict yourself to one either. Highlight the entirety of the rainbow and more if you so choose to!
You can download the mod here.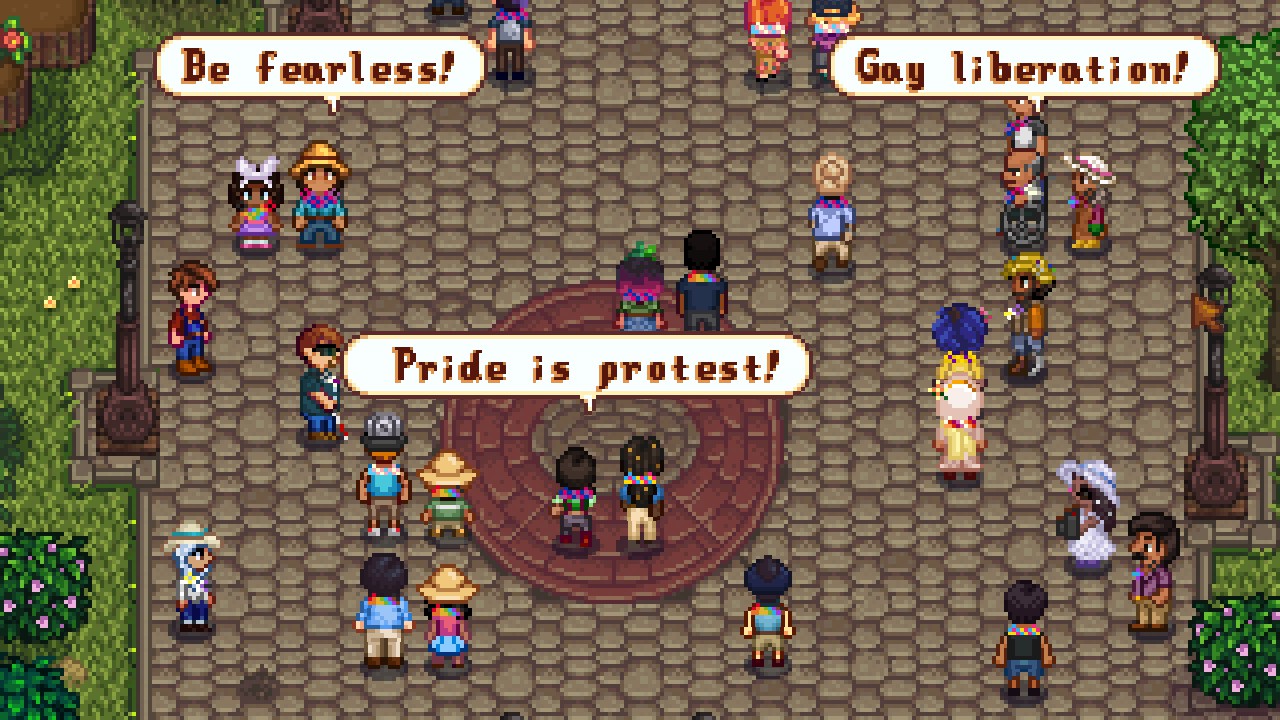 Emyn's Pride March
Come on folk, it's Pride Month – literally THE perfect holiday to bring to Stardew Valley.
"This mod adds a small event where Stardew residents take part in a Pride march in town on Summer 1. All residents are given Pride flag themed leis, and have unique Pride dialogue for the day. While the event can only occur once, every Summer 1 from then on in will have villagers in Pride flower garlands, with Pride themed dialogue."
As you can see from above, the Pride-orientated dialogue above remarks on the history of Pride, as well as makes several different characters reveal more about their thoughts and feelings on the event. For example, George will mention he is bi, whereas Harvey talks about how important healthcare is for the LGBTQ+ community.
You can download the mod here.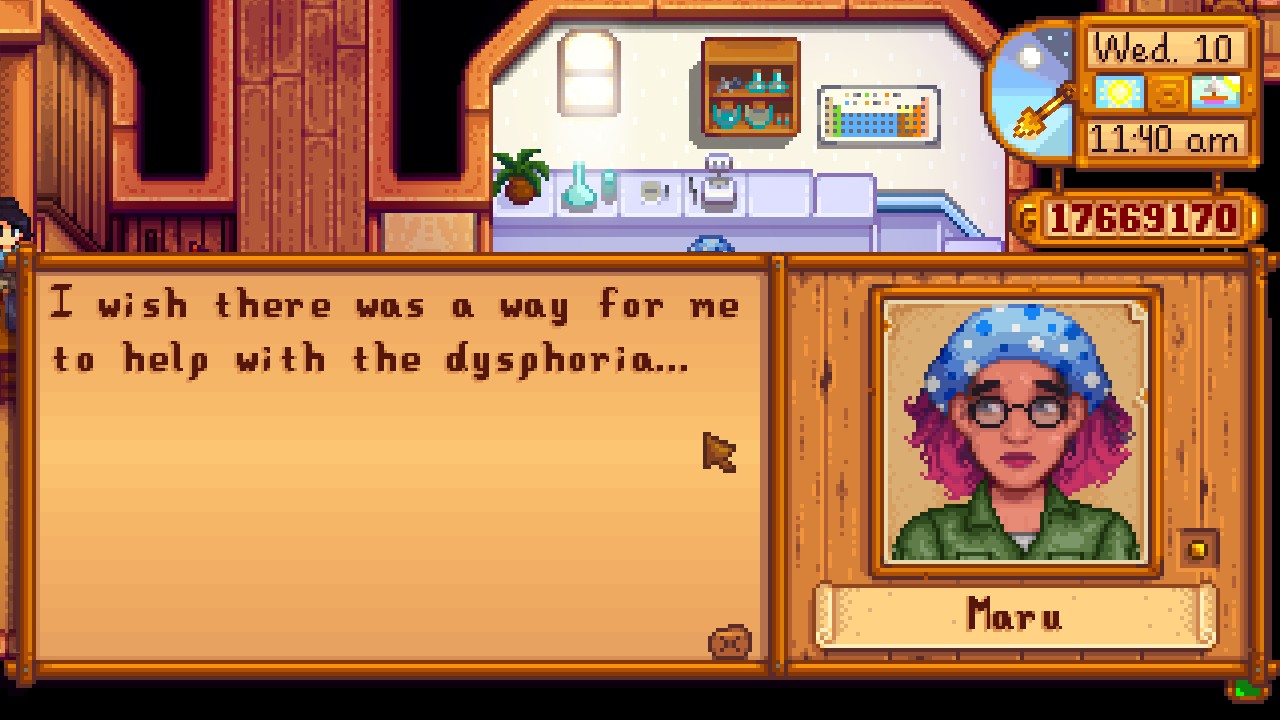 Emyn's Queer Dialogue Expansion
Stardew Valley is great for letting players to expand their horizons and date whichever character they want, regardless of gender, but unfortunately, it makes the heteronormative world that surrounds its characters feel strange and out of place. This is where Emyn's Queer Dialogue Expansion comes in.
"Intended as a companion to my Pride March mods. It adds roughly 4-5 queer-friendly dialogue lines to all characters except Krobus, Dwarf and the Ginger Island characters, gives some characters particular queer identities and supports queer or trans headcanons in the Stardew universe.
It adds some non-identity-specific dialogue, such as characters referencing Pride and watching queer movies. Some references are more obscure than others. Demetrius specifically references queer scientists, while Elliott quotes queer poets. Alex references queer sports people in fall. Dialogue about Harvey's clinic references trans healthcare.
There's also a config file so you can turn off specific headcanons that don't gel with your playthrough."
You can download the mod here.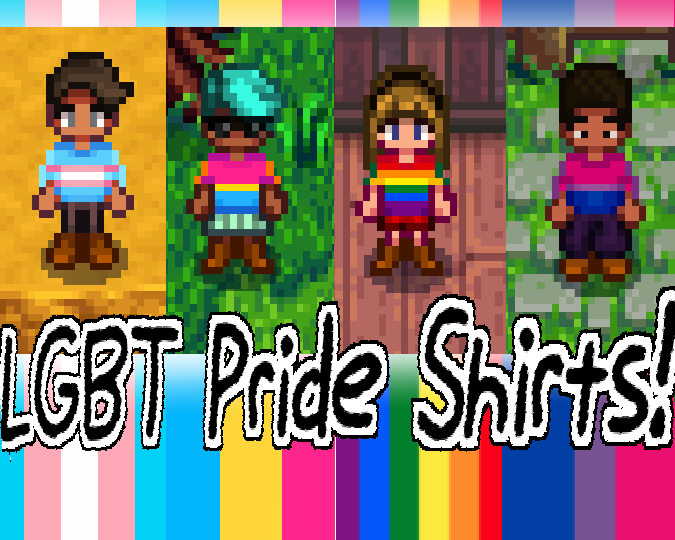 LGBT Pride Shirts for your Farmer
Would it really be a gay mods listicle if it didn't include Pride shirts that you can slap on your farmer and parade about Pelican Town? We don't think so!
LGBT Pride Shirts for your Farmer is a mod from Mixter Moro, and comes with "51 different flags, common and uncommon." There are also three different Lesbian flags that players are able to pick from too.
You can download the mod here.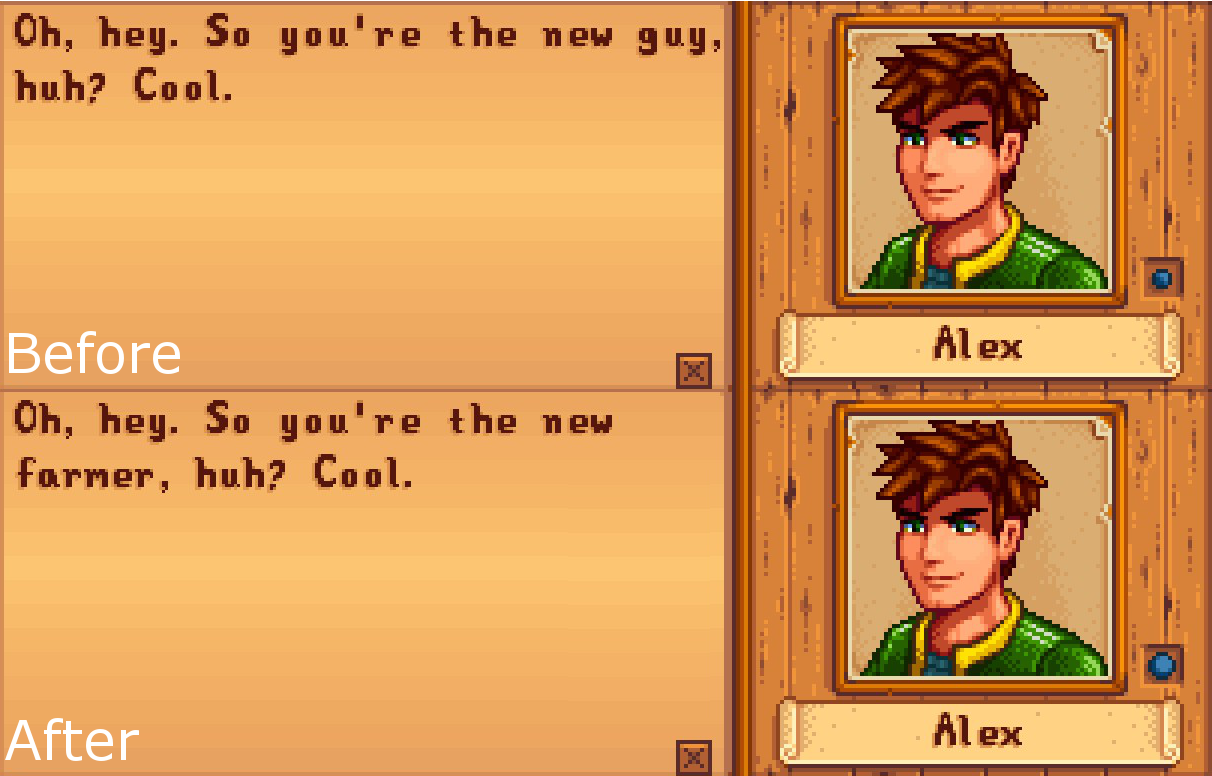 Gender Neutrality
Like most games, Stardew Valley is very gendered. This can be quite isolating for non-binary players, which is why the Gender Neutrality mod is the perfect fit for this list.
"The goal of this mod is to change dialogues directed at the player to be gender-neutral and to remove certain gender-specific parts of the game. This should allow you to play through the game without being gendered. This mod is made specifically for those of us who wish to play through the game as a gender-neutral / nonbinary character."
The mod doesn't just affect your dialogue either. With it, you'll be able to do things like enter both sides of the sauna, choose your pronouns, and it also removed gendered symbols.
You can download the mod here.
---
These are our current favourite – and best – gay Stardew Valley mods, and we hope that you can add them to your gameplay to enhance your enjoyment of the game. If we missed out on any that you think deserves to be added, comment below!